Loans bad credit up to $20,000
Low-interest starting from 3.9%
Repayment up to 15 months
In-page navigation
---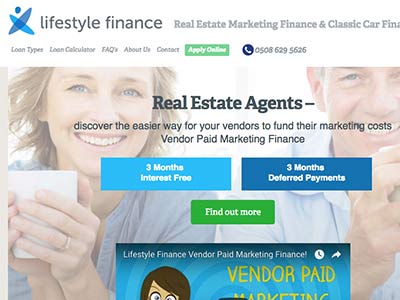 Author Lifestyle Finance. Screenshot of Lifestyle Finance website.


[Accessed April 17, 2018]
Lifestyle Finance - A wide range of services
Lifestyle finance is your short-term financial service provider that gives you the money you need so that you can live your lavish lifestyle. After throughout research, we have discovered exactly what our clients are looking for and we understand what is important to them.
No one wants to complete tons of paperwork or wait around for hours to hear if your online loan application has been approved or declined. Your time is precious and I'm sure that you have better things to do than fighting for financing all day that is why we have made the application process so easy.
Front door financing package
Our bad credit loans were specifically designed to finance the marketing of your property. We work closely with leading real estate agents to ensure that you get the best deal. Our aim is to help you sell your property by bringing potential buyers directly to your front door.
Just like any other product or item that you would like to sell, you need to advertise and market it. Your property is no different. Marketing and staging your home for potential buyers can become quite costly, but you are more likely to get your asking price if you have numerous potential buyers interested.
The 90-day difference
By using your personal loan to pay for the marketing of your property you will benefit from our 90-day difference offer. We have joined forces with the best real estate agents to bring your 90 days interest-free terms, as well as 90 days, deferred payment. Most homes sell in as little as 90 days. 90 days can make all the difference if you market your home correctly.
Lifestyle Finance Services
Our aim is to help get you the best price for your property. We do this by providing you with the funding that is needed to market your home. Your agent will be able to assist you in coming up with a great marketing strategy and will give you an idea of the cost involved.
Avoid paying interest on your loan
We save you money. Avoid paying any interest on your loan.
We have set up an arrangement with the leading real estate agents so that they cover the first 90 days of interest. This is the 90-day difference.
We won't charge you a settlement fee
If you settle your long or short-term loan within 3 months we won't charge you a settlement fee meaning more saving for you.
If you settle the account after 3 months then you will only be charged a $10 settlement fee in the account.
Our aim is to provide funding to everyone by making the deal so attractive that only a fool would turn down the offer
We pride ourselves on our service excellence. Our staff is knowledgeable, friendly and equipped to answer any of your questions.
Apply online
The application process is very easy. Complete the online application form and receive an outcome within 30 minutes. If you are looking for a bad credit loan to cover home improvements or repairs please let us know so that we can assist you further.
Lifestyle Finance – Bad credit loan
Loan Type

Loans bad credit

Interest Rate

from 3.9%

Loan Amount

up to $20,000

Repayment

30 days to 15 months
Benefits of Lifestyle Finance
90-days deferred payment
No fees to early settlement
No hidden charges
Bad credit loan calculator
Lifestyle Finance - Bad credit home loans
We here at Lifestyle finance we will loan between $1,000 and $20,000 depending on how much you require.
This money is then used to finance the marketing campaign in order to sell your property. The loan is an unsecured bad credit loan and your first 90 days are interest-free. Thereafter, interest will be charged at 19.95% per annum or 1.53% per month.
Cost and fees
To apply for the fast cash loan you will be charged a once off fee of $165,000 as well as a monthly service fee of $1.80.
We work exclusively with real estate agents in order to get you the best deals and the marketing strategy that will have the most impact. If you are using an agent, ask them if they are partnered with us. If they haven't yet partnered with us, please send us their details so that you don't miss out on this amazing financial opportunity.
How you will receive the funds
The instant loan will not be paid into your bank account instead it will be given directly to your real estate agent in order to pay for the marketing campaign.
Setting the stage for your home
When trying to sell your home you will need to make the property look as attractive as possible to potential buyers. Your real estate agent will advise you on any maintenance that needs to be carried out before you put your house on the market.
If you need to carry out expensive renovations but you don't have the money to cover the costs contact us for a renovation loan to the value of $20,000.
You won't be charged any interest on the loan for the first 90 days and by sorting out the renovation and repairs issues you will defiantly receive a better price for your property.
Customer Reviews & Testimonials
"
With Lifestyle Finance, you can rest assured that your property is being financed in the most affordable way. I love their 90-day interest free offer. Not only did I get an excellent deal but I c...
Stephen M
— Christchurch —
If you choose to settle your loan early, then Lifestyle will get behind you on this. When I chose to make a settlement I did not need to pay a cent. This made for great savings for me! Thanks, Li...
Jenny F
— Auckland —
Thanks to their wonderful online applications I did not have to try and sneak my way out of the office during lunch. I could get the entire process on the roll right from my desk.
Nathan T
— Dunedin —
Lifestyle Finance Contact
Contact Number
E-Mail
Website
Physical Address
84 Hurstmere Rd

Takapuna

Auckland Region

0740

New Zealand
---
Postal Address
PO Box 331565, Takapuna, 740, New Zealand