Loans bad credit up to $50,000
Low-interest starting from 13.95%
Repayment up to 5 years
In-page navigation
---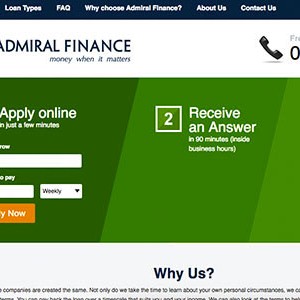 Author Admiral Finance. Screenshot of Admiral Finance website.


[Accessed July 3, 2019]
Admiral Finance - Tailor-made loans
Admiral finance is a proudly run and operated New Zealand business that helps clients that are experiencing financial difficulty by providing loan solutions.
Our business opened its doors in 2003 and has since helped thousands of citizens when they need a bit of extra cash. If you have bad credit we have secured and unsecured bad credit loans available. Bad credit does not necessarily mean your loan application is declined.
Simple and easy to apply
Apply via our website from the comfort of your own home from any device that allows you to access the internet. You will need to supply your personal details and confirm how much you would like to borrow and for how long.
There is no need to complete any paperwork and you will get your outcome within 60 minutes. If your loan application is approved one of our consultants will contact you and guide you through the rest of the loan process. The money will be paid into your bank account within 24 hours.
Why chose Admiral finance
We believe in putting our clients' needs first and listen to their problems, then offer them financial solutions. Each individual has their own unique set of circumstances and we take this into account so that we can come up with a solution that best suits your needs.
We design a customized payment plan to suit your pocket
Our service if fast from the application process to the outcome and the payment you can receive your blacklisted loan in as little as 24 hours
We are flexible. You can customize your payment plan to suit your budget
We are competitive. Our interest rates are very competitive
We believe in the personal touch. To us you are family and we aim to put you first
Admiral Finance Services
Our personal loans range between $1,000 to $50,000 and it only takes a few minutes to apply via our website.
To help you determine your loan requirements and find out how much you would need to pay, we have a special little online calculator that will give you a basic idea of how much your loan will cost you.
Secured bad credit loans
If you are finding it difficult to have your instant loan application approved because of your bad credit history or a low credit score, then a secured bad credit loan might be the solution that you need. By using an item of collateral to secure your loan you will be able to negotiate a lower interest rate.
The risk involved is that if you don't make payments on the loan or default on the loan, then you will be at risk of losing your collateral. Your loan can be secured by a fully paid for boat, car, house or caravan as long as the item is of greater value than the loan.
Unlock equity with a second mortgage
If you have bad credit then another option to obtain up to $50,000 is to take out a second mortgage on your home. You can use the funds to help pay off debt or if you are moving then you could use the money as a deposit on the new property. You can use the cash to renovate your property before you sell your home or for any other reason as there are no restrictions attached to the loan.
Climbing out from under your debt
No one wants to owe creditors a lot of money or be hounded by debt collectors trying to collect payment. When it feels like you are being crushed under a mountain of debt, we are here to offer you a bad credit loan solution. If you owe multiple creditors money, but you don't have enough to pay everyone, so you pay each account less than the minimal installment or miss a payment altogether. This causes the creditor to charge you additional fees. This ended up, stretching your already stretched budget to breaking point and adversely affecting your credit score.
Admiral Finance – Bad credit loan
Loan Type

Loans bad credit

Interest Rate

13.95 – 24.95% p/a

Loan Amount

up to $50,000

Repayment

6 months to 5 years
Benefits of Admiral Finance
Same day funds
Quick approval
Simple loan application
Bad credit loan calculator
Admiral Finance - Helping you out of the debt trap
The more money that you owe and the more payments that you miss the lower your credit score will become and this could make it very difficult for you to apply for financing in the future.
Light at the end of the tunnel
We are there to provide a light at the end of the tunnel. We will pay off all your current debt, then lend you that amount of money via a poor credit loan. You will then not need to worry about paying multiple creditors and you will only need to pay off the loan.
This means that your credit report will show that you have settled your outstanding debt. Our consolidation loans offer a very competitive interest rate and a customized loan repayment schedule that is designed to suit your budget.
Equal opportunity loans
If you are self-employed, unemployed or on benefits you may still apply for a loan. As long as you earn the minimum of $400 per week and can afford the repayment terms on your loan agreement, we will be able to assist you with a loan.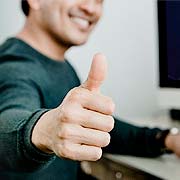 Admiral Finance is a trusted & reliable provider of loans bad credit
Customer Reviews & Testimonials
"
As far as applications go, Admiral Finance makes the process simple and painless. In the past, I would shy away from applying for a loan simply because it was too much hassle. But now I can sit i...
Oscar P
— Gisborne —
With Admiral Finance you are able to design a suitable payment plan with the assistance of your loan consultant. No one understands your finances better than you which is why you are allowed to h...
Jack R
— Masterton —
Climbing out of an avalanche of debt can feel like an impossible task. But Admiral Finance was able to give me the hand that I needed. Many lenders shy away from giving finance to those who need ...
Harry N
— Alexandra —
Admiral Finance Contact
Contact Number
E-Mail
Website
Physical Address
45 Mandeville St

Riccarton

Christchurch

8011

New Zealand
---
Postal Address
PO Box 36 606, Merivale, Christchurch, 8146, New Zealand
Opening Hours
Monday

08:00 – 17:00

Tuesday

08:00 – 17:00

Wednesday

08:00 – 17:00

Thursday

08:00 – 17:00

Friday

08:00 – 17:00

Saturday

– Closed

Sunday

– Closed