Loans bad credit up to $15,000
Low-interest starting from 13.95%
Repayment up to 3 years
In-page navigation
---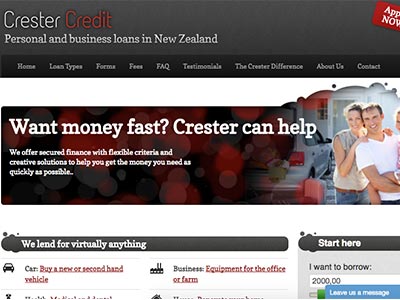 Author Crester Credit. Screenshot of Crester Credit website.


[Accessed April 17, 2018]
Crester Credit - A flexible loan service
Crester Credit is a leading loan company in New Zealand that helps you find the credit you need to make your financial problems disappear.
We are a Christchurch company that takes care of our clients and make sure that you are treated with dignity and respect through the entire loan process.
Our customer service excellence shines through in everything that we do. Our aim is to provide our clients with fast, friendly, flexible customer service. We offer both business and personal loans.
Our service is fast
To apply for a loan is very fast and simple. Complete the online application form with your personal details and provide supporting documents if they are required.
Our amazing technology will then determine if you qualify for a loan and you will be given an outcome within a few minutes. If your loan application is approved the money will be paid into your bank account within 24 hours.
Why you should choose Crester credit
Crester Credit is different because our application process is fast and easy, you will receive an outcome within a few minutes.
Once your bad credit loan application has been approved the money will be paid directly into your account within 24 hours. Our repayment schedule can be customized to suit your budget and if you are in the position to repay your loan early, you will not be charged a penalty fee.
Crester Credit Services
We aim to provide bad credit loans for everyday citizens that need a little bit of extra money to help them with their financial needs. Use our online calculator to find out how much your repayment terms would be on the amount that you would like to borrow.
Select your payment frequency, weekly, fortnightly or monthly and the calculator will let you know exactly what your repayment terms will be.
How it works
Once you have decided how much you would like to borrow complete the online application form.
Our financial experts will assess your application to determine if you qualify and you will be given an outcome within 60 minutes.
If your loan application has been approved you can accept the offer online. The money will then be transferred directly into your account in as little as 24 hours.
Bad credit loans made easy
If you have a bad credit history then you know how difficult it is to have your personal loan application approved. Most traditional lenders won't even look at your application form or will move it right to the bottom of the pile
Crester Credit is there for you in your time of need regardless of your credit score or your bad credit history, we will allow you to borrow up to $2,000 with flexible easy repayment terms that can be customized to suit your budget. The interest rates on our long or short-term loans are very competitive and we don't judge you based on your past financial transgressions.
Crester Credit – Bad credit loan
Loan Type

Loans bad credit

Interest Rate

13.95 – 26.98% p/a

Loan Amount

up to $15,000

Repayment

6 months to 3 years
Benefits of Crester Credit
Bad credit is welcome
Fast and simple loan application
Flexible loan terms
Bad credit loan calculator
Crester Credit - Bad credit home loans
Home improvements are the first thing that people cut down on as soon as their budget gets a bit tighter.
They are seen as un-essential and pushed aside to deal with at another stage. If you don't take care of your home correctly and perform routine maintenance it could end up costing you even more in the future.
You may apply for a loan even if you are:
Receiving an unemployment benefit
If you are receiving a invalids benefit
If you are receiving a sickness benefit
If you are a solo parent
If you receive a pension or superannuation
If you have bad credit
We say yes when other lenders say no so you have a much greater chance of your bad credit loan application being approved.
Applying for a home loan
You can apply for a home loan for many different purposes from obtaining finance to purchase a property too home renovations and repairs.
You should consider applying for a home loan if you are thinking about selling your property: Many buyers want to move into a home that is ready to live in. You will be able to sell your property for more money if it is well maintained and the house looks like a good investment.
Repairs are expensive: the more repairs that need to be carried out the more expensive the job will become. If you need extra assistance a loan would be great to help you pay for labor and building supplies.
Your home is your most expensive asset: if your home is your most expensive assets then it should be treated as an investment. If you are struggling financially you can always take out a secured loan using your property as collateral. Keeping your property is in good condition will ensure that it is worth more money when it is evaluated.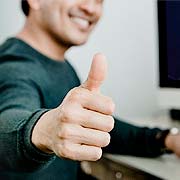 Crester Credit is a trusted & reliable provider of loans bad credit
Customer Reviews & Testimonials
"
The best part about a flexible lender is that they will adapt to suit your financial needs and preferences. I am so grateful that I came across Crester Credit because they have revolutionised bor...
David M
— Rotorua —
The worst part of any loan is the waiting; waiting for applications to be approved, waiting for the answers and waiting for the money to be paid. Luckily, Crester Credit understands that their cu...
Linda J
— Blenheim —
Crester Credit is a very understanding financial lender. They take a personal interest in the improvement of their customer's financial wellbeing. One month when I found that I would have to make...
Ericka L
— Nelson —
Crester Credit Contact
Contact Number
E-Mail
Website
Physical Address
3 Shirley Rd

Mairehau

Christchurch

8013

New Zealand
Opening Hours
Monday

08:30 – 17:00

Tuesday

08:30 – 17:00

Wednesday

08:30 – 17:00

Thursday

08:30 – 17:00

Friday

08:30 – 17:00

Saturday

Closed –

Sunday

Closed –