Loans bad credit up to $5,000
Fixed interest rate
Repayment up to 12 months
In-page navigation
---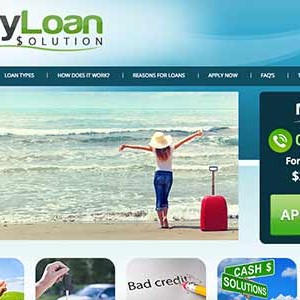 Author My Loan Solution . Screenshot of My Loan Solution website.


[Accessed July 3, 2019]
My Loan Solution - Excellent loan services
We are dedicated to finding you the financial solution that you have been searching for as quickly and as easily as possible.
There is no need to meet a consultant face to face or to visit our branch instead you can apply for one of our quick loans from the comfort of your own home 24 hours a day.
We pride ourselves on our service excellent and our fast and efficient service. To apply for a loan via our website only takes a few minutes and we will provide an outcome within a few minutes.
Loan products on offer
We offer a loan solution no matter what you are searching for our loan options include unsecured loans, secured loans, bad credit loans and vehicle financing. Our short-term loans allow you to borrow between $300 and up to $2,000 with easy repayment terms of up to 7 months.
If you are having a temporary cash flow problem then our cash advance option could be the loan solution you need, borrow between $300 and up to $1,000 with 6 weeks to repay the loan.
Loans amounts
If you require a larger amount of money then a My Loan Solution secured personal loan would be perfect for you. Borrow between $2,000 and $5,000 with up to 12 months to repay the loan.
To apply for a secured loan you will need to provide an item of collateral that is worth more than the loan amount. The collateral will be taken as payment if you do not honor the loan contract.
My Loan Solution Services
Bad credit can happen to anyone and we don't think that you should be penalized if you have made bad financial decisions in the past.
Your credit report will follow you for life and once you have a bad payment history and a low credit score, it can make your finances and applying for a loan a lot more difficult.
Banks and traditional lenders might turn you away, but we welcome you with open arms. We have developed a loan solution, especially for those clients that have a low credit score.
Bad credit loan solutions
When you apply for a loan we will have a look at your credit history, but that will not be the only factor that we consider when deciding. Giving you a second chance to prove that you are a responsible client and that you have learnt from your past mistakes gives you the ability to determine your financial future.
Apply for a bad credit loan
To apply for a bad credit loan is quick and easy. Complete the application and provide any supporting documents that are requested. We will do a few checks and give you an outcome as quickly as possible.
Once your instant loan application is approved the money will be paid directly into your account. If you have any questions or concerns then you are welcome to contact us so that we can put your mind at ease and make sure that you understand the loan process before you sign the contract
My Loan Solution – Bad credit loan
Loan Type

Loans bad credit

Loan Amount

up to $5,000

Repayment

12 months
Benefits of My Loan Solution
Flexible payment terms
Rates are competitive
Approvals are fast
Bad credit loan calculator
My Loan solutions - Tailor-made loans
Life is expensive to start with without any unforeseen emergencies or things going wrong that might require a payday loan solution.
When you need to rent a place to stay it can be very difficult to come up with all the cash that you require as most landlords expect a rental bond of at least 4 weeks rent upfront. Most of us are struggling to make ends meet day to day and defiantly don't have the cash required.
Our rental bond loan allows clients to borrow between $300 and $5,000 and will pay the money into your account within 24 hours of your loan application being approved. We get you the cash you need as quickly as possible so that you don't miss out on securing the property that you are after.
Supporting documents that you need to supply
100 points of identification. This can be your driver's license, your bank card, credit card, passport, or your birth certificate
Your last 2 months payslips
A statement from your bank for the last 90 days transactions
A bill that is sent to your address to confirm your residence
Scan in the documents or e-mail them to us for added convenience.
No penalties or extra charges
When moving from one residence to another you could be required to wait a long time to get your deposit back on your previous accommodation. This can make it very difficult when you need to pay your new deposit but don't have enough to pay until you get your deposit back.
Our rental bond loan is perfect because you won't be charged any fees or charges for repaying your loan early. So you can take a loan to secure the new place and pay back the loan as soon as you have received your deposit from the previous landlord. When you need a good or even bad credit loan solution then look no further than My Loan Solution.
Customer Reviews & Testimonials
"
When I first heard about My Loan Solution I decided that I need to give them a call and hear what they are all about. The consultant who assisted me was highly professional, knowledgeable and app...
Amy G
— Nelson —
My Loan Solution came highly recommended to me by a colleague and I can definitely see why now. They are on the ball; efficient and highly competitive. You will not be disappointed for giving the...
Lionel D
— Napier —
My Loan Solution understands that sometimes finance can get tough better than anyone. What I love about this is that they do not charge any penalties or extra charges for the early repayment of y...
Erica M
— Greymouth —
My Loan Solution Contact
Contact Number
E-Mail
Website