Loans bad credit up to $100,000
Low-interest starting from 7.95%
Repayment up to 5 years
In-page navigation
---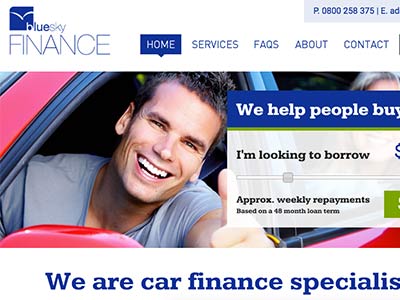 Author Blue Sky Finance. Screenshot of Blue Sky Finance website.


[Accessed April 17, 2018]
Blue Sky Finance - A wide range of financial products
Blue Sky Finance is one of New Zealand's leading loan-seeking services. We help organize the money that you need when you need it through one of our leading lenders.
Offering a wide range of financial products and services to meet your needs and bring you the best deal when it comes to business loans, vehicle financing, loans for a wedding or for funerals, holiday loans, home renovation loans, and bad credit loans as well as debt consolidation and many other financial solutions.
Bad credit history will not affect the outcome
If you have a bad credit score or a bad credit history you may still qualify for one of our personal loans provided that you meet the lending criteria. Each loan application is judged independently.
The outcome of your loan application will depend on your ability to make repayments on the loan. If you have a stable income and can afford to pay back the loan easily then your loan application should be approved. We will assess your credit history, despite a bad credit score will not necessarily mean that your application will be declined.
Blue Sky Finance is not a bank or finance company, we are there to connect you with the loan that you need. Once you have completed the online loan application form we will apply to our network of lenders on your behalf. This will give your loan application a greater chance of being approved.
Apply to multiple lenders
By applying via our service your bad credit loan application will be sent to a number of different lenders, but your credit report will show that you have only applied for one loan with Blue Sky Finance. If you had to apply individually to each lender, this would reflect negatively on your credit report. You will have an outcome on your loan application in as little as 2 hours.
Blue Sky Finance Services
Blue Sky Finance is a loan finding service that specializes in finding you the vehicle financing that you require. No matter what your financial requirements are, we will put you in touch with the lender that best suits your needs.
By using our network of lenders we are able to find you the best deals available and you can compare the offers side by side. Once you have decided which offer you would like to sign we will organize the loan through the lender on your behalf.
Bad credit loans
If you are experiencing financial difficulty and you need money to pay your bills, but you have been turned down by all the traditional lenders, then we will be able to assist you with a payday loan. Our bad credit loans allow you to borrow up to $1000 and only pay back the loan on your next payday.
Buy your vehicle privately
If you are looking for vehicle financing and shopping around for your new wheels you can increase your options as we allow you to purchase from private sellers as well as car dealerships. If you apply for vehicle financing your loan can be pre-approved so you know exactly how much you will have to spend when you are searching for the car of your dreams.
How to apply
We realize that you might not have a lot of time to complete an online loan application form so we have given our clients two easy options to apply.
Log onto our website and select the application method that you prefer.
Full application: The full application form will take up to 10 minutes to complete.
Express application: If you are pressed for time, then complete our express application. This should only take 2 minutes to complete. Once you have completed it, we will give you a call should we require any further details.
Blue Sky Finance – Bad credit loan
Loan Type

Loans bad credit

Interest Rate

from 7.95%

Loan Amount

up to $100,000

Repayment

12 months to 5 years
Benefits of Blue Sky Finance
Interest rates are personalised
Fast approval within hours
Quick and easy loan application
Bad credit loan calculator
Blue Sky Finance - Connect to a wide network of lenders
Putting you in contact with the lender that best suits your requirements is what we do best. Our loans include personal loans, bad credit loans, and vehicle financing as well as debt consolidation.
Each lender offers a number of loan products so that you have a wide range of choices when finding your financial solution.
Debt consolidation loan
If you are constantly dodging credit collectors or playing credit card roulette to see which bill will get paid this month, then maybe you should consider a debt consolidation loan. Blue Sky finance will help you get back onto your feet by paying off all your current debt. We will negotiate a settlement on your behalf and settle the account.
Saving you time and money
Once we have paid off all of your debt you will no longer need to make multiple payments to different creditors. You will only need to make an easy monthly installment to Blue Sky Finance to pay back your long or short-term loan.
By only needing to make one payment a month you will be able to recover quickly financially. This will save you time because you don't need to make multiple payments and it will save you money as the interest rate on your Blue Sky Finance loan is very low.
Customer Reviews & Testimonials
"
I thought that my poor credit record would follow me around forever. I had no idea that there were lenders out there who would be able to help me. But thanks to Blue Sky Finance I was able to rec...
Timothy H
— Christchurch —
Finally, a lender that considers applications without the judgment. So often you find that you are unable to get the credit that you need because of the unreasonable terms set by lenders. But Blu...
Jennifer S
— Auckland —
When you apply to Blue Sky Finance they send out your application to multiple lenders who then assess your application. These do not affect your credit score but rather increase the chance for yo...
Leigh P
— Dunedin —
Blue Sky Finance Contact
Contact Number
E-Mail
Website
Physical Address
8 / 212 Antigua Street

Christchurch

Canterbury Region

8011

New Zealand
Opening Hours
Monday

08:00 – 17:00

Tuesday

08:00 – 17:00

Wednesday

08:00 – 17:00

Thursday

08:00 – 17:00

Friday

08:00 – 17:00

Saturday

09:00 – 17:00

Sunday

– Closed