Loans bad credit up to $10,000
Low-interest starting from 14.99%
Repayment up to 1 year
In-page navigation
---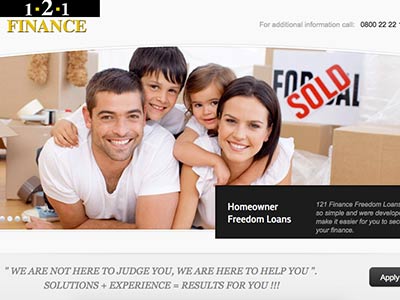 Author 121 Finance. Screenshot of 121 Finance website.


[Accessed April 17, 2018]
121 Finance - An effective loan comparison service
121 Finance is the solution that you have been searching for when it comes to your lending needs. We offer a number of different financial products and services to meet your needs.
If you are dreaming of going on holiday or paying for your dream wedding, wanting to take that next step and purchase a vehicle or a property, or whether you need help consolidating your debt we have the solution that you need.
Fast, friendly and efficient
When you apply for a loan with us we want to make it as simple as possible for you.
Apply via our website by completing the online loan application form.
You will be given an outcome within a few minutes and if you need any help during the process our friendly consultants are only a click or phone call away.
We are different because we treat you like a person and we care about helping you in your time of need. We want to help you, not ourselves and we strive to always put your needs first.
Our history
Our company was established in 2000 by two founders who had over 10 years of experience in the financial field.
They wanted to provide a financial solution to those clients that were unable to secure a bad credit loan via the conventional methods.
121 Finance was designed to help everyday New Zealand citizens that needed a bit of extra cash for whatever reason.
121 Finance Services
121 Finance is a loan finding service. By applying for a loan through our service you will have access to multiple lenders and therefore multiple bad credit loans with only one loan application.
By applying to multiple lenders at the same time you have a better chance of having your loan application being approved. You can save money because you have a choice among lenders and you can choose the one that best suits your requirements.
121 Finance - it's what we do differently
What makes us different is that once you have applied initially via our website or via the telephone, we will send a mobile consultant to come and see you at your home or workplace at your convenience to guide you through the rest of the quick loan process.
121 Finance bad credit loans
Having bad credit can be challenging especially when you need a loan. 121 Finance understands that bad credit happens to good people so we don't judge you based solely on your credit score and take into account your entire financial situation including employment history and expenses.
You can still apply for a bad credit or blacklisted loan if you have had your loan application declined for the following reasons:
Former bankruptcy
If you are self-employed
Previous Baycorp credit issues
If you are receiving benefits such as WINZ or IRD income
If you have had your loan application declined by the bank
If you have payday loans in arrears or an erratic payment history
We will do everything we can to get you the best loan to suit your needs.
121 Finance – Bad credit loan
Loan Type

Loans bad credit

Interest Rate

14.99 – 361.45% p/a

Loan Amount

up to $10,000

Repayment

1 month to 1 year
Benefits of 121 Finance
Reliable loans
Loans are affordable
Easy loan application
Bad credit loan calculator
121 Finance - Secured bad credit loans
Another option for those clients with a bad credit score is to apply for a secured bad credit personal loan. If you have a bad credit history some lenders will still lend you money if you provide some sort of security against the loan this is known as collateral.
You can use your fully paid for house or car as collateral against the loan. Apply for a loan of up to $1000,00 the amount that you qualify for will depend on how much money your collateral is valued at. The main disadvantage of a secured loan is the risk involved. If you are unable to repay the loan, then you will lose your collateral and be left even worse off than before.
121 Finance freedom loan
A freedom loan was designed to give you the freedom you need from your financial burdens. This loan works by using your property to secure a loan of up to $20,000. The instant cash loans are available as either 2% or 5% freedom loans and are granted without your property needs to be evaluated.
Other ways of applying for a loan
If you are having problems having your loan application approved, you should think about using a joint application to apply. Ask a trusted family member or friend to co-sign on the loan with you, this will allow the lender to take the other person's credit history into account and your loan application has more chance of being approved.
If you don't pay back the loan then the co-signer will be held responsible to make sure that you don't affect their credit report by not making payments or making late payments.
121 vehicle financing
Buying a car is a very exciting experience and one of the most costly purchases that you are bound to make.
We can help you not only with vehicle finance but we will even help you to find it. Our many years in the financial field have helped us develop personal relationships with a variety of business owners so we are sure to be able to point you in the right direction no matter what you are searching for.
Customer Reviews & Testimonials
"
With a wide array of financial products, you will feel like a kid in a candy store. 121 Finance knows their way around loans and will do all that is in their power to ensure that you get the very...
Raine F
— Wellington —
If you find it difficult to make your way to the branch, you can complete an online application and 121 will send a consultant to visit you in your home. This means that you can get the finance r...
Janice W
— Queenstown —
All in the matter of a day your financial life can be totally different. There is no more need to wait around for an answer because they get back to you within the hour. If you are looking for a ...
Travis O
— Nelson —
121 Finance Contact
Contact Number
E-Mail
Website
Physical Address
3 Albany Hwy

Unsworth Heights

The Palms

0632

New Zealand
---
Postal Address
PO BOX 100 482, North Shore, 0745, New Zealand
Opening Hours
Monday

08:30 – 17:00

Tuesday

08:30 – 17:00

Wednesday

08:30 – 17:00

Thursday

08:30 – 17:00

Friday

08:30 – 16:45

Saturday

Closed –

Sunday

Closed –