Loans bad credit up to $200,000
Low-interest starting from 9.95%
Repayment up to 48 months
In-page navigation
---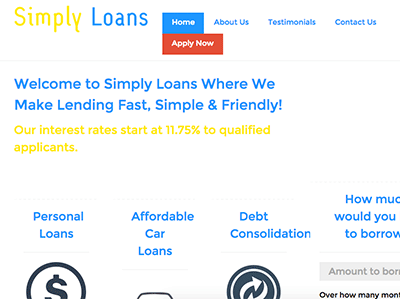 Author Simply Loans. Screenshot of Simply Loans website.


[Accessed April 17, 2018]
Simply Loans - We compare, You save
Simply Loans are the loan finding service that will find you the loan that you are searching for so that you can save your time and money. We believe that applying for a loan should be simple and easy.
Applications can be made online via our website. You will receive an outcome within a few minutes, so there is no need to wait around stressing. Having over 10 years of experience in the financial field gives us an advantage above the competition as well as access to a large network of lenders. We bring you the best interest rates that start at as low as 11.75% per year.
Therefor you when life happens
It would be wonderful if everything always went according to plan, but life is not like that. Imagine your car breaks down because of a flat tire and you need to get to work, but payday is weeks away, what will you do if you don't have the money for a replacement?
That's where we would be able to assist you with a short-term loan. We offer a wide range of loans including car loans, personal loans, business loans and debt consolidation loans to help get you back on your feet.
Loan options between $1000 - $200,000
When you apply for a bad credit loan with us, you are actually applying to over 10 leading lenders with just one application. This gives you a much better chance of your loan being approved. Even though you are applying to multiple lenders your credit report will list just one loan application so that by applying you won't negatively impact your credit report. Our staff is friendly and professional and there to help you, should you require any assistance.
Simply Loans Services
Most of our bad credit loans are secured loans. This means that the client will need to provide some sort of collateral as insurance against the loan in case you don't make payments. If you default on your loan payments then the item listed as collateral will be seized as payment.
The item of collateral will need to be worth more than the loan amount and must be fully paid for. Your vehicle, property or expensive jewellery could be used as collateral.
Secured and unsecured personal loans
Depending on your credit score you could apply for a secured or unsecured personal loan. A secured loan is a loan secured against collateral. An unsecured loan doesn't require any form of security, but the interest rate is usually much higher.
Turn debt into one easy payment
If you have outstanding bills that are nagging at you, but you don't have enough money to pay them all this can cause you a lot of stress. Simply Loans can help you take control of your financial future by helping you pay off your debt.
Debt consolidation works by finding out exactly how much you need to pay in order to settle your debt. We pay your outstanding bills so the only bill that you need to worry about is your consolidation loan. By using this approach you will save money on interest and late fees. This will also reflect positively on your credit report. To pay back your loan is simple, we will help you set up a direct debit on your account that aligns with your pay frequency.
Simply Loans – Bad credit loan
Loan Type

Loans bad credit

Interest Rate

9.95 – 29% p/a

Loan Amount

up to $200,000

Repayment

6 months to 48 months
Benefits of Simply Loans
Affordable loans
Flexible terms
Fast loan payout
Bad credit loan calculator
Simply Loans - You can improve your credit score
Why your credit score is so important
When you apply for a loan you will be asked to consent to a credit check. Your credit record is very important to inform a lender if you are a high-risk client or not. Your credit report is a record of all of your debt and bills. Any missed payments or outstanding account payments will also be listed on your report.
The worst financial decisions are recorded the lower your credit score will be. It is important to know your credit score and check your credit report for any errors.
Ways to improve your credit score
If you have a bad credit score there are ways that you can improve it.
The first step is to pay any outstanding bills. If you don't have the money to do this you should consider a debt consolidation loan.
Make sure to pay your credit card on time
Pay as much as you can afford and never miss a payment
If you have multiple credit cards consider switching the balance so that you only have one payment to make each month
Make sure that any debts that you have settled are removed from your credit report
Build your credit by paying your bills on time by setting up a direct debit on your account
Vehicle finance made easy
When you are looking for vehicle financing or a bad credit loan, we are there to help you. Find your dream car at a dealership or privately and we will arrange the financing for you.
We have access to over 10 different leading lenders, so you are guaranteed to find the best fees and terms. Even if you have a bad credit score you can still apply for a unsecured blacklisted loan.
Customer Reviews & Testimonials
"
At Simple Loans they compare so that we can save. I was worried about finding the right loan for my pocket, but Simple Loans made the process pain-free and entirely pleasant. Give them a call and...
Kayla T
— Wellington —
With both secured and unsecured loan options, you will be able to get the loan that you need. Most lenders do not offer both options so you can discuss which option would be better for you. I per...
Jessica R
— Queenstown —
With the use of a debt consolidation loan, you will be able to turn all of your debt into one easy payment. If it weren't for Simple Loans I would still be paying high amounts on interest due to ...
Nathan H
— Hastings —
Simply Loans Contact
Contact Number
E-Mail
Website
Physical Address
2/120 Hamilton St

Tauranga

Bay of Plenty Region

3110

New Zealand
Opening Hours
Monday

09:00 – 17:00

Tuesday

09:00 – 17:00

Wednesday

09:00 – 17:00

Thursday

09:00 – 17:00

Friday

09:00 – 17:00

Saturday

Closed –

Sunday

Closed –