Short-term loans up to $25,000
Low-interest starting from 14.9%
Repayment up to 48 months
In-page navigation
---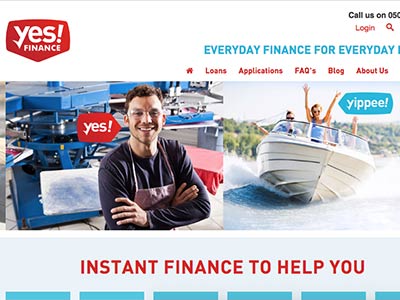 Author Yes Finance. Screenshot of Yes Finance website.


[Accessed April 17, 2018]
Yes Finance - A professional and caring serivce
Yes Finance opened its doors in 1997 and was operating as a unique and independent credit provider.
We were not your usual financial services provider, we used to help retail stores that had clients that were struggling to pay and buy products with instant cash loans.
This used to be such great help to households that could really do with the products but didn't have the financial means to cater for their needs right away.
We are always willing to listen
The same resilience we used to possess back in 1997 is the same compassion we have today. There has never been a client we were not willing to listen to it. A huge majority of the customers that come to us for help usually walk away with a short-term loan.
However, if we find that we can't assist a client with a loan, we will be able to help them by giving them cash loan tips that will come in handy the next time they want to apply for credit with us.
A customer-focused approach
Our biggest assets are the clients that we help on a daily basis. Everything we do is to ensure that they receive the best care without being interrogated with a lot of questions.
If we were to have unhappy clients, we would have to ensure that they are treated with the utmost respect and kindness whether they get the personal loan or not. At Yes Finance, everyone is seen in the same light and there isn't any biased behaviour amongst our agents.
Yes Finance Services
The first step is the loan application process. Clients have to complete the loan application online and can be completed in the comfort of your own home.
What we usually ask our customers are who they are, where do they live, where they work, how much they earn and when do they get paid.
These are some of the details we need to gather so we can establish how much customers would qualify for on one of our short-term loans. The information we ask for is strictly confidential and will never be used for any other purpose other than that of their loan application.
Submission and verification of documents
The second step is the submission of certain documents we require from our clients. These documents will vary from customer to customer, but the basics include your identification book, proof of address, bank statements and proof of latest pay slip.
We need to verify if the information submitted to us via the online application corresponds with the information stipulated on the official papers you give to us.
The money will be deposited into your bank account
After we have checked everything and we are satisfied, we will deliver the money into your chosen bank account. After the money has left Yes Finance, we have no control over how your banks operate.
Depending on which bank you use and the time of the day the personal or payday loan application was approved, the money may take a few hours or one business day to reflect on your bank account.
Yes Finance – Short-term loan
Loan Type

Short-term loans

Interest Rate

14.9 – 29.9% p/a

Loan Amount

up to $25,000

Repayment

12 months to 48 months
Benefits of Yes Finance
Easy loan application
Affordable rates
Flexible repayment terms
Short-term loan calculator
Yes Finance - Short-term loans at your finger tips
With so many scams happening of late, we have to verify if we are indeed speaking to the correct person.
Therefore, requiring so much information is merely for verification purposes and nothing else. The last thing we want is to realize that somebody stole your identity and we were not aware because we didn't check. Identity fraud is a serious crime and it is happening more and more lately, especially where money is involved.
Will you check my credit history?
This is the part that frightens a lot of clients but you need not worry because, at Yes Finance, we won't let your credit history determine your future loan applications.
We just want to get a picture of how you used to spend your money in the past. If there are major setbacks we find, we might not proceed with your application.
How much can I borrow?
For the purposes of a fast cash loan, a client can borrow up to $750. It is important that customers only borrow the amount they need. If you don't need more than you are borrowing then you are not being financially disciplined.
Nobody should be paying for credit they weren't intending on borrowing. Only borrow what you need and what is necessary.
What is the Payment Protection insurance?
Due to unforeseen circumstances of a client losing employment or being involved in an accident, this type of insurance will cover your payments and ensure that your loan is paid up and up to date.
We encourage our clients to sign up and join this insurance because one might never know what could happen. Furthermore, it is always good to be safe than sorry. The monthly premiums are also not expensive and can be paid along with your loan on the same date.
Can I pay my loan early?
Should you have the money to settle your loan earlier than the scheduled date, please don't hesitate to do so. We recommend and credit customers who want to pay their short term loans earlier as opposed to waiting for the agreed debit date.
Customer Reviews & Testimonials
"
This company has so many loan types and that is why we like to stay with them cause they have helped us over and over again.
Pauly H
— Auckland —
When I wanted to travel to get away because I needed a break I took out of their travel loans best decision I have ever made.
Lee S
— Wellington —
They are always so friendly when I have to deal with them and that is why we deal with them only and why we will never use another company.
Beth F
— Napier —
Yes Finance Contact
Contact Number
E-Mail
Website
Physical Address
6 Sharkey Street, Manukau City Centre

Auckland

2104

New Zealand
---
Postal Address
PO Box 23008, Hunters Corner, Auckland, 2155, New Zealand
Opening Hours
Monday

08:30 – 17:00

Tuesday

08:30 – 17:00

Wednesday

08:30 – 17:00

Thursday

08:30 – 17:00

Friday

08:30 – 17:00

Saturday

09:00 – 13:00

Sunday

Closed –