Short-term loans up to $600
Low-interest up to 200%
Repayment up to 30 days
In-page navigation
---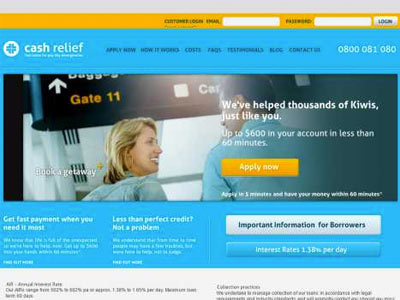 Author Cash Relief. Screenshot of Cash Relief website.


[Accessed April 17, 2018]
Cash Relief - 100% online loans
Cash Relief has been assisting New Zealand citizens with cash loans since 2011. To date, we have never made a customer feel neglected or feel as though they were not assisted.
Even if we can't give you a loan due to your credit rating, we will always give you advice on how to make your profile better.
We know we can't make everybody happy by approving their online loan applications, but the least we can do is be of great help in teaching them how to become healthier spenders.
No physical meetings required
Banks often require to meet face to face with their clients to discuss their loan application. When they do this, they then have the opportunity to study their customer in depth and get to know the kind of person they are.
At Cash Relief, we do our introspection electronically. We believe in maturity in the sense that clients will never sell us a picture of what and who they are not.
If they do, we will eventually get up to their tricks. However, it has never got to that stage. Everybody who has requested a short-term loan from us has been who they say they are.
Getting a little help
We know it is a little confusing having to decide whether you should get a personal loan or not. We have informative videos online that help you decide whether you should commit to a financial plan that includes credit or whether you should wait for your next pay day.
Cash Relief Services
The first stage is clients applying for credit. Our services are online which means you can get a payday loan anywhere as long as you have access to a computer, tablet or even smartphone.
Our processes are simple and there is nothing too difficult for you to understand. Every step in the online application is self-explanatory. We will ask you some of your personal details as well as your salary information, and employment background. Further to that, the client can make use of the loan calculator to gather how much they might be paying for the loan option they are taking and for how long they would be paying the loan for.
Verification and assessment of details
The second step is us checking your loan application and comparing it with the documents we usually request clients to submit. We need to do this verification process so that we can establish if there is a sense of accuracy in the documents and application submitted by our customers.
Also, it is part and parcel of the fast cash loan application so it is not a stage that can be bypassed. If you are using our services for the first time, we will send you a contract agreement that you have to electronically authorize before we can proceed to the last and final step.
The money will be deposited in your bank account
After everything has been approved, the money will be deposited in your bank account for your disposal. If the short term loan was approved before 4pm, the money will reflect on the same day. Otherwise, the next business day.
Cash Relief – Short-term loan
Loan Type

Short-term loans

Interest Rate

200%

Loan Amount

up to $600

Repayment

7 days to 30 days
Benefits of Cash Relief
Quick online application
Flexible repayments
No hidden fees
Short-term loan calculator
Cash Relief - Quick short-term loans
Loan repayments will be collected via debit order on the scheduled date. Should the customer struggle to meet his financial obligations, he needs to notify us as soon as possible.
Failure to do so will render it as a missed payment as opposed to it being considered as part of financial hardship. If we find that there are insufficient funds in your bank account on the agreed upon date, the client will be liable for dishonesty fees.
How much can I borrow?
Clients are eligible to borrow $600. However, it is advisable that they borrow only the amount they need and the amount they are going to use. We don't encourage our customers to borrow money they don't have any purpose for. The last thing you need is to be paying unnecessary online loans you could have avoided taking.
Who can qualify for a Cash Relief loan?
In order to be considered for our instant loan services, the client needs to be 18 years of age. They also have to be a New Zealand citizen or have permanent occupancy. Lastly, they have to be working and earn means of incoming on a constant and frequent basis.
The amount they should be earning should not be less than $450 on a weekly basis after deductions. We have our exclusions unfortunately, we don't borrow money to someone who filed for bankruptcy or has government benefits. Also, we don't borrow money to people that are self-employed.
Can I get a loan extension?
We have strict policies when it comes to paying off your loan. However, we evaluate each individual loan application differently and decide on the severity of the matter at hand.
Can I renew my loan?
A renewal of any of our short-term loans can only be done once your current credit plan with Cash Relief is paid out. We don't want our clients being under pressure without being too full of that knowledge.
Can I cancel my loan?
If you have changed your mind and you feel you need to cancel the application you made, this you can do within 7 working days.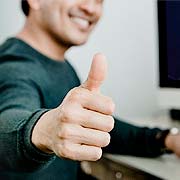 Cash Relief is a trusted & reliable provider of short-term loans
Customer Reviews & Testimonials
"
Cash Relief gave me the relief I needed when times were tough.
Halley K
— Timaru —
They have affordable rates on their short term loans and the funds are paid out the next day.
Sulivan H
— Hamilton —
I love how easy the site is to use and apply from. Quick payout times too!
Gary B
— Masterton —
Cash Relief Contact
Contact Number
E-Mail
Website
Physical Address
Unit No. 28/369 Adelaide Road

Wellington

Newtown

6021

New Zealand
---
Postal Address
PO Box 27 260 Marion Square , Wellington, 6141, New Zealand
Opening Hours
Monday

09:00 – 16:30

Tuesday

09:00 – 16:30

Wednesday

09:00 – 16:30

Thursday

09:00 – 16:30

Friday

09:00 – 16:30

Saturday

Closed –

Sunday

Closed –