Short-term loans up to $20,000
Low-interest starting from 19.95%
Repayment up to 36 months
In-page navigation
---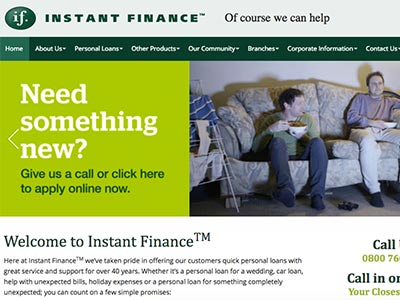 Author Instant Finance. Screenshot of Instant Finance website.


[Accessed April 17, 2018]
Instant Finance - Affordable loan options
Instant Finance has been in the industry for more than 45 years. In all the years we have spent, we have gone out of our way to ensure that our customers get the best short-term loans. Our clients are the reason we are still in business.
They are the people who have trusted us to deliver an exceptional financial service and so we have. Instant Finance wouldn't be the booming financial services provider that it is today if it weren't of the constant support that we have received from our clients.
As much as the saying says "It takes a village to raise a child", with Instant Finance, it took entire New Zealand and we are immensely grateful.
A loan for any occasion
At Instant Finance, we will never ask you why you need a quick cash loan and what you going to use the money for. As far as we are concerned, we know a client would never go through the process of applying online and submitting documents if they were going to misuse the funds of the loan they apply for.
Therefore, you could be in a medical crisis or you need money to take your dog to the vet and we would still assist you.
The reason we don't ask you a number of questions is that we believe if the reason to apply for a loan is important to you then it is important to us. Therefore, there is no need to ask you irrelevant questions.
Instant Finance Services
There isn't much of a difference as the loan application process is the same with both methods. The only difference is that one technique is electronically and the other is manual.
Therefore, a client can apply for one of our instant loans through any method that is convenient for him. We are happy with either process as long as the client is comprehensive with all the questions we ask.
If there are any questions you don't understand from the online application, please feel free to contact us.
What type of documentation do you require during the loan application?
We need your identification card, driver's license, proof of residence and bank statement. These documentations will differ from one personal loan application to the next as every application is not treated the same.
In essence, we want to determine your level of affordability and whether you will be able to afford to pay off the loan or not.
How much can I borrow?
Clients can borrow a minimum of $200 and a maximum of $20 000. All of this is dependent on your affordability. It is important that clients don't borrow more than they need. It wouldn't be practical paying for a short term loan you didn't really need at the time.
Instant Finance – Short-term loan
Loan Type

Short-term loans

Interest Rate

19.95 – 29.95% p/a

Loan Amount

up to $20,000

Repayment

3 months to 36 months
Benefits of Instant Finance
Funds in your account within 24 hours
Simple online application
Affordable loans
Short-term loan calculator
Instant Finance - Getting a loan through us is easy
We know that life has a tendency of throwing some curve balls at us and this may make certain changes to your budget.
As such, you might not be able to pay your loan on time. Please don't wait until it is too late to inform us that you are having financial difficulty. We will try our best to not make you pay extra fees, but in some cases, you will have to pay them depending on how much you already owe.
How will a bad credit history affect me when applying for a loan?
A bad credit record of person A is not the same as the next person. As such, we check the severity of your bad credit and in most cases, we are able to help you with a bad credit loan.
We will not look into how you used to spend your money in the past as this won't help your current situation, we check how you use your money now and how financially matured you have been. Therefore, don't worry if you have bad credit, don't let that stop you from applying for credit.
How quickly can I have the cash in the bank?
We know that when you apply for credit, you normally need the money right away. Having said that, we try our level best to ensure that you have the money on the same day you applied and got approved for the short term loan.
Can I apply for an Instant Finance loan if I am self-employed?
We welcome loan applications from self-employed clients. We normally require a recent bank statement and we will proceed with the necessary steps of a loan application.
Can I apply for a loan if I am not a resident of New Zealand?
Unlike most credit providers that require clients to be New Zealand citizens to be considered for a quick online loan, Instant Finance accepts non-resident applications. All we need your passport and work visa and we are good to go.
What is the minimum age for applying for a short-term loan?
In order to be considered for a loan at Instant Finance, a client has to be 18 years and older.
Customer Reviews & Testimonials
"
If you are looking for a branch that you are close to all you have to do is click on branches and it will take you to the closest one to you.
Mitchel H
— Auckland —
The best part about the site is that no matter if you only have your cell phone you can get onto the site and of you sorting advice you can contact them.
Caleb W
— Timaru —
The service is impeccable when I needed advice before I sent through my application they had no problem helping me get all the information that I needed.
Nick G
— Queenstown —
Instant Finance Contact
Contact Number
E-Mail
Website
Physical Address
600 Great South Rd

Greenlane

Auckland Region

1051

New Zealand
---
Postal Address
P.O. Box 11427, Ellerslie Level One, Building B, 600 Great South Road, Greenlane, 9012, New Zealand