Short-term loans up to $50,000
No penalty fees
Fast approval
In-page navigation
---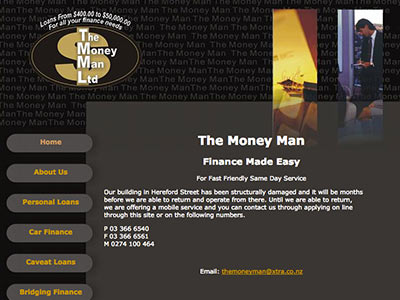 Author The Money Man. Screenshot of The Money Man website.


[Accessed April 17, 2018]
The Money Man - Same-day loans
It is very rare to find a financial services provider that will give you a loan the very same day you applied for it.
The Money Man does exactly that, we will give you a response in a matter of minutes after you have applied online and deposited the money straight into your account after we have approved your online loan application the very same day.
We value our customers
The reason we aim to please is that we value our customers and we know that whatever motive that may have pushed them to apply for one of our short-term loans is usually something of urgency.
At The Money Man, you need not worry because we will do all that we can to ensure that you get a loan so that you can attend to your personal affairs.
The Money Man operates as a mobile service
While many of you thought we will shut down after our building was damaged, we came with a more innovative way of continuing with our loan service. We decided it would be best to operate on mobile so that we can reach every client that is in need of a personal or payday loan.
We have given our clients no reason to doubt and they haven't. We have received some of the best reviews from the customers we help on a daily basis.
With so much praise that we keep receiving, we aim to maintain the standard by ensuring that our clients know that our doors are always open to help them at any time of the day.
The Money Man Services
Our loan services are available for everyone. We will never reject a short-term loan application. Low-income earners often have a lot of doors shut in their faces as if it is their fault that they earn so little.
With us, we don't look at how much you earn. As far as we are concerned, everybody is equal in our eyes and will be treated with the same treatment. We take discrimination quite seriously and we would never do such activities to our clients.
Credit for any given reason
Clients can apply for a loan to fix their car, looking for that holiday destination, they always yearned to go to or even pay their monthly bills. Whatever reason you may need a loan for, we will cater to your needs.
We don't ask our customers nitty-gritty questions that are not necessary.
We believe we are dealing with matured beings who know all the terms and conditions of applying for a quick cash loan and will ensure that they don't skip any payments.
Clients who receive benefits can also apply
We welcome customers with benefits. They too can also apply for our credit services. On condition that the benefits they receive is a supplement to a constant salary they get.
If the client only receives a benefit as an income, we will not be able to assist. The customer needs to ensure that he receives both the benefit income and a salary in order to be considered for a personal loan.
The Money Man – Short-term loan
Loan Type

Short-term loans

Loan Amount

up to $50,000
Benefits of The Money Man
Approval within hours
No extra charges for early payment
Easy application loan
Short-term loan calculator
The Money Man - Bad credit clients are welcome
We are not one to judge clients based on how they used to spend their money before. If by any reason, things used to go haywire in the past, we are willing to give you a chance and see how you spending your money now.
This speaks to say we have no problem helping clients who have had bad credit in the past. We are more concerned about how you managing your bills now. Nobody is perfect when it comes to money so that is why we give everybody a fair chance and approve bad credit loans on occasion.
The criteria for applying for a loan
Clients need to meet certain requirements in order to be considered for a loan. For starters, they need to be 18 years or older. They also need to ensure that they are New Zealand citizens or have permanent residency.
It makes things rather difficult when you have left the country and we are struggling to get hold of you. Furthermore, the client needs to be employed and earn a certain salary. Without having any means of income, applying and let alone paying for an instant loan would prove to be difficult. In essence, the clients have to ensure that they meet all the requirements and not just a few.
Approval period
We try our level best to ensure that clients get their short term loans approved within hours of application so that we can send the money on the same business day. However, if the loan was approved after business hours, the customer will only get the money on the next business day. Urgency is also part of a service we aim to give our clients and that is why we fast-track every application we receive.
Paying your loan early
Customers who wish to settle their debt sooner rather than waiting for the payment date can do so without incurring any charges. We applaud clients who pay their loans sooner and we will have no problem assisting them in the near future because they have proven to be loyal and worthy customers to The Money Man.
Customer Reviews & Testimonials
"
If you are ever in doubt all you have to do is email them and they will help you sort out your loan or any problems you are having.
Joan L
— Auckland —
When I phoned in for advice that I desperately needed they helped me right away with no hesitation and even taught over the phone more about my current loan and how to save.
Kelly M
— Wellington —
They are in for helping you and that is why this company will be the right choice for anyone and I will always recommend them.
Coralee S
— Auckland —
The Money Man Contact
Contact Number
E-Mail
Website
Physical Address
8 Carnaby Cl

St Albans

Christchurch

8052

New Zealand