Short-term loans up to $100,000
Low-interest starting from 8.95%
Repayment up to 120 months
In-page navigation
---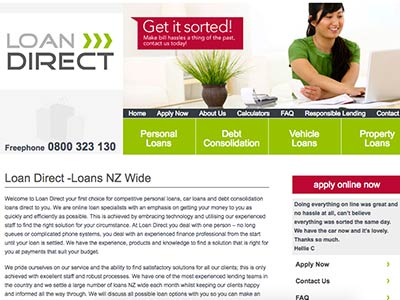 Author Loan Direct. Screenshot of Loan Direct website.


[Accessed April 17, 2018]
Loan Direct - Affordable short-term loans
New Zealanders have always known who they can turn to when they need a short-term loan. With Loan Direct, we do everything with ease and speed.
Unlike banks, we will not give you the 4-1-1 about unnecessary things that have got nothing to do with your loan, we will get to the point of the matter right away – ensuring that you get funds so you can go on about your affairs. We have assisted many clients without asking what they plan on doing with the money
Can I be rejected for a loan application?
Although we try our level best to ensure that we help everyone including offer bad credit loans to people who can't get a regular loan, it is not always possible. If a customer has a bad credit history and still continues to miss payments, he will be automatically rejected.
We are not looking for a perfect payer but we are looking for someone who is at least disciplined enough to keep up with his payments. To us, it shows a level of carelessness if you don't pay your bills for months.
How can I ensure that my loan application is always successful?
There isn't much you can do to ensure that you are always on our good books apart from ensuring that your payments are up to date and that you don't skip any payment due.
However, it is important to remember that every online loan application is treated differently despite it being from the same individual.
Loan Direct Services
The first step is that the client needs to complete an online application form. It is important to clarify that a completed payday loan application doesn't guarantee automatic success for a loan.
There will be a number of processes that need to be done before we can deem your application a success. The application usually requires personal information about the customer as well as his employment details and salary information. All this information is strictly confidential and won't be shared or seen by anyone either than the consultant dealing with your application.
Submission and verification of documents
The second step is submitting documents. We need to verify if the information that was sent to us via the online application corresponds with the details of your papers. If it doesn't and there is a big difference, we will call you to explain to us the huge modification. However, if we are happy with everything, we will proceed to the last and final stage of your short term loan application.
The money will be deposited into your bank account
Due to the fact that there are a few things to be considered before the money is made available at the client's disposal, it is important that the client reads and understands the terms and conditions of the personal loan agreement. The customer will be required to adhere to the rules and regulations of his loan at all times and should never bypass them. The money will be deposited in a few hours or the next business day.
Loan Direct – Short-term loan
Loan Type

Short-term loans

Interest Rate

8.95 – 29.95% p/a

Loan Amount

up to $100,000

Repayment

6 months to 120 months
Benefits of Loan Direct
Simple online application
Quick loan payout
Affordable rates
Short-term loan calculator
Loan Direct -Fast, convenient short-term loans
Although the loan a client is applying for can be used for anything, we usually want to know what the purpose of requesting such credit is.
The last thing we want is to realize that all that money that was meant to do something of urgency ended up doing something that wasn't effective. We are not saying our customers can't spend their money right, we are just saying we know how tempting money is when it is at the palm of your hand.
What if I have bad credit?
Helping clients with a bad credit history has never been an issue as we offer blacklisted loans. We are not concerned about how bad your payment patterns were in the past, we are more interested in how you are paying your bills now.
A lot of customers tend to change their ways for the better after having suffered a bad credit lifestyle. In essence, that is what we want and look for in a client, an individual who has outgrown the careless spending and matured in financial discipline.
Who will see my application?
Everything we do at Loan Direct is private and confidential. The only people who will have access to a client's short-term loan application is the consultant it arrived too. We don't share our client's information with anybody else.
How do I send my information to you?
Although we welcome both email and fax, we prefer the email as an electronic means of communication. This way, everything will be convenient for everyone.
Can I make a complaint?
Although we try our best to ensure that everybody and all parties are happy with their instant loans, we know that sometimes we slip up. As such, if you have any complaint regarding our services, there are stages that need to be followed.
Contact us and we will explain to you in greater detail what you need to do. We always try to make sure that a complaint is solved in the earlier stages of the process but if there isn't any joy, we will proceed to other processes of a complaint.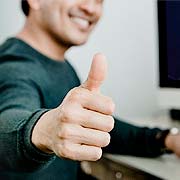 Loan Direct is a trusted & reliable provider of short-term loans
Customer Reviews & Testimonials
"
They have given me all the information that I will need to pay off the loan that I have been battling with and if I ever need a new loan I will be contacting them.
Jackson A
— Auckland —
I got the loan that I needed they have taken away all my stress and now I am able to relax and pay my small amount every month.
Lenny S
— Wellington —
The staffs are amazing and they are very understanding knowing that not everyone has knowledge of loans and that is why I will always turn to them.
Shelby M
— Queenstown —
Loan Direct Contact
Contact Number
E-Mail
Website
Physical Address
4/238 Broadway

Newmarket

Auckland Region

1023

New Zealand
---
Postal Address
P O Box 28 231, Auckland, 1541, New Zealand
Opening Hours
Monday

08:00 – 17:30

Tuesday

08:00 – 17:30

Wednesday

08:00 – 17:30

Thursday

08:00 – 17:30

Friday

08:00 – 17:30

Saturday

Closed –

Sunday

Closed –