Bad credit loans are available
Short-term loans up to $1,000
Unsecured loans are available
In-page navigation
---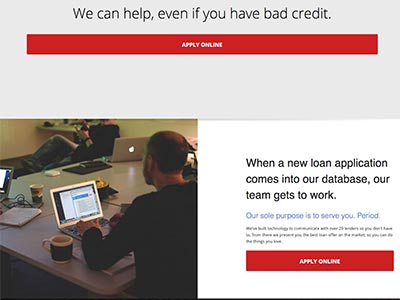 Author Finance District. Screenshot of Finance District website.


[Accessed April 17, 2018]
Finance District - Our loans payout fast
Finance District has been helping a number of clients with short-term loans. We are not even picky, we welcome people with bad credit too.
We don't see the point of punishing customers for how they used to spend their money a number of years ago.
Money has a tendency of being overspent even by the most worthy savers. What we are more concerned about is how they are using their money now.
Finance District has a consistent workforce
Our team of agents doesn't wait until they have ten loan applications before they get to work. They work on the first application they receive.
This way, the clients that apply will know the decision before the end of the business.
Furthermore, we want to ensure that we deliver a speedy service that will make our customers feel at ease.
Fast response time to your application
When you are looking for a quick cash loan, waiting for hours or even days on end to hear a response is not usually what you have in mind.
At the Finance District, you don't have to worry about the waiting period because you don't have to wait long before you are told whether your application was successful or not.
The majority of our online loan applications always offer good news. However, we have heard a few rejections based on certain objections we have found to be rather evident in the client's records.
Finance District Services
Not that we have a problem with helping our customers and giving them money whenever a need has risen, we like to create a personal relationship with them beforehand.
Having said that, the personal loan application is the stage where we like to find out more about the client and get to know them on a more personal level.
This is not an interview or some kind of interrogation so clients shouldn't feel intimidated. Instead, they should feel free and answer all the questions as they would have responded to a friend.
Documents submission and verification
The reason we need some of your documents is so that we can verify if we are indeed talking to the right person. Furthermore, we need to ensure there is a sense of authenticity on the papers submitted for our attention.
If we find that everything is in order, there will be no problem and no eyebrows raised. However, if we find that there are a few discrepancies raised, we will contact you and ask you to explain.
If there is any evidence of fraud picked, we will have no choice but to terminate your loan application.
The money will be deposited into your bank account
This is the last stage and probably every client's favorite part. After everything has been analyzed and found in sync, we will deposit the short term loan into your bank account. From here, you can do whatever it is you were intending on doing with the money.
Finance District – Short-term loan
Loan Type

Short-term loans

Loan Amount

up to $1,000
Benefits of Finance District
Interest rates are low
Excellent customer service
Reliable lender
Short-term loan calculator
Finance District - Let us help you find the perfect loan
Although we have over 20 brokers that we have partnered with, they all operate differently.
Therefore, we have to ensure that we get you a lender that meets your financial needs and one that you can afford. There is no point in matching you with a broker you can't afford and has expensive rates. With so many brokers to choose from, we are certain that we will find one that offers an instant cash loan within your affordability rank.
What if I miss a payment?
If you know that you will not be able to meet your financial obligations for the coming month, you need to notify us as soon as possible. What most clients do is to wait for the scheduled payment date before they inform us.
This makes things difficult for is because it is usually already too late for us to do anything to assist you with your direct debit schedule. Therefore, we urge clients to talk to us if they encounter any difficulties as opposed to keeping quiet or speaking when it is already too late.
Nonetheless, regardless when they inform us, they will be liable for late payment penalties. If they continue to miss payments, this will create a bad credit rating for the client's profile. It is for this reason why we often say if a customer knows there may be certain months that he might not be able to pay the short-term loan to not apply for credit in the first place.
Adhering to the terms and conditions
Once we have approved your loan application, we require you to sign a contract agreement that includes ensuring that you understand all the terms and conditions. It is important that customers read and understand everything that is on the fine print as opposed to just accepting everything.
Should you feel that there are certain conditions you will not be able to live up to, you can always cancel your loan and there won't be any charges due to you. However, if you are happy with everything written in black and white and you still want the payday loan application process to proceed, we are more than happy to ensue.
Customer Reviews & Testimonials
"
They will find you a solution to your problem whether you need a short term loan or a car loan you can get it all with them we know.
Hannah L
— Ashburton —
We have always sought their advice as they have always taken care of us and that is why we trust them.
David M
— Wellington —
Great loans and also the best loans that you can get and the advice that they give you will always help you in the future.
Leonardo P
— Nelson —
Finance District Contact
Contact Number
E-Mail
Website
Physical Address
Unit B/4343 Great North Road, Glendene

Auckland

0602

New Zealand
Opening Hours
Monday

06:30 – 21:30

Tuesday

06:30 – 21:30

Wednesday

06:30 – 21:30

Thursday

06:30 – 21:30

Friday

06:30 – 21:30

Saturday

06:30 – 21:30

Sunday

06:30 – 21:30