Short-term loans up to $500
Low-interest up to 361.35%
Repayment up to 30 days
In-page navigation
---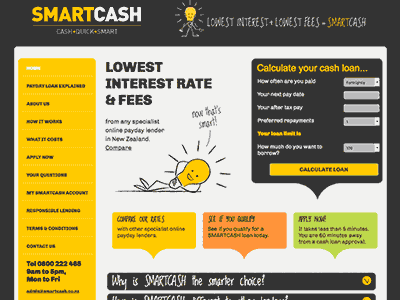 Author SMARTCASH NZ. Screenshot of SMARTCASH NZ website.


[Accessed April 17, 2018]
Smart Cash - Quick reliable loans
When we think about the 30 years of service in the financial sector, we still deem ourselves as people who are simply looking to be the best financial friend for clients.
Although other customers and even competing companies render us as specialists, we feel we are anything but.
With 30 years to our name, we are still the same modest company that open a credit provider to a number of New Zealanders many moons ago.
There is no security required
The reason why people often dread applying for short-term loans is that most credit companies require security as collateral before they can proceed with a loan application.
At Smart Cash, we do things a little differently. We don't ask any form of security from our customers. We believe in a fair credit application that can only go accordingly if the client maintains his end of the deal.
Compare our rates with those of other brokers
We want our clients to choose our services because they are the best compared to the others not because they were not given many options to choose from.
Having said that, we have a number of other lenders, clients can look at. By doing this, they would have chosen an online loan provider of choice.
Getting your loan approved the same day
Depending on what time of the day you applied for credit, you will get your money on the very same day you applied for the payday loan. However, if you applied after a certain time, the money will reflect the next business day.
SMARTCASH NZ Services
Clients who are interested in applying for our credit option should complete an online loan application form.
This form will include personal details such as us finding out more about you as a person, where do you stay, where do you work, how much do you earn and what are the terms and conditions of this type of loan.
Faster and easier loans
We will explain everything to you so that when you decide on taking the quick loan, you will know your role and responsibility towards ensuring that your credit is up to date.
All the documents will be approved electronically, nothing will be signed off manually. Technology has made things so much easier and faster too for everyone!
Smart Cash loan assessment
After we have dealt with the most important part of your loan application, we will now require a copy of your recent bank statement.
It could be for three or two months. We just want to establish how well or how badly you are paying your monthly expenses.
Smart Cash credit check
Although a credit check is important, should we find certain information that has raised many eyebrows at work, we may still help you to get a short-term loan.
It may only be the worst case scenario such as a customer who is in an immense amount of debt.
There is a big possibility that we will contact your place of work. Please ensure that they are aware and will treat us in a professional manner.
SMARTCASH NZ – Short-term loan
Loan Type

Short-term loans

Interest Rate

361.35%

Loan Amount

up to $500

Repayment

24 hours to 30 days
Benefits of SMARTCASH NZ
Low costs
Excellent customer service
Online application
Short-term loan calculator
Smart Cash - loan approvals in 15 minutes
There isn't much of a waiting period that the customers need to do when they decide to opt for one of our short-term loans.
After all, we understand that the loan they are applying for is probably money they want to use instantly.
The money will be deposited in your bank account
After we have completed with our assessment process and we are happy with the outcomes, the money will be deposited in your bank account of choice.
How does the process work for returning customers?
The process is slightly easier for clients who previously took an instant cash loan with us. All they have to do is to fill out the loan application form and we will email you all the documents once you have completed the form. The second step is reviewing your documents.
We have to determine if you are still in good financial standing before we can approve your loan application. Should your details still be the same as the ones we have on the system, the approval of your loan application will be approved in less than 15 minutes. However, if your banking details and employment information have changed, the loan application will be approved in less than 60 minutes.
The money will be deposited in your bank account
After we have approved your personal loan, the money will be deposited in your bank account. Depending on the time we approved your loan, the money will be deposited on the same day. However, if the loan was approved later in the day, money will be deposited on the next business day.
How do I pay for my loan?
Clients can opt for a direct payment in the form of a debit order. This way, it makes things easier for everyone. Ultimately, customers can also decide to make a payment directly to us. Whichever option that seems like less work is the one that a client can do as long as we will receive the payment on time.
What if I can't make the payment date?
If you can't make the payment date as agreed, kindly inform us as soon as possible. Clients will be charged for late payment fees.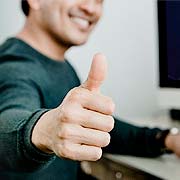 SMARTCASH NZ is a trusted & reliable provider of short-term loans
Customer Reviews & Testimonials
"
The reason that we use them is once you are registered with the company you can get loans whenever you need them.
James A
— Wellington —
When you apply you can see in the loan summary how much you will have to pay back over the duration of time that you have chosen too.
Charmaine J
— Queenstown —
The application is super easy and it takes a few minutes and you could have your cash on the same day.
Cara F
— Timaru —
SMARTCASH NZ Contact
Contact Number
E-Mail
Website
Physical Address
503/6-8 Heather St

Parnell

Auckland Region

1052

New Zealand
---
Postal Address
PO Box 9168, Auckland, 1149, New Zealand
Opening Hours
Monday

09:00 – 17:00

Tuesday

09:00 – 17:00

Wednesday

09:00 – 17:00

Thursday

09:00 – 17:00

Friday

09:00 – 17:00

Saturday

Closed –

Sunday

Closed –