Quick loans up to $15,000
Low-interest up to 24.16%
Repayment up to 3 years
In-page navigation
---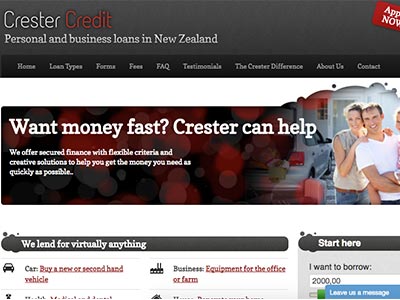 Author Crester Credit. Screenshot of Crester Credit website.


[Accessed April 17, 2018]
Crester Credit - Stress-free loans
Crester Credit has been helping clients from New Zealand for a number of years now.
We aim to give our customers the freedom of choosing the credit plan as opposed to the common way of being told everything by your financial services provider.
We want to give our clients peace of mind that they can count on us even in the rainiest days. Our quick loan processes have helped a lot of households.
A quick cash loan for whatever you need
Whether it was a flat tyre that needed a whole new purchase or that last-minute addition to your wedding, we have ensured that we do the best we can to keep our customers happy.
While other credit providers have seen the necessity of asking customers what they tend to do with the payday loan they applying for, we have decided to respect their privacy and not ask anything.
A loan for any cash emergency
As far as we are concerned, we are dealing with mature people who would never ask for credit for the intention of misusing it.
Having said that, we didn't see the need of putting our clients in a tight corner by asking them private information.
As long as a customer has applied for a loan application and he was accepted in plain sight, there is no reason for making them less inferior.
If a client says they are looking for a loan because they are in an emergency, we trust that they are in an emergency and don't see the necessity of demanding proof.
Crester Credit Services
At Crester Credit, we let the client decide how much money he wants to borrow when he would like to pay it and how much is he willing to pay.
There is an assessment that will be completed by agents that will give us a clearer picture of how much you can afford.
As much as we may like to give you the instant loan amount that you want, in some cases, the client can't afford such a loan capacity.
Therefore, it is important that the customer picks a financial plan that he will be able to maintain and not get carried away. We know money has a tendency of doing that to people.
The money can be deposited into your account within hours
We always aim to deliver fast and reliable personal loans. As such, after a successful loan application, we will deposit the loan in the customer's bank account within 12 hours.
We have no control over how your bank operates as far as time is concerned. It could take one business day for the money to reflect on your account depending on what time the loan was approved.
Customer focused team of experts
Our agents are just a phone call away.
If there are certain queries you might have or you don't understand something in your loan application, please feel free to contact us and we will clarify everything for you.
We are here to help you get your quick cash loans in an absolutely stress-free manner.
Crester Credit – Quick cash loan
Loan Type

Quick loans

Interest Rate

24.16%

Loan Amount

up to $15,000

Repayment

6 months to 3 years
Benefits of Crester Credit
Quick funds
Easy loan application
Affordable loans
Quick cash loan calculator
Crester Credit - A reliable credit provider
Clients can borrow a minimum of $500 on Crester Credit. They can always opt for lending more provided they meet our affordability criteria.
The last thing we need is to overwhelm a customer with a short-term loan they won't be able to pay. Our daily motive is being able to help clients with a financial plan that is within their budget and won't be too much of a monetary strain to pay back.
Furthermore, we must mention the fact that customers shouldn't get caught up in the moment and borrow a lot more than the amount that they actually need. If you don't have financial discipline, you will always be tempted.
The maximum amount you can borrow
The maximum quick loan amount a customer can borrow from us is $4000 and this can be paid over a period of 3 years.
What security you can use
The security will depend on the amount of your loan. However, you can secure against your house, vehicle and household appliances.
It is important that a client is certain he will be able to pay off the loan that he applying for especially if you have secured it against one of your assets.
Failure to fulfill your financial obligations will not only mean you get a bad credit record, but you will also lose what you put as security.
A beneficiary can receive a loan
We welcome online loan applications from beneficiaries. The same loan application that is carried out by a regular client will be the one that we perform on a beneficiary customer.
When you can't maintain your payments
Should you not be able to meet your loan repayments due to unforeseen circumstances, you need to notify us as soon as possible.
Many clients make the mistake of waiting until the day of their scheduled debit date to inform us and that time it is already too late for us to make a plan for you.
When you miss a payment
We will contact you to find out the reasons behind your missed payment. As part of our terms and conditions, you will be liable for extra charges.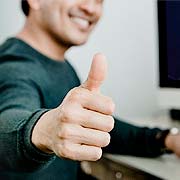 Crester Credit is a trusted & reliable provider of quick loans
Customer Reviews & Testimonials
"
I would like to thank Chester Credit for going out of their way to ensure that I get affordable loan offers.
Ethan N
— Taupo —
Thanks to Crester Credit, my loan application was approved on the same day of making the advance request.
Catherine R
— Gisborne —
If you looking for affordable loan offers, Crester Credit is your best shot at getting good credit plans.
Jacob S
— Nelson —
Crester Credit Contact
Contact Number
E-Mail
Website
Physical Address
3 Shirley Road

Mairehau

Christchurch

8013

New Zealand
Opening Hours
Monday

08:30 – 17:00

Tuesday

08:30 – 17:00

Wednesday

08:30 – 17:00

Thursday

08:30 – 17:00

Friday

08:30 – 17:00

Saturday

Closed –

Sunday

Closed –