Quick loans up to $100,000
Low-interest starting from 11.95%
Repayment up to 7 years
In-page navigation
---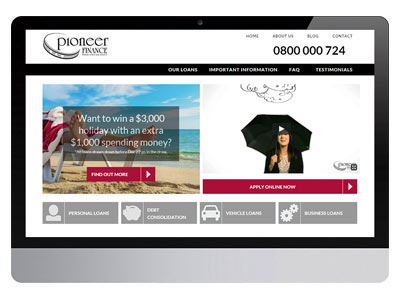 Author Pioneer Finance. Screenshot of Pioneer Finance website.


[Accessed April 17, 2018]
Pioneer Finance - Expert lending solutions
Pioneer Finance has been in business for as long as 1995. Over the years, we have gradually grown from strength to strength without forgetting the mandate of why we opened our enterprise.
We wanted to be one of the leading instant loan providers in New Zealand. We know that would take a whole lot of doing than just talking. We started talking less and doing more.
We listened to our customer who had financial difficulties, we improved our credit services and are still working on that because there is always an innovative way of doing things as the years go by.
We always aim for positive loan application results
To date, we have never disappointed a customer. If their online loan application is declined, it is not because we don't want to lend them money, it is because their credit profile is not in a good state and there isn't much Pioneer Finance can do about that.
A branch of your choice
We have two branches that clients can visit when they have a query about their credit application. Whether you go to Wellington or Auckland, as soon as we enter your ID number, we will able to assess your profile.
If you want things to run even smoother, you can call prior before you go to our office and set up an appointment with one of our consultants to discuss the quick loans we offer. Our pleasant staff is always a phone call away and they will assist you with whatever it is that you need. Alternatively, you can set the appointment by email and they will respond in no time.
Pioneer Finance Services
Customers need to be 18 years and older to qualify for a quick loan at Pioneer Finance. However, depending on certain kinds of loans, if you are under 21 years of age, we may require that you get an underwriter.
Although bad credit may seem like it is the end of the world to other credit providers, to us it is not something that we make out as a big deal.
What is important to us is how the customer is paying his debts now as opposed to how badly he used to pay before.
Loans for people with benefits
People who receive government benefits are no different than an individual who works and earns a salary.
They too have financial problems like anybody else and shouldn't be sidelined just because they receive benefits.
Having said that, Pioneer Finance helps such people and we have no problem doing so. We also offer bad credit loans to people who meet our affordability requirements
How long it takes for a loan application to be approved
We get to work as soon as we get an application.
Depending on how fast we receive your documents, your short-term loan application may be approved in one business day.
However, this will depend on how fast the client is to submit his documents for verification.
Pioneer Finance – Quick cash loan
Loan Type

Quick loans

Interest Rate

11.95 – 27.95% p/a

Loan Amount

up to $100,000

Repayment

1 months to 7 years
Benefits of Pioneer Finance
Flexible repayment terms
Rates are fixed for the term of the loan
Loan top-up
Quick cash loan calculator
Pioneer Finance - Quick cash loans
As we have mentioned that each loan is different from one client to the next, the documents will not be the same.
We usually require bank statements, identification, proof of address, and your payslip.
Early payment costs
An amount totaling $75 may be charged for paying an advance earlier than the recorded date. However, this is not for all applications. For some personal loans applications, a customer may not be charged. Therefore, this depends on your loan application as an individual.
Pioneer Finance private policy
Every document and all information that is collected by Pioneer Finance will never be shared or used by anybody else. Everything is strictly confidential. We know how private certain clients are about their personal details. We would never lay our reputation and relationship on the line by sharing our customer's confidential matters.
Our complaint process for clients
As much as we are consistently seeking to do better, we know that nobody is perfect and the mistake does happen. In the event of a complaint, there are certain stages that you can call to make an appointment and set up an appointment.
We always try our level best to ensure that the complaint doesn't escalate to something big. However, if we can't fix everything in the mediation process, we will have to escalate the matter even further.
How much you can borrow
The minimum quick cash loan amount a customer can borrow is $1000 and the maximum is $100 000. We urge our clients to not be tempted by the amount they qualify for and apply for a big loan that they don't really need all because they can qualify for it.
Customers should apply for an amount they actually need to use right away and a figure they will be able to pay off on a monthly, weekly, or whatever periodic basis they decided on.
The last thing you want is to realize that you could have used opted for a lower credit plan if you thought about the process long and hard enough.
Customer Reviews & Testimonials
"
Within one business day after applying, the money was deposited into my bank account.
Ethan H
— Alexandra —
I would like to commend Pioneer Finance for always putting our financial needs first.
William J
— Hastings —
Pioneer Finance is the leading financial services provider in the whole of New Zealand - it is easy to see why!
Catherine L
— Nelson —
Pioneer Finance Contact
Contact Number
E-Mail
Website
Physical Address
182 Great South Rd

Epsom

Auckland Region

1051

New Zealand
---
Postal Address
PO Box 9607, Wellington, 6141, New Zealand
Opening Hours
Monday

9:00 – 17:00

Tuesday

9:00 – 17:00

Wednesday

9:00 – 17:00

Thursday

9:00 – 17:00

Friday

9:00 – 17:00

Saturday

Closed –

Sunday

Closed –