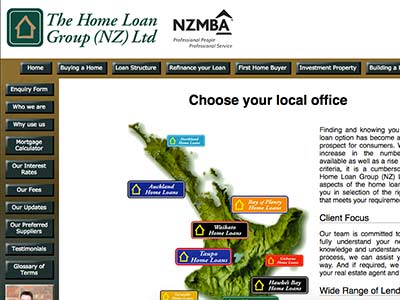 Author The Home Loan Group. Screenshot of The Home Loan Group website.


[Accessed April 17, 2018]
The Home Loan Group - Making buying a home simple
Are you planning on buying a home, why not turn to the home specialist? We are part of a nationwide network! Allow your home loan search to starts with The Home Loan Group New Zealand!
We have been operating in New Zealand since 1997 and we have earned an excellent reputation for offering extremely high personalised and effective mortgages to New Zealanders across the country.
The home group has franchises across New Zealand
This allows us to offer assistance to the people in each community in an extraordinary way which matches their specific needs and requirements like a dream.
Our effective technology has ascertained a database which is specially intended to meet our needs and marketing ideas which redefines the way our industry is run.
Over the years of being in this industry, we have built strong relationships with prominent providers in New Zealand for home loans so we are able to provide our clients with a wide range of options which are very competitive.
The Home Loan Group Services
It's true that when selecting the right home loan it can become challenging for our Kiwis since there is a huge selection of offers in the market. The Home Loan Group will offer you professional assistance with confidence.
The Home Loan Group New Zealand strives to give you a clear indication of how mortgages work and will assist you in finding the home of your dreams.
We are a trained group of advisors in the industry and have the expertise to do all the hard work for you and assist with all your needs as far as buying a new home is concerned.
We will keep you updated at every stage of your home purchase
We will do everything in our power to ensure that your loan package is specially tailored to your requirements. We are associated with a large number of lenders that range from Credit Unions to Banks.
We invite you to visit any one of our local franchises, to get the ball rolling with the purchase of your new home.
Home loans offered by The Home Loan Group in New Zealand take a better approach for the home of your dreams.
The Home Loan Group – Home loan
Benefits of The Home Loan Group
---
The Home Loan Group - A modern approach to buying a home
We offer a progressive and better approach when purchasing the home you have been waiting for.
The Home Loan group has the ability and knowledge to find you the best alternative to what other competitors are offering, we give you value for money, we offer long-term benefits, you can be assured that we are consistent and transparent.
It is our business to compare the best possible lenders and to filter through hundreds of home loans; our mortgage brokerage service has an outstanding reputation and is obligation free. The Home Loan Group offer professional assistance and will help you from the online loan application process to when you receive the key's to your new home.
We will gladly assist you with all your concerns and queries at any given time. We're proud to say that our service is of the highest quality and our consultants will go that extra mile every time ensuring that our clients know exactly what they're getting when applying for a home loan with The Home Loan Group New Zealand.
Quick applications
We'll assist you with your online loan application and then work with you through the entire financial process. Simply go online and fill in our simple application, tell us about yourself and what it is you're looking for. The Home Loan Group will then get back to you with the choices you have and offer you a scope of options to look at and then start preparing the financial planning for your home loan.
We offer a choice of home loan options to suit your requirements
We can proudly and confidently say that discovering the best home loan is pretty straightforward with The Home Loan Group New Zealand. Your expert and committed home credit consultant can work out what rate will be best suited for your affordability, what benefits will be appropriate for you and the best possible rate of premium will be offered with our great loan options.
We have assisted thousands of New Zealander over the years with the best possible home loans as well as helping them compare loans online.
The Home Loan group New Zealand invites you to contact us to discuss your home loan options and how we can benefit you, join our friendly and professional team today and become another satisfied customer.
Your home credit made simple and honest from beginning to end, direct and basic.
Customer Reviews & Testimonials
"
I think your customer service is definitely what separates you from the rest. You should keep doing what you're doing.
Jemma B
— Napier —
Applying is simple because it's online and therefore time and cost-effective.
Brian M
— Dunedin —
I'm glad I got in touch with The Home Loan Group because they found a loan that matched with everything I was looking for- and most importantly, they did it so quickly.
Jack W
— Palmerston North —
The Home Loan Group Contact
Contact Number
E-Mail
Website
Physical Address
---
Postal Address
PO Box 125 273, St Heliers, Auckland, 5022, New Zealand