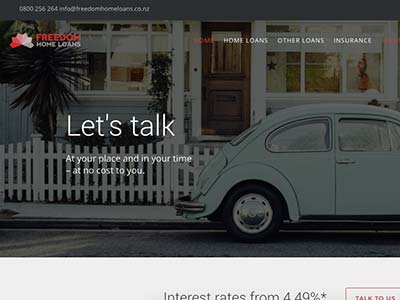 Author Freedom Home Loans. Screenshot of Freedom Home Loans website.


[Accessed April 17, 2018]
Freedom Home Loan - Get your dream home
At Freedom Home Loans we believe that our values are the driving point of everything we do, we are a strong establishment and we believe that the most successful businesses are those that deliver on a promise, we offer a superb and superior customer experience for all those who apply for mortgages through us.
We strive to work closely with all our customers from the beginning of the application to the very end of your experience with Freedom Home Loans, we aim to gain a trustworthy relationship with our customers as we believe this is the foundation of a liberal and maintainable long-term professional relationship with all of our customers.
Get your dream home
Freedom Home Loans forms part of Crown Finance Ltd and Crown Finance is a member of the Crown Asia Group who are a long established, successful group of companies who have been in the lending business for many years.
Should you be looking for a home loan, vehicle financing, property development or a personal loan Freedom Home Loan will have great satisfaction by assisting you to reach your goals.
Contact us and we can arrange to meet with you at a time and place that suits you.
Freedom Home Loans Services
Even though we specialise in affordable home loans, we are also able to offer you the assistance and guidance of many more products such as vehicle finance.
If it is a new car you're looking for, perhaps you would love to purchase a boat for those lovely getaway weekends, we all need a vacation at some point take an overseas trip, do those home renovations you've been wanting to do, starting your own business but you need the finance to do so, debt consolidation is an option if you feel you're not in a position to keep your repayment agreements or perhaps you would like to do some property development
Allow us to find the perfect loan for you
The mortgage process is sometimes confusing and intimidating when it comes to the purchasing of a home so it's important that you find a lender with integrity that can be trusted to work with and more importantly that you have the assurance that your needs are being put first, Freedom Home Loans can help you understand the process and explain the complicated documentation.
In an extremely high competitive home loan lending industry there are several offers and benefits offered by many different lenders, this is where we come in. Our highly qualified consultants are trained to answer all the questions that you need to be answered, they'll guide you and assist you in comparing loans and choosing the best option available.
Freedom Home Loans – Home loan
Benefits of Freedom Home Loans
CAR Loans
HOME Loans
HOME Improvement Loans
BUSINESS Loans
DEBT CONSOLIDATION Loans
---
Freedom Home Loans - competitive home loans
Freedom Home loan invites you to apply for a loan today. We offer the best loans in New Zealand; we're here to help so give us a call today!
Home loan applications
If you prefer you could send us a message using our online enquiry form, you'll find the form on our website.
Perhaps you would rather have a more personal approach; our personal consultants are ambitious and friendly and would love to have a chat with you, to explain what you need and then help you in attaining the home loan best suited for you.
Should you be looking for a hassle-free home loan lender then Freedom Home Loans are your go-to lender. We guarantee the best results for your home loan experience.
Customer Reviews & Testimonials
"
Freedom Home Loans built a relationship with me and that made the process less stressful to get through because I could rely on the staff for support and guidance. I could trust them to provide m...
Daniella U
— Whanganui —
Thank you for a home loan that is affordable. It's well-matched to my situation.
Johnny W
— Palmerston North —
Applying for my home loan wasn't hard at all. It was also very helpful to have a consultant talk me through it, which meant I could complete it quicker.
Russell W
— Auckland —
Freedom Home Loans Contact
Contact Number
E-Mail
Website
Physical Address
Hurstmere Rd

Takapuna

Auckland Region

0622

New Zealand