Home loans up to $2,000,000
Low-interest starting from 10%
Repayment up to 30 years
In-page navigation
---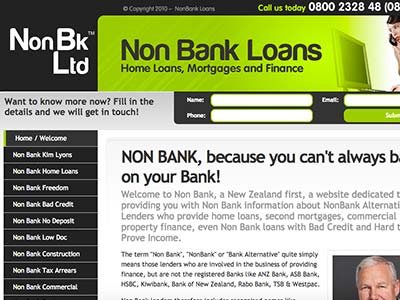 Author Non-Bank. Screenshot of Non-Bank website.


[Accessed April 17, 2018]
Non Bank - a broker that understands your needs
We were one of the first mortgage broker companies to offer Non-Bank lending funding solution in New Zealand, we knew that there was a need to promote this information to the public in New Zealand.
We made clients become aware that their Bank manager may not hold all the strings and that there were other options for them to consider.
We were totally dedicated to offering Kiwis assistance when they were declined elsewhere, thus our website was then launched to provide with the public with Non-Bank information.
Low deposit home loans
Non-Bank offers more lending options so if you're looking for a low deposit home loan and you have a bad credit rating or you're having difficulty in proving your income, perhaps you need assistance with refinancing which could perhaps be due to a mortgage sale or maybe for a second mortgage or commercial property finance.
Our mortgage brokerage company deal with many Non-Bank lenders that are more flexible when loan or mortgages are structured therefore they fit the purpose that's needed, rather than abide by the policy of an impersonal back- office creditors department where you have no access or any control.
Non-Bank Services
Even though our mortgage brokers are grounded in Auckland, we do deal with Non-Bank customers and lenders nationwide, plus we have the benefit of being able to present your home loan directly to the decision makers.
We are also able to state your case and negotiate your circumstances such as bad credit, gifted deposits, hard to prove income and defaulted payments. Rather than you trying to explain yourself away through layers of red tape.
Lending solutions
When your bank says no Non-Banking has the lending solution for you and it includes bad credit loans, low deposit complex income and self-employed income.
Non-Bank lenders are able to assist you with a low deposit home loan and all you need is a 10% deposit.
The upside about low deposit home is that you have the opportunity to reside in your home, despite the fact that the Reserve Bank has new rules in place; it remains to limit home ownership with less than 20% deposit on home loans in New Zealand. Non-Bank lenders are more often than not, a little more open-minded and more understanding of your personal circumstances.
Non-Bank – Home loan
Loan Type

Home loans

Interest Rate

from 10%

Loan Amount

up to $2,000,000

Repayment

1 year to 30 years
Benefits of Non-Bank
Fast online application
Low deposits on home loans
Bad credit is welcome
---
Non Bank - Bad credit home loans
Should you want to apply for a bad credit home loan, we specialise in Non-Bank financing for spec build and 80% rental investments.
Although refinancing and debt consolidation is also a common request, should you need to top up or if you need bridge financing we can help. We work hand in hand with Non-Bank lenders so that home loan proposal is assessed on merit and not pre-determined lending criteria.
If you are perhaps in a position that you have a low mortgage deposit or you're in a position where your bank is unable to assist you due to circumstances, we are also able to assist you if you have insufficient savings, or you have a low deposit or perhaps you have trouble in repaying your debt a and you're not getting the answers you need, you may contact us for assistance.
Home Loans - Non-Bank Bridging finance solutions for you
Bridging finance is commonly used to bridge the gap when you are waiting for the sale of your home to go through whilst you have bought a new home. Since the bank will assist you if you've sold your home unconditionally, this may not always be the case. We have been able to assist a lot of individuals to purchase a new home and would prefer to move in and once they have the then place their previous home on the market
Bridging finance is most commonly used to bridge the gap, as you have bought one home prior to selling your existing home. Whilst the banks may assist if you have sold your home unconditionally, this is not always the case. We have helped many clients who wish to buy a new home and once they have moved into it, then place the previous home on the market. Or they purchased expecting to sell quickly, but this did not eventuate or a conditional sale fell through.
Bad credit home loan solutions with Non-Bank New Zealand
We understand that there are circumstances beyond our control such as an unexpected employment or a business failing, a critical illness within the family or reduced hours, one can also get into a bit of a financial fix when there is divorce and numerous customers find them self in a position of needing a bad credit mortgage.
We have assisted various clients in New Zealand who have found themselves in such a position of a poor credit history or even bankruptcy these financial hiccups are often beyond our control. But to be honest and open about your financial situation enables us to work with you in finding a solution to your circumstances, meaning that Non-Bank mortgages have to be arranged to refinance any outstanding debt.
You can start afresh by putting all your bad debt into one basket, and focus on settling outstanding debt and start thinking of buying your first home.
Customer Reviews & Testimonials
"
They have professional staff who are experts at what they do. They're very approachable and aren't afraid to roll up their sleeves and work.
Grant J
— Tauranga —
Thank you so much for your compassion. Your willingness to help me with a bad credit home loan has changed my family's life for the better. We now have a home that is big enough for all of us and...
Rowan M
— Upper Hutt —
Thank you for taking the time to explain everything to me and for doing it with respect and politeness.
Karen L
— Dunedin —
Non-Bank Contact
Contact Number
E-Mail
Website
Physical Address
Level 2/12 Florence Avenue, Orewa,

Auckland

0931

New Zealand
---
Postal Address
PO Box 314 095, Orewa, 0946, New Zealand
Opening Hours
Monday

08:00 – 20:00

Tuesday

08:00 – 20:00

Wednesday

08:00 – 20:00

Thursday

08:00 – 20:00

Friday

08:00 – 20:00

Saturday

08:00 – 20:00

Sunday

08:00 – 20:00