Home loans up to $2,000,000
Fixed and floating rates
Repayment up to 30 years
In-page navigation
---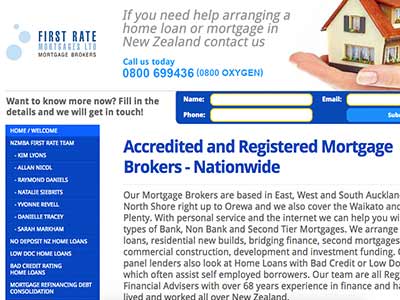 Author First Rate Mortgages. Screenshot of First Rate Mortgages website.


[Accessed April 17, 2018]
First Rate Mortgages - A range of home loan products
We were founded in 2006; we are focused on arranging home finance, commercial property investment, construction finance, and refinancing, residential finance and debt consolidation.
Our team has years of experience in both broking as well as in business and banking. However, we all have excessive experience as investors, homeowners and building renovations on our own homes and properties.
Quality home loans
First Rate Mortgages have more than 68 years of financing and home loan involvement across New Zealand; we have developed an outstanding reputation for providing specialised and quality services to first time home buyers.
We have the knowledge of home loans, in particular, low deposit home loans, and are steadfast in providing a comprehensive service that focuses on every individual.
Property finance is more often than not just about applying common sense by working through issues that pop up and then creating a solution.
A lot of the time it's easier to say "we don't or can't do that" First Rate Mortgage prefers to say "give us all the details and so that we can assist in the best way"
First Rate Mortgages Services
Our team at First Rate Mortgages have a unique skill set up to assist first-time home buyers and anyone needing low deposit home loans in New Zealand.
We're here to assist and discuss your options with you if you so wish to use your KiwiSaver funds or even your HomeStart grant to buy a newly built home or an existing property.
We are here to help
If you are an existing homeowner and thinking of trading up or selling down. And if you need assistance or advice on repaying your own home loan faster or a top-up. We are here to assist.
First Rate Mortgage follows the media releases of KiwiBuild and we have regular updates in our newsletter sent via email in order to assist first time home buyers so that they can have an understanding with regards to details and processes when applying for a loan.
You are welcome to subscribe to our website
Should you be thinking of building a new home, we strongly recommend that you talk to one of our financial advisers to ensure that you get the best possible interest rate and a well fitted new home build loan that will meet your requirement for your individual purposes.
We have an abundance of honest expertise when it comes to new home build loans, having funded many homes to be built for clients that are over the moon with our service.
First Rate Mortgages – Home loan
Loan Type

Home loans

Loan Amount

up to $2,000,000

Repayment

1 year to 30 years
Benefits of First Rate Mortgages
Home loan deposits are low
Bad credit is not a problem
Fast and easy online application
---
First Rate Mortgages - an experienced team
We look forward to hearing from you one of our friendly team members at First Rate are here to assist you.
If you would like to find out more about our home loans for first time home buyers, low deposit home loans, new buildings and fixed or floating interest rates, perhaps you would like some help understanding information that's available on accessing HomeStart grants or KiwiSaver funds. Allow us to take the stress out of the purchasing of your first home in New Zealand.
Our company focus
Our focus is on assisting New Zealanders first time home buyers. Since the banks are forced to restrict home loans with low deposits, we have put our focus on assisting those who are buying a home for the first time with our bank and non-bank options.
Our mortgage brokers are registered and are based in Auckland plus we deliver a countrywide service, they can work with you so that your deposit can be increased with HomeStart grants and KiwiSaver a guarantor as well as a second mortgage.
There are many prospects with a low deposit home for first-time buyers in New Zealand so to beat that rent trap first-time buyers are building new homes, even though they only have minimal savings for a deposit with the help of First Rate Mortgage. With only a 5% deposit it may be possible for us to assist you in building your new home by using a nationally recognized building brand.
An expert team
First Rand Mortgage is looking forward in assisting first time home buyer to buy a KiwiBuild home. We are continuously following political/media releases on the KiwiBuild progress we also wait for guidelines from both non-bank and bank lenders.
Should you be in a position where you doubt that your deposit for a first home loan may not be enough or your bank is unable to assist you, contact one of our friendly expert team members at First Rate Mortgages we will gladly assist you.
New Home and rental investment build from the ground up, with First Rate Mortgage
If you have a hand in the design of a new modern home appeal to you? Then our team at First Rate Mortgages will be able to offer you access of 95% funding for newly built homes for owner-occupiers or if you prefer 80% rental investments. We do have clients who have been successful regarding their application for low-deposit newly built home or rental investment loans.
Customer Reviews & Testimonials
"
First Rate Mortgages' service is very personal. They make you feel important and that your needs matter and that goes a really long way.
Catherine P
— Auckland —
I 100% recommend First Rate Mortgages to everyone who needs a home loan. You'll need people who are as professional and competent as them on your side.
Yvonne L
— Invercargill —
First Rate Mortgage has been there for me for the past few years since I started building my house. I have gained so much by working with them and they've been vital in getting me the finance I'v...
Will L
— Gisborne —
First Rate Mortgages Contact
Contact Number
E-Mail
Website
Physical Address
Level 2/12 Florence Avenue, Orewa,

Auckland

0931

New Zealand
---
Postal Address
PO Box 314 095, Orewa, 0946, New Zealand
Opening Hours
Monday

Open – 24 hours

Tuesday

Open – 24 hours

Wednesday

Open – 24 hours

Thursday

Open – 24 hours

Friday

Open – 24 hours

Saturday

Open – 24 hours

Sunday

Open – 24 hours