Home loans up to $250,000
Low-interest starting from 10%
Repayment up to 5 years
In-page navigation
---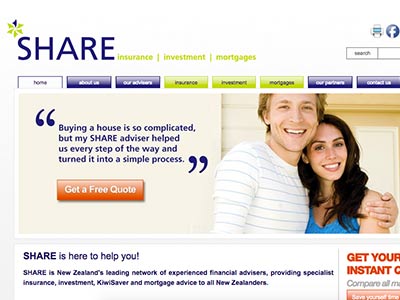 Author Share. Screenshot of Share website.


[Accessed April 17, 2018]
Share - a client-centric network
We are based in New Zealand and we are a network of financial advisers with common systems, processes and brands.
SHARE is unique amongst the adviser network sector because we are owned equally by our adviser shareholders that are managed by a CEO and also governed by an elected Board of advisers.
SHARE focuses on providing a client-centric network that offers a diversity of financial advice on mortgages, investments and insurance that is significant.
The goal and needs of businesses and individuals are important to us and that's why we understand how to tailor a property finance and investment solution for each individual's unique situation.
What you need to know about Mortgages Partners
When you want to buy a house or any other large asset, you will normally need to borrow funds from a lender, for example, a bank or a peer-to-peer lender and make repayments over an agreed term.
And since you are using their money, a fee will be charged meaning interest.
There are two way's interest can be paid; one is either with a fixed rate and the other would be a floating rate, this means it either stays constant for a period or fluctuates inconsistently.
Should you be a first-time home buyer or experienced property investor, the process of finding a mortgage fit for you can be filled with a lot of stress and excitement.
Buying a house is probably going to be the most expensive purchase you'll make in a lifetime, so you would want to make sure that it is not a liability but rather an asset.
Obtaining the proper mortgage which you can obtain through an online loan application process will most definitely be a deciding factor.
Due to the fact that undisclosed fees or higher than unexpected rates are rather an unpleasant financial surprise, whilst unforeseen delay's regarding the mortgage process can make it challenging when you plan your departure from your present residence.
Share Services
SHARP will assist you in choosing the right home loan and a repayment plan that is fitted to your circumstances. Better than that, there's no cost to you because the bank pay's us to provide you with this service.
Because we partner with our clients on their journey in securing financial wellbeing, proves that we a more than just a lending specialized advisory establishment.
KiwiSaver Partners
Perhaps you are missing out on the benefits that KiwiSaver has to offer. The more information you have as a KiwiSaver investor, the better your choices you're able to make, plus it should assist you to attain a healthier retirement fund or if you're thinking of buying a new home, it'll help with your first time home deposit quicker.
How you can increase your KiwiSaver balance
Increase the KiwiSaver contribution you are currently making. The most apparent way to increase your KiwiSaver account balance is to put more money into your account.
The majority of employed Kiwi's contribute at a defaulted minimum of 3% of their salary before tax, however, this may be increased to a maximum of 8%. The approach is also quite flexible because KiwiSaver permits scheme members to change their contribution rate every 3 months.
Dodge the default fund. If you haven't selected your fund when you applied for KiwiSaver the odds are that you are still in the conservative fund of a default arrangement, usually these funds are intended to reduce the possibility of frequent and large drops in balance.
They are normally suitable for people who want to have access to their KiwiSaver funds within a period between two to six years. However, moving to a fund that offers greater exposure for your assets to grow, maybe like property & shares, could possibly give you're a better long-term return.
For more information on how to increase your KiwiSaver funds please visit our Webpage.
Share – Home loan
Loan Type

Home loans

Interest Rate

10 – 25.85% p/a

Loan Amount

up to $250,000

Repayment

6 months to 5 years
Benefits of Share
Flexible loan options
Choose an interest rate that suits you
Quick loan application
---
Share - Advice on investments
Are you wondering about current investment options, property investments perhaps you're planning retirement or are you thinking of how you can get the best out of your KiwiSaver?
Well since you found your way here the chances are that you have put funds aside already or maybe planning to do so in the near future. Firstly why is investing important?
The reward of investing
Since the rewards of investing whether in a savings account or with a property are plentiful and it's relatively painless, who wouldn't want to create some wealth? By investing your money now, you'll have more money for other important things like education, and you'll save on student loans and other important financial needs.
You could also pass some of your riches to the next generation. SHARE advisers would love to help you on the road to financial wellbeing; it doesn't matter if you're starting from scratch or if you have a few thousand dollars saved up somewhere.
SHARE Financial Advisers are able to provide advice on investments and home loans tailored to your requirements. We use our extensive knowledge, combined with our research, in order to develop a robust and trustworthy solution just for you.
Customer Reviews & Testimonials
"
The application was hassle-free, the process stress-free and the service highly satisfactory.
Toni O
— Wellington —
Thanks to Share, the process of buying my house wasn't difficult or confusing. They made it straightforward which made things simpler.
Elyana T
— Rotorua —
The most important thing I was looking for in a home loan was affordability. Thankfully, Share found me a loan that has a very manageable payment plan. So if you want a company that listens to yo...
Len C
— Nelson —
Share Contact
Contact Number
E-Mail
Website
Physical Address
132 Hurstmere Road, Takapuna,

Auckland

0622

New Zealand
---
Postal Address
PO Box 33 741, Takapuna, Auckland, 0740, New Zealand
Opening Hours
Monday

08:30 – 17:00

Tuesday

08:30 – 17:00

Wednesday

08:30 – 17:00

Thursday

08:30 – 17:00

Friday

08:30 – 17:00

Saturday

08:30 – 17:00

Sunday

08:30 – 17:00