Home loans up to $50,000
Low-interest starting from 12.99%
Repayment up to 7 years
In-page navigation
---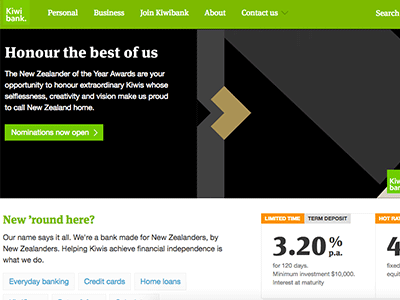 Author Kiwibank. Screenshot of Kiwibank website.


[Accessed April 17, 2018]
Kiwibank - Affordable home loans
Since we are 100% New Zealand owned, Kiwibank has been thinking of ways to give New Zealanders better value banking since the year 2002. We offer personal loans and credit cards a s well as vehicle loans and mortgages.
It is part of our makeup to do what is right for New Zealand, through our processes and community participation as well as our policies we do this by affiliating with associations that make a difference.
Reduced banking fees
Like most Kiwis, we don't like to boast but we do like to just get on with it and to do what we've applied our mind to, and that's making banking better for Kiwis. The awards we have won speak for themselves.
Kiwibank has reduced fees considerably for personal customers. This has been done by means of either reducing or eliminating fees altogether. Customers that are making use of our personal banking are paying less for the use of banking than ever before.
First-time home buyers
A fundamental part for the bank was for first home buyers, we have also recently made an announcement that we would pre-approve home loans and that only 10% deposit to the value of a KiwiBuild home for those who qualify would be required and a contribution of $2000 towards moving or legal expenses.
It was vital for Kiwibank to continue to build the trust of customers as financial organisations were faced with increasing scrutiny and competition.
Kiwibank Services
Our intention is to get you in the door sooner with our home-buying guides, great mortgage rates and nifty tools. Because we know that there is no place like home.
Obtaining your first home can be a somewhat complex and an inspiring experience, so Kiwibank is here to offer assistance with regards to your buying experience.
Our simple guide will put you on the road to purchasing your home in no time at all.
The home loan experts
Our home loan experts are available to advise and guide you through the entire process from beginning to end and it won't cost you a cent.
If you can't come to us we have a mobile mortgage manager that can come and see you at your choice of location, our banking consultants are also available at a local Kiwi branch near you.
Personal banking
Get what you want how you want with smart accounts, clever cards an all the good stuff you would like by building your own banking!
Doesn't matter what your goal or your journey is independence is only a step away, and you can continue your journey by getting your head wrapped around your money.
Kiwibank – Home loan
Loan Type

Home loans

Interest Rate

12.99 – 18.95% p/a

Loan Amount

up to $50,000

Repayment

6 months to 7 years
Benefits of Kiwibank
Fast and easy online application
Make additional payment
Affordable rates
---
Kiwibank - You can become financially independent
Whatever your needs you can apply for a loan online with Kiwibank or visit us in-store
Every Kiwi has the right to financial independence. Whether you're new to budgeting or a wannabe financier, there are procedures you can follow to get to the next level.
See some of our pointers that may be of assistance to you
Work out a plan of action – The very first step to being financially independent is to start by working out what's happening to your money at the present moment so that you can decide what it is you need to change.
Become debt-free – One thing for sure is having financial freedom and that means being debt-free. Because financial wellbeing is not just being free from debt, it's all about getting to a good place in your life.
Growing your wealth – a bit of good financial is advice would be a question of "are you getting the best bang for your buck" one doesn't need loads of money to start investing.
Get ahead – We have the accounts and tools to get you ahead, plus we give the best tips and it doesn't matter if you have a degree or trade or if you're just a side hustle. Contact Kiwibank to find out how we can assist you.
Make use of our online home loan calculators so that you might get an idea of how much you are able to afford and what sort of deposit you'll need to save, our calculators may also be able to assist you to see what your repayments will possibly look like.
Protecting our environment is a fundamental part of our lives
Environment -As a financial service establishment with branches and offices across the country, we are aware that caring for our environment is the key to our future
As a financial services organization with branches and offices around the country, we know that caring for our environment is the key to our future, so we aim to ferociously safeguard our natural environment and work hard to lessen our carbon footprint.,
We partnered with the Department of Conservation in order to increase the capacity and the ability of the world-lead conservation dogs; these are highly trained dogs and handlers that protect our precious native species so the predators that threaten them are tracked down and brought to accountability.
We also work together with Predator Free New Zealand Trust, to assist with the empowerment of communities so that they are able to take on the challenge and assist our native species right in their own backyards. They are also provided with subsidized trapping equipment.
Customer Reviews & Testimonials
"
I am very relieved that Kiwibank's process was very simple and not overwhelming at all. Because of this, I felt very confident that things were going to go smoothly- and they did.
Layla S
— Gisborne —
Incredibly accommodating. One of their mortgage managers paid me a visit to discuss my home loan options in the comfort of my own house! It's really nice to have a bank that goes out of its way f...
Sandy Y
— Porirua —
They are so quick to respond. Exactly the type of service you need when looking for finance to buy a house. It's already stressful enough without having to deal with a lender that takes forever t...
Ariel M
— Palmerston North —
Kiwibank Contact
Contact Number
E-Mail
Website
Physical Address
7 Waterloo Quay

Pipitea

Wellington

6011

New Zealand
---
Postal Address
Kiwibank Limited Private Bag 39888 Wellington Mail Centre, Lower Hutt, 5045, New Zealand
Opening Hours
Monday

08:30 – 17:30

Tuesday

08:30 – 17:30

Wednesday

08:30 – 17:30

Thursday

08:30 – 17:30

Friday

08:30 – 17:30

Saturday

09:00 – 17:00

Sunday

10:00 – 16:00