Home loans up to $200,000
Low-interest starting from 4.69%
Repayment up to 7 years
In-page navigation
---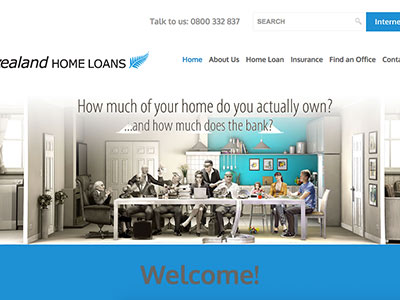 Author New Zealand Home Loans. Screenshot of New Zealand Home Loans website.


[Accessed April 17, 2018]
New Zealand Home Loans - Stress-free home loans
Applying for one of our home loans is overwhelming and perhaps a bit scary.
After all, you have valuables, real estate agents and solicitors to deal with, then there's the insurance, phone, internet and power to think about and let's not forget about the move and packing of boxes and the list goes on.
We offer you
Navigation as far as the in's and out of home buying as well as a one on one personalized service
Tools to monitor your progress as well as the aspiration that will help you meet your goals
To assist you with how to make a saving on your interest costs, another important fact is to give you the ability to become free of debt in no time
We are here to guide you
Firstly, we would recommend that you have a free, no-obligation one-to-one with one of our professional consultants, they have been trained to assist you on your journey of owning your own home.
Perhaps you would like to change to NZHL but think that changing your mortgage is going to be a pain in the neck, as it's often seen this way and just can't be bothered, but it doesn't have to be that way because we have a dedicated consultant team who is committed to assisting you and making the process a simple as possible. We can also assist you to consolidate your debt using your home loan and apply for an energy loan.
New Zealand Home Loans Services
It's invariable that our needs change as time goes by and with these changes, we frequently want to change our homes since home ownership has long become a part of the way we Kiwis think and operate.
So whether you're buying an investment property, upsizing or downsizing or your little piece of paradise we are here to assist you in every possible way.
Our popular sustainable energy loan
If you're looking for a solar, small wind or even a mini-hydropower system, we can offer you a sustainable energy personal loan to make it easier for you.
However, there are specific criteria that would apply and may not be available to all customers.
Why we should think about energy loans
Picture that you have a free source of power that never runs dry and it never produced any CO2 emission! You'd be buffed against all the rising power prices, plus you'd be keeping New Zealand green and clean all at once.
You are permitted to combine a New Zealand sustainable energy loan with your New Zealand home loan in order to pay for the approved renewable energy system.
NZHL will contribute an amount of up to $2 000 over a period of 4 years that would go towards the cost of the system.
New Zealand Home Loans – Home loan
Loan Type

Home loans

Interest Rate

4.69 – 29.99% p/a

Loan Amount

up to $200,000

Repayment

18 months to 7 years
Benefits of New Zealand Home Loans
Get an option for insurance
Option for debt consolidation
Easy online application
---
New Zealand Home Loans - Sustainable energy loans
If you're already a New Zealand Home Loans client, we'll also waive the fee to top-up your home loan.
How it works
Fix a system that creates renewable energy such as solar panels so that you can heat hot water, plus we'll contribute some funds to assist you to pay it off quickly.
Get this! At the end of the first year, NZHL will pay $800 towards your sustainable energy loan, and we'll pay &400 at the end of each year after that for the next three years which totals up to $2 000.
Should you already have a home loan with NZHL, we'll relinquish the usual fee to top-up your home loan and if you're refinancing your mortgage, we'll agree on a percentage of your home loan to classify as a sustainable energy loan which we'll add our contribution to.
Should you be thinking of building a new home and would like to use a sustainable energy system that's would be included in the cost of the property, NZHL will agree to a percentage of your home to classify as a sustainable energy loan and our contribution will be added to that.
A sustainable energy loan
To be able to complete our online loan application you'll need to borrow at least $5000 of the cost of the system in order for the contribution to go towards your sustainable energy loan. Either a member of the Solar Association of New Zealand or Sustainable Energy Association of New Zealand is permitted to supply and fit the system for one to qualify for the loan.
The supplier of your choice will be able to give you a more specific cost an all the information on return, but an estimated solar hot water system could start from around $7 000, and a full power system could possibly cost tens of thousands of dollars and that would depend on the size of your home and the amount of power you use.
Perhaps you're not interested or maybe not able to afford a system that produces all your power, never the less a solar hot water system would more than likely save you more than $650 annually on power costs.
Customer Reviews & Testimonials
"
New Zealand Home Loans has been with us for 5 years and their service has remained as professional as it was when we first contacted them for a home loan. It's always a pleasure talking to them a...
Rohini S
— Hamilton —
It's always been a dream of mine to buy a house and as a first-time buyer, I was a little nervous about the daunting process that lay ahead. However, New Zealand Home Loans took me by the hand an...
Sharon G
— Nelson —
I'm more than satisfied with my home loan. The rate is just right for me and I also enjoy how flexible New Zealand Home Loans is.
Zach R
— Hastings —
New Zealand Home Loans Contact
Contact Number
E-Mail
Website
Physical Address
903 Victoria St

Hamilton

Waikato

3204

New Zealand
---
Postal Address
PO Box 161, 903 Victoria Street, Hamilton, 3204, New Zealand
Opening Hours
Monday

08:00 – 18:00

Tuesday

08:00 – 18:00

Wednesday

08:00 – 18:00

Thursday

08:00 – 18:00

Friday

08:00 – 18:00

Saturday

Closed –

Sunday

Closed –