Personal loans up to $100,000
Low-interest starting from 13.95%
Repayment up to 7 years
In-page navigation
---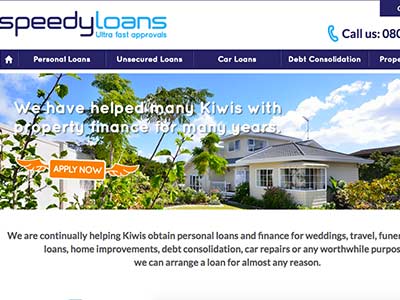 Author Speedy Loans. Screenshot of Speedy Loans website.


[Accessed April 17, 2018]
Speedy Loans - Loans designed for your needs
Speedy Loans are based in New Zealand and have a long-term reputation for delivering personal loans to Kiwis who need support to with the finances.
We are a registered government provider and this gives us some backbone to take our services a little further ensuring that our customers get the best attention at all times.
Loan solutions tailored to your needs
Speedy Loan is a registered member of the Financial Services Complaints Ltd, providing our customers with a valued all round service tailored to each individual's financial needs. Our online loans are tailored according to their affordability, assisting customers in making their debt a thing of the past.
We have been in the industry for over a decade, Speedy Loans has a vast knowledge of the product and we are able to assist and guide our customers with any questions or queries they may have. We are all about dealing with people and assisting them with what they want. Which make us more than just a loaning firm?
Fast loan approval times
When you're not sure about how you're going to come up with some cash in order to pay for all those little things you need and you feeling a bit despaired. Give us a call we can help you get the quick cash loan you need, the process is quick and simple.
It's quicker than you anticipated and easier than you think. Our team is not only experienced, but they have compassion, they care about customer needs and offer a service that includes a fast solution.
We have efficient processes in place; the approval process is quick so our customers can expect the funds in their account before they know it.
Speedy Loans Services
Speedy Finance loan services proudly offer financial solutions in New Zealand for New Zealanders that are in need of extra cash. Your personal loans may be used for almost anything
Use your personal loan for anything you want, they are great for home improvements, weddings or take a vacation, perhaps you could consolidate your debt. You don't have to struggle to make ends meet when the assistance you require from Speedy Loans is right here in New Zealand.
Secured loan options
Please note that our loans are mainly on secured options, in the case of you using your vehicle or home as a guarantee and security on the amount you would like to borrow. Speedy Loan is willing to offer you an unsecured loan in the case of you being in a position to offer this kind of security. Please be aware that you do need to be 25 years of age or older to obtain one of our personal loans.
Personal loans
Little surprises have a way of popping up when least expected, we don't always have the cash available so that leaves us in panic status, Speedy Loans leave no room for panic, we can assist you with the cash you need.
Car loans
Allow us to take the hassle out of buying a new vehicle; we know it can be stressful, so if you find a second-hand vehicle that's no older than 15 years, we can assist in sorting out the car finance for you.
Our team of experts will do all the legal work for you, we investigate if there are amounts outstanding on the vehicle and make sure that there are no outstanding monies owing as well as ensuring that the vehicle hasn't been stolen.
Speedy Loans – Personal loan
Loan Type

Personal loans

Interest Rate

13.95 – 32.5% p/a

Loan Amount

up to $100,000

Repayment

6 months to 7 years
Benefits of Speedy Loans
Flexible loan terms
Affordable repayments
Flexible loan terms
Speedy Loans - Secured and unsecured loans
Perhaps you are feeling a bit dragged down by outstanding debt.
We offer a debt consolidation loan which means you use the loan to settle all your debt and only have one payment to worry about each month. Debt consolidation loans typically attract a lower interest rate plus you can set yourself a budget and make your life a bit easier by getting back on track.
Bad credit loans
If you have no more than two existing loans and you are not under sequestration, we are able to assist you. Speedy Loans will consider each individual for a bad credit loan before turning anyone away, we are flexible like that.
Secured loans for big amounts
We will do everything in our power to provide you with the easiest and most affordable repayment plan possible. We offer a wide range of secured personal loans enabling you to have everything you need with the assistance of one company. Should you not have the collateral to secure a quick personal loan, Speedy Loans can arrange for an unsecured loan if you meet the criteria.
Simple application process
The process of applying for one of our personal loans is a no-brainer; you simply apply for a loan online in a few s easy to follow steps. The approval only takes only a few minutes and you receive your funds within 24 hours once you have been approved.
Maybe you would like to speak to an experienced consultant regarding any questions you may have, no problem give us a call. Your loan will be tailored according to your specific needs and affordability. Our repayment plan allows you to choose to make repayment either monthly, weekly or every fortnight the choice is yours.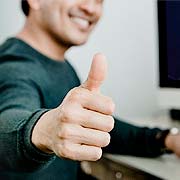 Speedy Loans is a trusted & reliable provider of personal loans
Customer Reviews & Testimonials
"
If you want a lender that delivers an outstanding service while still giving you what you need fast, I'd say Speedy Loans is the lender for you. I got a personal loan from them and I'm very happy...
Lloyd A
— Timaru —
The application is very straightforward so you can get through it easily and quickly.
Hillary G
— Hastings —
After my uncle passed away, I didn't have enough money to buy the plane ticket for me to attend the funeral. When I contacted Speedy Loans for a personal loan, I was met with compassion, understa...
Sofia C
— Auckland —
Speedy Loans Contact
Contact Number
E-Mail
Website
Physical Address
10 The Esplanade, Eastern Beach

Auckland

2012

New Zealand
---
Postal Address
PO Box 74203, Greenlane, Auckland, 1546, New Zealand
Opening Hours
Monday

06:00 – 16:30

Tuesday

06:00 – 16:30

Wednesday

06:00 – 16:30

Thursday

06:00 – 16:30

Friday

06:00 – 16:30

Saturday

07:30 – 15:00

Sunday

Closed –