Personal loans up to $50,000
Low-interest starting from 13.95%
Repayment up to 60 months
In-page navigation
---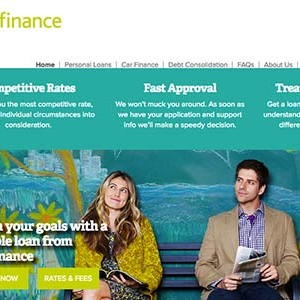 Author My Finance. Screenshot of My Finance website.


[Accessed July 3, 2019]
My Finance making finances smoother
We offer a wide range of personal loans and we aim to make applying for finance smoother, faster and stress-free.
My Finance offers personal loans for every occasion and it doesn't matter what you need the fund for; go on a well-deserved vacation, need a new car?
Go car shopping or if you feel that the pressures of debt are getting you under apply for a debt consolidation loan. We are here to assist you in making life a bit more bearable and to reach your goals as quickly as possible.
Flexible repayment terms
My Finance is a trading division of Instant finance Limited. We believe that our flexible repayment schedule offers a competitive interest rate and that our services are professional and friendly and that we are hard to beat. Let's get personal with a quick loan - you are able to get one for whenever you need it and whatever you need the funds for.
Stress-free loans
Let's face some reality, life waits for no one and neither should you. We all need a little help sometimes and therefore a personal loan is helpful for if you need a new set of wheels perhaps you would like to do some renovations around the house before you run off to get married, yes help with weddings no problem. We want our customers to be happy and stress-free.
My Finance Services
My finance has streamlined the process of our services and you'll find out how quick an instant loan service should be.
It's a fuss-free finance and our system allows you to complete your loan application with a sense of easy and fuss-free, once your personal loan application has been approved the funds will be in your account in no time – just the way it should be.
A loan that suits your needs
Pay your way with our flexible loan repayments plus they are on your terms. When you apply for a personal loan with My Finance you are able to make repayments that are suited according to your circumstances not forgetting your budget. You are able to make repayments monthly, weekly or every fortnight over a term from 3 months to 4 years, whatever suits you best.
Car loans
Are you looking to purchase a new vehicle? The good news is that we finance anything with wheels or if you have the need to upgrade your existing vehicle like perhaps a family car for a new addition to the family or maybe you would prefer the freedom of a new motorcycle or boat. We are in the game of assisting Kiwis to get from point A to B with our affordable car loans
Work out what you can afford and we'll assist you to climb in, climb on or just get aboard, it's easier than you think.
My Finance – Personal loan
Loan Type

Personal loans

Interest Rate

from 13.95%

Loan Amount

up to $50,000

Repayment

6 months to 60 months
Benefits of My Finance
Rates are competitive
Quick approval
Apply online
My Finance - We can help you manage your debt
By applying and receiving a personal loan from My Finance is like acting as a cash buyer, paying your way is a clever way of putting you in a better position to negotiate a better price enabling you to get behind the wheel sooner.
Do you feel that you have no way of keeping up with your monthly repayments and feeling a bit stressed? You could think of applying for a debt consolidation loan which will take the stress out of being able to get back on track with your finances. It's a smart way of being debt free.
It's always easier to get into debt than it is to get out of it. A My Finance debt allows you to manage your debt easier by rolling all your multiple debts into one single consolidated loan account when you do this.
It becomes very stressful when you need to worry about what and how much needs to be repaid and on what date. We are sure you will agree that this is enough to pull your hair out. With a My Finance debt consolidation loan, this worry will be a thing of the past because you will only have one loan account and one repayment to worry about as our repayment terms are flexible you can set the date for when it suits you.
Take charge of your finances and enjoy life
My Finance believes that you shouldn't pay more than you need to, having several accounts that need to be paid is not only stressful but it also means that you are paying more in interest that you should be, Organise all your debt into one debt consolidation. There are more important things to worry about like perhaps taking that much-needed vacation
We totally understand that no person is the same and that none of us get paid on the same date so with a debt consolidation you also have the opportunity of when and how you would like to make repayments. My Finance will arrange a repayment schedule to suit you like repaying either monthly, weekly or every fortnight. A debt consolidation loan also allows for better budgeting! Plus you may sleep better.
With our expertise, we have been able to simplify our vehicle finance services. Our car services are quick, easy and hassle-free. Doesn't waste any precious time apply for a loan today, you won't be sorry!
Customer Reviews & Testimonials
"
My Finance was able to cater to my needs and provide me with a highly competitive rate with my personal loan.
Hugo N
— Dunedin —
Thanks to the wonderful staff who are always friendly and approachable. I don't think I've ever had an easier borrowing experience.
Jessica M
— Gisborne —
I took out a personal loan from My Finance and I'm so happy with my repayment plan. My Finance made sure that it was perfectly suited to my needs and I couldn't be more satisfied. Thank you so ve...
Eve D
— New Plymouth —
My Finance Contact
Contact Number
E-Mail
Website