Personal loans up to $70,000
Low-interest starting from 6.99%
Repayment up to 60 months
In-page navigation
---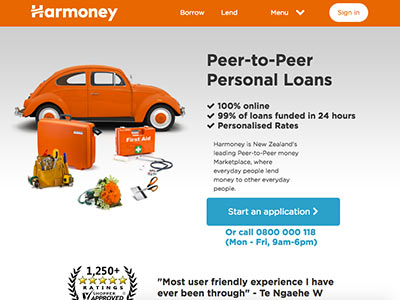 Author Harmoney. Screenshot of Harmoney website.


[Accessed April 17, 2018]
Harmoney - Our loans are affordable
We pioneered out a way for the first peer to peer lending company in New Zealand. Our job is to provide a personal service to our customers by connecting them to lenders in New Zealand and other lending markets plus we arrange for loans and financial assistance to our customer by means of an online process.
In times when things are tough and there aren't many simple solutions such as personal loans, out there for our Kiwi customers especially when they need financial assistance the most!
Give us a call we can help. We have developed changes in order for our customers to receive assistance as quickly as possible less the complication and hassle.
Harmoney strives to put full focus on individuals and customer needs
Find an affordable short-term loan with Harmoney, apart from us being the right service for customers, we have also created a full experience for many individuals in New Zealand that are seeking a personal loan but are unable to find it through other lenders.
So we offer a completely transparent service and product. In other words, what you see is what you get; you don't have to worry about reading between the lines.
Peer to peer lending
We are building a strong reputation through peer to peer lending and have become a sought-after service, our customers are starting to realize that it is one of the most effective ways to borrow money fast these days.
Harmoney is building a leading name in the financial realm; we stand by providing a worthwhile financial model for our clients.
Harmoney Services
Harmoney delivers suitable financial products to suit every situation!
We provide various personal loans, you are sure to find one that will suit your requirements.
Debt consolidation loans
Harmoney offers are between $1 000 and $35 000 and our online loan application is quick and simple.
Consolidating your debts means that you roll all your debts in one simple loan account so you only have one monthly repayment which makes it easier for you to manage your finance plus you can then work according to a budget. Your instalments are lower because you will only be making repayments on one loan. This will keep you on the right track with your finances.
Car loan options
Harmoney will put you in the driver's; we look forward to financing your next car through one of our peer-to-peer lenders via our online loan application process.
Our car loans are stress-free and it's never been easier to get the car of your dreams. Our calculator is also a simple online tool that you can use to work out what your affordability is and what your repayments will more or less be.
Home improvements
Since home renovations are so expensive. We have made it simpler and faster to access the cash to finally put some sparkle in your kitchen or bathroom or remodelling your home. We are here to assist you in any way that we possibly can.
Harmoney – Personal loan
Loan Type

Personal loans

Interest Rate

6.99 – 29.99% p/a

Loan Amount

up to $70,000

Repayment

36 months to 60 months
Benefits of Harmoney
Unsecured loans
Fixed interest rate
Flexible repayment terms
Harmoney - a stress-free loan service
We all need a vacation some or other time in our lives.
Perhaps you would like to go to places that are simply just too expensive and you are unable to afford it. Harmoney will assist with our peer-to-peer lenders that are just waiting to give you that opportunity
Wedding loans
Harmoney are all about making your special day a reality, our wedding loans offer a handsome interest rate that will have you smiling down the aisle.
Apply for a personal loan through our online process and we will ensure that you have the wedding you have always dreamed of.
Education loans
This is a very important option in order for your children to have the best in life. Should you be interested in furthering your studies or you need to pay for your child's education, we offer up to $35 000 all you need to do is fill in our 100% online student loan application.
Medical expenses
Medical expenses can be a nightmare because they are so costly, unforeseen things happen and we don't plan for them in any case we almost never budget for an unexpected medical bill.
We offer from $1000 to $35 000 as an instant loan for emergencies ensuring that you are able to cover the bill.
Repayments made easy!
Once your online application for your specified loan has been approved, Harmony will pay the lender in full within a 24-hour time frame. Our customers will then make repayments to Harmoney for the duration of the loan.
If you're looking for transparent you found us
Because Harmony is a 100% online company, we are able to offer you the choice of when and where you would prefer to access your cash and fast loans can be applied for anywhere. Our lending solutions are quick and affordable; you have the option of how you would like to use the funds.
You don't need collateral to get the cash you require because our loans are unsecured so you don't need to feel obligated or stressed by offering your home or car as a guarantee in order to afford a much-needed vacation. You won't lose your well-earned belongings because there is no risk.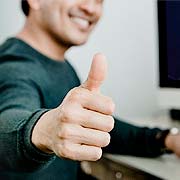 Harmoney is a trusted & reliable provider of personal loans
Customer Reviews & Testimonials
"
Applying for my personal loan wasn't troublesome at all because everything was done online so everything went quickly.
Dave R
— Hastings —
When you take out a Harmoney personal loan, you are firmly in the driving seat. I love how they are super flexible and allow you to make your loan more personalised to your needs.
Aiden W
— Invercargill —
The level of efficiency is very impressive. Getting my personal loan was a very smooth process.
Shylo A
— Upper Hutt —
Harmoney Contact
Contact Number
E-Mail
Website
Physical Address
79 Carlton Gore Road, Newmarket

Auckland

1023

New Zealand
---
Postal Address
PO Box 106-507, Customs Street, Auckland City, 1143, New Zealand
Opening Hours
Monday

09:00 – 18:00

Tuesday

09:00 – 18:00

Wednesday

09:00 – 18:00

Thursday

09:00 – 18:00

Friday

09:00 – 18:00

Saturday

Closed –

Sunday

Closed –