Personal loans up to $50,000
Low-interest starting from 9.90%
Repayment up to 7 years
In-page navigation
---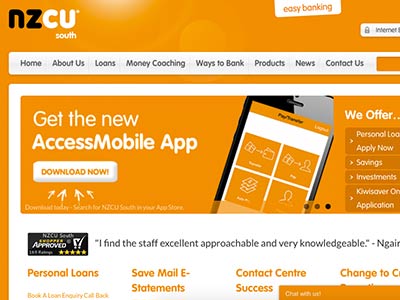 Author NZCU South Loans . Screenshot of NZCU South Loans website.


[Accessed April 17, 2018]
NZCU South Loans - Reliable loans
We have been in operation for over 55 years; we are Credit Union trading as NZCU South. Over the years we have made communities, Individuals and families stronger.
We were established on October the 10th 1962 by the parishioners of St Mary's Catholic Parish in Nelson, that's a very long time if you compare it to other financial organisations.
We've been able to accomplish and offer on-going support to our members by keeping our mission throughout our 55 years consistent and transparent services. We believe in order for us to back our Kiwis, they need to back themselves first.
Award-winning customer service
Like the worshipers who planted the seed that grew and became NZCU South, we've kept our obligation to our members.
Our ultimate goal is to provide a range of financial services including quick loans and online financial services in order to assist Kiwis with their financial needs.
We have over 90 staff members nationwide and offer an award-winning customer service plus we work extra hard so that we can offer a world-class customer experience.
Terms and conditions of a personal loan
Please note that the minimum personal loan repayment period is six months and the maximum repayment period is hundred and twenty months. Our personal loan application fee is $245.00 and a personal loan security fee is $50.00.
NZCU South Loans Services
We are a non-profit organization. This means we that we're not all about profit, percentages or pie charts, NZCU South customer orientated establishment.
The proceeds are given back to our NZCU South members plus the reinvestment stems in the form of saving on lower costs on personal loans and variable interest rates.
We are all about assisting you with better rates, personalized service, and fairer fees.
Fast financial solutions
We combine eagerness with respects to your financial circumstances and we always strive for a healthy attitude towards your finances with you.
We believe in treating everyone uniquely, we use our financial tools as well as our personalised services to help you achieve the life you deserve – quicker and easier with affordable credit to replace expensive payday loans and hefty bank charges.
The services we have to offer at NZCU South
We offer personalised services second-to-none; we don't see you as just another number.
You can feel rest assured that as a part-owner of NZCU South you will be treated with dignity and respect and you'll have equal say in how your Credit Union is driven.
As a member, you are able to vote at the annual general meetings plus and you have the opportunity to stand for a position on the board of directors.
NZCU South Loans – Personal loan
Loan Type

Personal loans

Interest Rate

9.90 – 28.90% p/a

Loan Amount

up to $50,000

Repayment

6 months to 7 years
Benefits of NZCU South Loans
Secured and unsecured loans
Affordable loans
Low-interest rate
NZCU South Loans - Flexible repayment options
We propose a low-interest personal loan to all New Zealander who is in need of it.
We will work with you and assist you in personalising your repayment amount as well as the terms so that you are able to get those things you want, our interest rates are competitive offering you a repayment plan that will suit your affordability and circumstances that will work for your current budget.
You're free to top your personal loan at any given time once your online loan application has been approved. Give us a call and we can make it happen for you.
Our New Zealand personal loans may be used for any purpose, you could consolidate your debt's by rolling them into one single loan account or perhaps you are looking forward to that long awaited holiday, use your personal loan to renovate your home and put a sparkle back in your kitchen, buy that car you've been dreaming about and those wheels on the road or take a boat trip it is entirely up to you.
Why not apply online or speak to one of our friendly staff members at NZCU South today about a personal loan.
NZCU South loan repayment insurance
Life has a way of throwing the unexpected at us, and we are not always ready for them, protect yourself from the unforeseen.
It's sensible to have life insurance for your loan repayments for those unexpected occurrences plus it's a cost-effective step. This will ensure that your family has the protection they need when they need it most.
NZCU has a variety of offers you can choose from
Our instant loans are offered nationwide, we work closely with you to personalize your repayments and terms of the personal loan.
Because we want you to have the things you need, our interest rates are competitive and we will work out a tailored repayment plant to suit your budget and this is great because you don't have worry about making several payments on all your debts and sometimes on different dates.
If you feel that you are drowning and overextending yourself with debt like overdraft, hire purchase of credit cards, then you may want to think about consolidating your debt.
This means you roll all your debt into one account and only have one monthly repayment. It is also possible to save on interest payments because you have a fixed repayment plan as well as a fixed term.
Contact one of our consultants and they will advise you and guide you on options that are available.
Customer Reviews & Testimonials
"
I got a personal loan from NZCU South Loans and I'm very happy with how they made sure that it was affordable for me by arranging my repayments and term to align with my budget.
Anahira B
— Gisborne —
I like that I could top-up my personal loan, which was very helpful because I ended up needing a little extra to repair my car.
Devon T
— Wellington —
I applied for a personal loan and I can honestly say that NZCU South Loans delivers on their promise for fast and efficient service. That's exactly what I got.
Olivia M
— New Plymouth —
NZCU South Loans Contact
Contact Number
E-Mail
Website
Physical Address
409 Colombo St, Sydenham

Christchurch

Christchurch Region

8023

New Zealand
---
Postal Address
PO Box 7010, Sydenham, Christchurch, 8240, New Zealand
Opening Hours
Monday

09:00 – 17:00

Tuesday

09:00 – 17:00

Wednesday

09:00 – 17:00

Thursday

09:00 – 17:00

Friday

09:00 – 17:00

Saturday

Closed –

Sunday

Closed –