Personal loans up to $50,000
Low-interest starting from 9.95%
Repayment up to 4 years
In-page navigation
---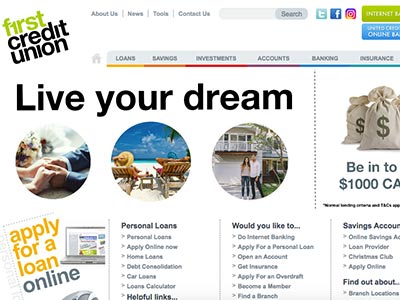 Author First Credit Union. Screenshot of First Credit Union website.


[Accessed April 17, 2018]
First Credit Union - Affordable personal loans
First Credit Union has been assisting local people with their finances for many years; we also offer a great low-cost personal banking service and are proud to say that we are actively involved with our community.
We are 100% New Zealand owned and operated and we're here to help you make your personal finances manageable with a flow of ease.
We are governed by a board of directors that ensure that the right decisions are made in order to help you as well as us being successful!
Our philosophy – People helping people
As one of New Zealand's first affiliated credit unions; we give thanks to the dedicated helpers who amalgamated in order to endorse the philosophy of people helping people!
In our opinion, it's important to get out and about in the community so that we can inform people about what we do why it's so important to save.
Sponsorship and Sustainability
First Credit Union is a proud supporter of our community and we enjoy getting involved in local events. Our sustainability policy is in place and the staff members follow.
We are helping to reduce our footprint on our environment by doing small things like recycling plastic, glass, and paper and not forgetting to switch our computers off at the end of a hard working day.
First Credit Union Services
We are a financial institution that offers the same products as that of traditional banks but is also different in the sense that we are a non-profit organisation and that we are owned by our members, we are not just a small group of owners. We have a strong focus on our community members and we have a democratic approach.
Our members are given the opportunity to select a board of directors who provide general oversight by keeping the best interest of our members. So because the First Credit Union is a non-profit organization, the earnings are worked back into the member's pockets byways of a lower interest rates, better term for financial products as well as reduced fees on long and short-term loans.
Our loans have added benefits
First Credit Union is aware that each individual's situation is a unique one and that is the reason we aim to help you find a product that is unique for your needs. A personal loan from First Credit Union allows you to borrow for less and save more because our personal loans have easy repayments, great interest rates, and no fees.
Apply for a personal loan with competitive interest rates
Perhaps you need extra money to go on a vacation or your home is in need of a face-lift or you could be relocating not forgetting that you are also able to consolidate your debt. Generally, these loans are unsecured, but there are lenders provide deposit-secured personal loans.
First Credit Union – Personal loan
Loan Type

Personal loans

Interest Rate

9.95 – 18% p/a

Loan Amount

up to $50,000

Repayment

12 months to 4 years
Benefits of First Credit Union
Interest rates are low
No hidden charges
No application fees
First Credit Loans - Reliable loan solutions
First Credit Union could save you some money you are able to choose a personal loan from a traditional bank, peer to peer lender, credit union or from an online lender.
Competitive rates
Since we do not operate with a motive of generating profits, we are able to offer our customers competitive interest rate and lower fees in comparison to that of conventional banks.
It doesn't matter what you want to use your First Credit Union loan for, provided that you use your funds for a legitimate purpose
Bad credit loans
There are some lenders that will help individuals with a bad credit loan. But this could require that you apply with a qualified co-borrower or you would perhaps provide some sort of collateral.
Non-profit
First Credit unions are non-profitable, unlike the banks any earning our earnings are redistributed to our members in the form of smaller fees, small dividends and low-interest rates which also include other perks.
Top Up loans
Should you be a member of First Credit Union and find yourself a bit cash-strapped situation or you have one of those unexpected medical bills that you need to cover, contact us we may be able to offer you a top-up instant cash loan.
Debt consolidation with First Credit Union
If you feel that you are not coping with all those bills and credit card repayments, a debt consolidation could be just the answer for you. We can assist you by rolling all your debts into one account which is easy to manage because you only have one personal loan account to worry about plus it's great for a budget because you will know what your repayments are at the end of each month.
A debt consolidation also allows to not only taking control back over your debts but also the lifestyle that you deserve. So what do you have to lose?
Pop into one of our branches we are ready to assist you
You could apply for an online loan with First Credit Union at one or our branches in New Zealand, our application form takes about 15 minutes to complete, once your application has been completed and provided that all your information is provided a loan officer will be in touch as soon as possible. First Credit Union is that easy! Get your application started today!
Customer Reviews & Testimonials
"
I'm so glad I got my personal loan through First Credit Union as opposed to a bank. First Credit Union saved me so much money in fees, which was fantastic!
Richard B
— Auckland —
I appreciate the professionalism and compassion showed to me by First Credit Union when I applied for a personal loan.
Megan P
— Timaru —
First Credit Union offered me such an affordable personal loan. My repayments were so easy to manage.
Marcus P
— Whanganui —
First Credit Union Contact
Contact Number
E-Mail
Website
Physical Address
111 Collingwood St

Hamilton

Waikato

3204

New Zealand
Opening Hours
Monday

09:00 – 16:30

Tuesday

09:00 – 16:30

Wednesday

09:00 – 16:30

Thursday

09:00 – 16:30

Friday

09:00 – 16:30

Saturday

Closed –

Sunday

Closed –