Payday loans up to $2,000
Low-interest up to 49.95%
Repayment up to 15 weeks
In-page navigation
---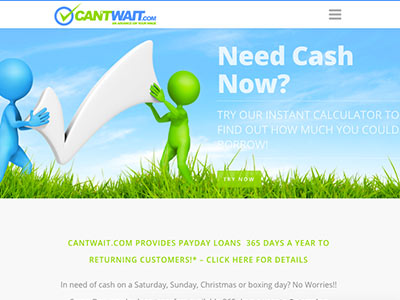 Author Cantwait.com. Screenshot of Cantwait.com website.


[Accessed April 17, 2018]
Cantwait.com - Quick loan payouts
The days drawing closer to payday are always the hardest. It is usually the time when you need money the most because most of your food supplies at home are depleted and your money for gas is slowly getting reduced.
By the time you know, you have next to nothing and payday is still three weeks away. What do you then do? Do you start feeling sorry for yourself or do you make a plan that will last you until you get paid? Most customers prefer putting their thinking caps on and figuring something out.
This is where I Can't-Wait comes to mind; we will help you and give you a payday loan when you need it the most so that you no longer have to worry about making it through the month.
I Can't-Wait loan calculator
A short-term loan calculator is a tool that we have implemented so that it can help clients who are not exactly sure how much they need. When you make use of the calculator, you will be able to determine how much money you can apply, how much money you would have to pay including the interest charges, and when you would have to pay it.
The longer you take, the bigger the interest charges. Alternatively, if you are going to settle your account in a shorter period, the charges will be alternatively smaller. It all depends on your payment method and style as a customer. Many customers have recommended that clients should make use of this analysis more often.
Cantwait.com Services
If you are interested in our payday loan options, you have to be a New Zealand citizen. If you are not, you have to ensure that you have permanent residency to stay in New Zealand.
The customer has to be above the age of 18 years or older in order to apply.
Furthermore, you have to be engaged in some form of employment that gives you a salary on a frequent basis. If you don't meet any of these criteria's, we will not be able to assist you.
How you can apply for an I Can't-Wait payday loan
There are many methods that you can use to apply for credit. For starters, you can call us and we will explain everything to you in further detail.
Alternatively, you can come to our offices and one of our agents who will talk you through every stage of the process.
Lastly, you can apply for a loan online and this has proven to be the easier option for most of our customers as many of them are usually at their respective workstations and don't have the time to come directly to us.
Our online personal loan application form is short and easy to complete. All that is required for you to do is complete the online application form and submit it to us and the rest of the work is for us to do.
Cantwait.com – Payday loan
Loan Type

Payday loans

Interest Rate

49.95%

Loan Amount

up to $2,000

Repayment

1 week to 15 weeks
Benefits of Cantwait.com
The interest rate is fixed for the term of the loan
Quick funding
Fast approval
Cantwait.com - Fast and reliable payday loans
After you have submitted your application to us, we will have to verify if everything you have brought to our attention is true.
We have seen that a lot of times clients lie about their financial statements and personal information. Therefore, we have seen to it that we request real and factual paperwork that will prove the authenticity of your story.
If we see that jading from the bills that are already on your payroll, you have a lot on your plate, we will not be able to assist you any further with your instant loan application. After all, our job is to ensure that you don't have too much on your plate as a customer.
We want you to be able to carry on paying your other bills as normal as you can because if you are struggling, you don't need another quick cash loan adding further financial stress to your hands.
The period to a cash payout
If everything that we have requested to see is submitted to us timeously, you will get the money before the end of the business day or the following business day. If you take too long to give us the documents, everything will be delayed.
You can pay your loan earlier than the required date
If you have the money to settle your account before time, we don't see why we should stop you from paying your loan before the time. What we don't want to see is if you paying your advance later as opposed to sooner.
This will have a negative impact on your credit profile and we will not be able to help you in the future if you weren't loyal to your obligations. It is very important to keep your credit profile clean and without any problems because this will render as some sort of reference when you are applying for bigger payday loans.
Can I make an appointment with one of your agents?
We look forward to assisting you with any financial query may have. Kindly call us to make an appointment and we will be waiting to answer all of your questions.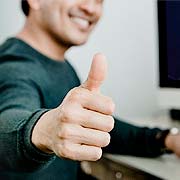 Cantwait.com is a trusted & reliable provider of payday loans
Customer Reviews & Testimonials
"
The online application for my payday loan was as simple and quick as I needed it to be. Not even 10 minutes and I was done.
Kieran T
— Auckland —
They are so easy to deal with. I honestly was so happy with how helpful the staff was when I took out a payday loan.
Aliyah M
— Gisborne —
My new favourite lender! Thank you so much for offering such an affordable payday loan. The rate was awesome!
Ben T
— Napier —
Cantwait.com Contact
Contact Number
E-Mail
Website
Physical Address
120 Third Ave

Tauranga

Bay of Plenty Region

3110

New Zealand
Opening Hours
Monday

08:00 – 17:00

Tuesday

08:00 – 17:00

Wednesday

08:00 – 17:00

Thursday

08:00 – 17:00

Friday

08:00 – 17:00

Saturday

Closed –

Sunday

Closed –