No fees for extra payment
Flexible loans
Repayment up to 30 years
In-page navigation
---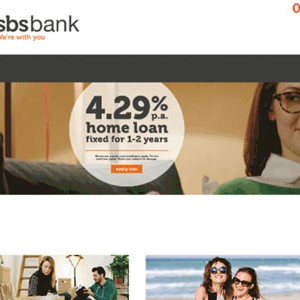 Author SBS Bank. Screenshot of SBS Bank website.


[Accessed July 3, 2019]
SBS Bank - The best financial solutions
SBS Bank operates as a credit union because we are New Zealand's only member run the bank. When you join as a member you will become part of SBS Bank and you will have a say in how the bank is run and operated.
Through our partnership with our members, we are able to help the community and help you when you experience financial hardships. Our relationships are based on mutual trust, respect and the spirit of helping each other succeed.
Banking solution that is better for you
We offer all the same banking services that traditional banks offer at reduced costs, all our products are specifically designed for our members and all profits that are made from membership fees are channelled back into providing the best financial solutions like personal loans and credit cards at very affordable rates. We operate and run by our members and were specifically designed to help you as part of our community in your time of need.
How it all began
Our Credit Union first established in 1869 and since then has grown tremendously in membership. The more members that we have, the more banking, loan and credit card benefits we will be able to offer.
To date, we have over 149 years of experience in the financial field and we use this knowledge to better help our members.
SBS Bank is registered as a bank, but it is actually run and operated as a credit union because it is run by its members and the members have a say in how the business is run.
SBS Bank Services
Traditional banks offer a wide range of services, but have Bank lending criteria and the banking hours and long and short-term loan terms are not usually able to be customised and are very strict.
Our service gives you everything that a bank does including offering insurance products, savings accounts, quick loans and investment opportunities and personal financing.
Banking made simple
We want to help take the effort out of banking and bring you the best everyday banking deals. Handling your finances can be easy with a little bit of assistance from us. Bank on the go anytime through our App or online banking and handle all your bill payments from the comfort of your phone.
You will be given access to a debit MasterCard that gives you the ability to shop when and where you want to. We will supply you with education and teach you money management skills. By knowing what you are spending each month you can manage your budget more easily and keep track of your spending patterns.
Your passport to a better financial future
When you are travelling it would be great to have the currency that you need in your pocket without having to run around to exchange it. Your cash passport platinum benefit allows you to shop overseas with confidence and make payments by simply swiping your card.
Your card will work for all currencies and you will be charged the current locked exchanged rate. Your card is secure as it is protected by a chip and you must use your unique pin when making payments overseas.
With our New Zealand credit union you won't be charged any fees for drawing money in a foreign country from any ATM.
SBS Bank – Credit union loan
Loan Type

Credit union loans

Repayment

30 years
Benefits of SBS Bank
Easy online application
Approval is fast
Quick funding
Credit union loan calculator
SBS Bank - Superior insurance products
When you take out any type of instant cash loan you should make sure that your loan designed for by insurance.
If you are unable to honor your debt commitments or die suddenly without insurance, then your family may be held accountable for your debt and this could cause them stress on top of an already stressful situation.
We offer a wide range of insurance products to cover you and the people and things you love. Our insurance products cover your home and its contents. We have insurance deals to the your vehicle in case of theft or an accident and we provide insurance for when you are traveling.
Take care of your family, even after you pass away
When a family member dies the last thing, people want to talk about is money, but the fact is that dying is expensive, and if you haven't planned for your death and how it will affect your family then your family may end up suffering even more than they have to. If you have outstanding debt and payday loans on top of the cost of the funeral your family could end up taking out loans and putting themselves under even greater financial strain.
Helping your family from beyond the grave
Was your paycheck the only income that your family had? How will they buy food or pay bills once you are gone without resorting to credit cards and online loans? When you take out a , policy, you are ensuring that your family will be able to survive. In the event of your death a lump sum will be paid to your family, this money can be used to pay for the funeral, cover expenses or pay off existing debt.
As a credit union we really care about the future and the future of your children, by providing a life insurance policy this will lessen the burden on your family and help them step up to take care of their own financial future.
Customer Reviews & Testimonials
"
Applying for the SBS Bank loan was simple, fast and convenient.
Amber B
— Auckland —
If you looking for a registered financial services provider that will treat you like you're home, SBS Bank is the way to go.
Phillip A
— Christchurch —
SBS Bank offers some of the lowest interest rates in town!
Peter J
— Wellington —
SBS Bank Contact
Contact Number
E-Mail
Website
Physical Address
36 Spring St

Tauranga

3110

New Zealand
Opening Hours
Monday

09:00 – 15:00

Tuesday

09:00 – 15:00

Wednesday

09:00 – 15:00

Thursday

09:00 – 15:00

Friday

09:00 – 15:00

Saturday

– Closed

Sunday

– Closed