Credit union loans up to $600,000
Low-interest starting from 5.65%
Repayment up to 25 years
In-page navigation
---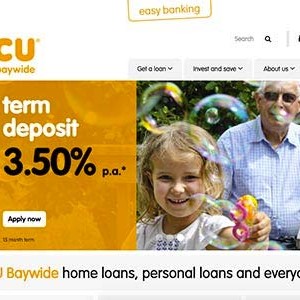 Author NZCU Baywide. Screenshot of NZCU Baywide website.


[Accessed July 3, 2019]
NZCU Baywide - Effective financial solutions
Our organisation is unique because we are owned and run by our members so we know exactly what you need and you have a say in how the New Zealand credit union is operated.
We believe in supporting New Zealand citizens. Our business is growing every day and this allows us to give back to the community through scholarships, supporting community initiatives and other innovative programs that our members think might benefit the local community.
Coming together for a better tomorrow
We assist our members, however, we can from finding them a personal loan solution to helping them search for their dream home. If you are looking for a new set of wheels we will be able to assist you and get you behind the wheel even faster. We believe in giving back to the local community, we do this by volunteering in the community and giving people a hand up and not just a handout.
Our values and our mission for the future
NZCU Baywide aims to provide our clients with the best financial products such as online loans and credit cards and other financial services. We are there for our members in their time of need and care about our members as individuals. Our promise to you is that we will use any profits that are generated to keep bringing you the most innovative products. We aim to grow together by helping our community, staff and our clients become debt free and budget and save for the future.
The lowest interest rates on personal loans
If you apply for a loan you will have the opportunity to win $5,000 in cash through one of our lucky draws. Customized your loan to meet your needs then simply pick between secured finance from 8.9% p.a., this type of loan needs to be at least $2,000. An unsecured loan rate starts from 11.9% pa
NZCU Baywide Services
Use our online calculators to help you figure out your financing, then apply for a quick cash loan that will allow you to borrow between $2,000 and $60,000.
Decide if you are looking for a secured or unsecured car loan.
Then decide how much money you have to put down as a deposit or if you are going to trade in your old vehicle instead.
Credit unions have special deals that are customized to meet your needs while helping you save money.
Things to consider before applying
When you are deciding which type of loan you need it is important to consider what the loan is going to be used for, credit unions allow you to pay a low interest rate, so it will be much easier to get back on your feet financially.
Make sure that you can make the repayments on your long or short-term loan easily and that a loan is in your best interest.
You will need to meet certain minimum lending requirements to qualify for a free pre-approved loan.
Overdraft that can be used for anything
An overdraft facility allows you access to extra cash as soon as you need it. Use it to pay for vehicle repairs, to settle accounts or pay for everyday expenses.
When you need money for extra expenses that you didn't budget for an overdraft facility could be a lifesaver.
NZCU Baywide – Credit union loan
Loan Type

Credit union loans

Interest Rate

5.65 – 28.9% p/a

Loan Amount

up to $600,000

Repayment

6 months to 25 years
Benefits of NZCU Baywide
Quick online application
No penalties for extra payments
Fast approval
Credit union loan calculator
NZCU Baywide - Manage your money better
If you are a member of NZCU Baywide then you will be able to apply for an overdraft facility, your own personal safety net. You will have access to the cash immediately.
This benefit gives you access to the extra cash as soon as you need it. The amount that you can borrow will be set an agreed limit. If you need more funding once you have drawn your limit give us a call and we will be able to increase the amount.
Keep your finger on your finances
Unlike most overdraft facilities you can easily increase or decrease your credit limit. This means that you won't be tempted to spend more than you need to. We will help you manage your money better once you no longer need the overdraft facility, you can easily pay the outstanding balance and remove it. You will be able to access your money very easily via AccessDebit Mastercard. All these benefits and support is exclusive to our credit union and available to all members.
An overdraft facility explained
An unsecured line of credit that is available immediately and is attached to your account is known as an overdraft facility. This account can be used without any restrictions. This benefit is revolving, and you will have access to the money that you have paid so you can use it again. You will only be charged interest on the amount that is overdrawn, and the service is available 24 hours a day.
Securing your loan to lower the charges
If you have had trouble in the past financially and now you have a bad credit report, you will be able to apply for a secured bad credit loan. An item of collateral must be worth more than the total loan amount.
Customer Reviews & Testimonials
"
I would have never been able to get a good credit rating if it weren't of the affordable installment I am paying at NZCU Baywide.
Emily W
— Tauranga —
The questions that NZCU Baywide asks during your loan application are relevant and quite easy to respond to, even if it takes time.
Simon L
— Taupo —
I have never looked back since I got my loan application approved at NZCU Baywide!
Ethan H
— Invercargill —
NZCU Baywide Contact
Contact Number
E-Mail
Website
Physical Address
60 High St

Dannevirke

4930

New Zealand
---
Postal Address
NZCU Baywide Feedback, PO Box 431, Hastings, 4156, New Zealand
Opening Hours
Monday

09:00 – 16:30

Tuesday

09:00 – 16:30

Wednesday

09:00 – 16:30

Thursday

09:00 – 16:30

Friday

09:00 – 16:30

Saturday

– Closed

Sunday

– Closed