Credit union loans starting from $1,000
Low-interest starting from 9.95%
Repayment up to 5 years
In-page navigation
---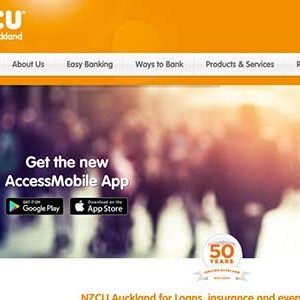 Author NZCU Auckland. Screenshot of NZCU Auckland website.


[Accessed July 3, 2019]
NZCU Auckland
NZCU Auckland is a Credit Union that provides tailor-created financial solutions to align with your current budget and circumstances. Our customers are very diverse and come from across Auckland and New Zealand.
Our company was first established in 1965 and is proudly owned and operated by our citizens.
We pride ourselves in remaining responsible to our clients and all our funding is provided from the community that we serve. Our services were designed specifically for those that are living in Auckland and New Zealand.
Our promise that we are there for you
As a credit union, we are made up of our members, our clients are very important to us and we offer a wide range of products and services to cater for every need.
When you need us, we will respond quickly and make sure all your needs and desires are met. Our profits are returned to our clients through our low-interest-rate charges and savings on other charges.
Benefits of joining a credit union
Access to low-interest rate personal loans including great deals on your mortgage
Access to savings and investment accounts
You will have access to a current saving account
Access to great insurance product deals and services
NZCU Auckland Services
Part of our service is that we make it very easy to keep tabs on your account, you can visit one of our branches to speak to a consultant in person, call us on our 24-hour contact number or send us a text or e-mail message. If you are on the move visit one of our ATM/EFTPOS facilities.
We want you to join our family and benefit from our low-interest service and expert knowledge. Joining a New Zealand credit union means that you are part owner and you have a say in what goes on in the union. Each member is encouraged to attend and vote in the AGM and can run for a position on the board of directors.
Credit Union banking service
As part of your benefits low-interest, you will have access to an everyday banking account that has very flexible transactions as well as short-term loans and more. You will receive an NZCU Access cash card that will allow you to draw money from any access cash ATM or download our app and have access via Accessphone or Access web.
You will be able to have freedom and decide when you want to bank through our flexible transactional account, multiple ways to access your funds and a dedicated account card for EFTPOS transactions at retail stores and ATMs.
Billpay account and what it entails
Billpay account offers you an easy way to budget for expenses and helps you keep track of all your payments all from one place. You can transfer money automatically into this account to pay your bills or keep the account separate from your other accounts.
NZCU Auckland – Credit union loan
Loan Type

Credit union loans

Interest Rate

9.95 – 19% p/a

Loan Amount

from $1,000

Repayment

3 months to 5 years
Benefits of NZCU Auckland
Quick approvals
Flexible repayment terms
Loans are tailored to suit you
Credit union loan calculator
NZCU Auckland - reliable credit solutions
As a member of one of the top credit unions in the country you can easily set up a direct debit to run automatically to take the stress out of paying your bills.
Benefits include:
Use the account to budget more easily and budget for expenses in a separate account
Keep track of your bills very easily
Transfer funds for free
Set up direct debits that run automatically
Pay online and track what you spend easily
If you need vehicle finance for a new car or you need cash to pay for your dream holiday then we will be able to assist you. If you have bad credit or you need to consolidate your accounts into one easy payment.
Benefits of applying for a loan through a credit union:
Apply for a loan 24 hours a day through our online platform
We will help you design a customized loan to meet your requirements
A fixed interest rate allows you to budget and knows where you stand
Flexible repayment terms that align with your salary frequency
Personal and quick loans start from as little as 9.95% pa
There is an option to provide security against your loan
The loan period is fixed and is normally between 3 – 5 years
Home loans to turn your dreams into a reality
When you are looking for a home loan or you want to refinance your existing home loan. We can help you customize a home loan to help you finance your dreams.
If you are a young couple buying your first home together one of our consultants will hold your hand through the entire process and help you right up until you move into your new home.
If you already have an existing home loan you can talk to one of our friendly consultants about our different refinancing options. If you have a home loan with a different lender then you can move your existing loan to NZCU to save on the interest rate and fees. An NZCU Home loan allows you the option to repay your loan early.
Choose to join the NZCU family
If you join the NZCU family, you will be treated with dignity and respect as well as benefit from our friendly passionate service and affordable personal and payday loans for members.
Customer Reviews & Testimonials
"
I would recommend NZCU Auckland to anybody that is looking for affordable credit plans.
Charles H
— Auckland —
Applying for the NZCU Auckland loan took me less than 10 minutes to complete!
Emily A
— Wellington —
I am a happy customer from NZCU Auckland because they have never given me a loan I can't afford to pay.
Mary T
— Nelson —
NZCU Auckland Contact
Contact Number
E-Mail
Website
Physical Address
695 Great South Road, Penrose,

Auckland

1061

New Zealand
Opening Hours
Monday

09:00 – 16:30

Tuesday

09:00 – 16:30

Wednesday

09:00 – 16:30

Thursday

09:00 – 16:30

Friday

09:00 – 16:30

Saturday

– Closed

Sunday

– Closed