Credit union loans up to $600,000
Low-interest starting from 5.65%
Repayment up to 25 years
In-page navigation
---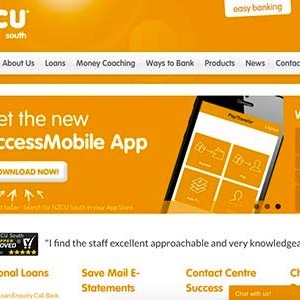 Author NZCU South. Screenshot of NZCU South website.


[Accessed July 3, 2019]
NZCU South - Quality banking products
NZCU South is proud to be a Credit Union and has provided financial solutions for over 45 years. We offer everything that regular bank, offers with one big difference.
Our Credit Union is owned by our members and each person that pays their membership fees is a part shareholder and has a say in how the profits are spent.
Break free from the chains of debt
We are like a big family that cares for each other and wants to see our members succeed, the thing that holds us all back in life is not having enough money for something, buying it on credit and then having debt.
If you miss a payment and it affects your credit score, then you might find it even more difficult to obtain a loan. A Credit Union is perfect for those that have bad credit as the community helps each other in their time of need and the requirements are a lot less strict.
Credit cards or credit cuffs
A credit card may seem like a great idea to pay for extra expenses or to have as a backup when you are short on cash, but credit cards come with their own set of disadvantages and if not used correctly can cuff you into a lifetime of debt. The NZCU South Credit Union community can by help you consolidate your bills and accounts into one easy to manage loan, you will then only be responsible for one reduced payment.
Our educational program helps teach our members better money management skills, so they don't end up making the same financial mistakes.
Making a difference where we can
We believe that the community should help each other, and this philosophy is what makes our credit union so successful, we pool our resources and pass the savings onto you. We give back to our local community by educating them about social awareness and different cultures. We run voluntarily-based projects and support local businesses and recycling.
NZCU South Services
NZCU South is proud to be a New Zealand Credit Union that is run and operated by New Zealand citizens. We offer our members everyday accounts, savings accounts, loans, insurance products, investment opportunities and other financial services for a small monthly membership fee.
Technology has improved so much over the past few years and we have embraced it to make it simple for you to apply for loans online or to conduct everyday banking transactions. You have access to our internet banking service any time of the day.
Top up your loan if you need more money
Once you have applied for membership and have paid your first fees you will be able to apply for one of our personal loans. Once you have started to make payments you will be able to top up your loan if the money is running low. Give us a call and explain what you need, and we will be able to assist you.
Your membership fee is your key to all the benefits
You will be charged a membership fee of R245.00 this will give you access to a wide range of benefits. Once of the benefits is that you will be able to apply for a loan that has a very low-interest rate and very easy repayment terms
Our online calculator will help you figure out how much money you need and how long you need to pay it back, unlike banks the terms can be customized to meet your needs.
Making sure your loan is covered
When you apply for an instant cash loan you will be responsible for the repayments that is why it is very important that you will be able to afford them. If the unexpected should happen and you can't repay your loan, then it is very important to have insurance that covers your loan
For only $50.00 you can take out loan insurance that covers you if you become disabled, lose your job or become bankrupt.This cover will pay your loan in the event of your death
NZCU South – Credit union loan
Loan Type

Credit union loans

Interest Rate

5.65 – 28.9% p/a

Loan Amount

up to $600,000

Repayment

6 months to 25 years
Benefits of NZCU South
Same day cash payout
No charges of extra payments
Simple online application
Credit union loan calculator
Although it might seem embarrassing to ask for help or apply for a fast loan, most people have money troublesome time in their lives and need a helping hand in their time of need.
Our community helps each other succeed financially. Personal loans may help some of the time, but when you are drowning in debt the right solution for you may be a consolidation loan. This way you can pay off your existing debt and start your financial future in a better position.
How a debt consolidation loan works
The NZCU South Credit Union will assist you with paying off your debt. We will contact your creditors and negotiate a settlement fee on your debt. Once we have settled all your debt then we will offer you a loan for that amount.
This loan can be payed back over easy instalments and you can finally get ahead because you won't need to keep paying penalty fees and other late charges.
It is very difficult to escape from the vicious debt cycle and sometimes a debt consolidation loan can be your only solution.
With our credit union in New Zealand you won't need to worry about late fees or penalty charges and you will only need to make one easy payment per month.
Customer Reviews & Testimonials
"
Making use of the credit plans that NZCU South offers has given me so much financial insight.
Peter L
— New Plymouth —
NZCU South will never give you a loan without paying careful attention to your affordability.
Catherine T
— Wanaka —
It is good to know that NZCU South still goes above and beyond to ensure that customers are satisfied with their credit plans.
Walter K
— Whanganui —
NZCU South Contact
Contact Number
E-Mail
Website
Physical Address
409 Colombo St

Sydenham

Christchurch

8023

New Zealand
---
Postal Address
PO Box 7010, Sydenham, Christchurch, 8240, New Zealand
Opening Hours
Monday

09:00 – 16:30

Tuesday

09:00 – 16:30

Wednesday

09:00 – 16:30

Thursday

09:00 – 16:30

Friday

09:00 – 16:30

Saturday

– Closed

Sunday

– Closed