New Zealand Firefighters Credit Union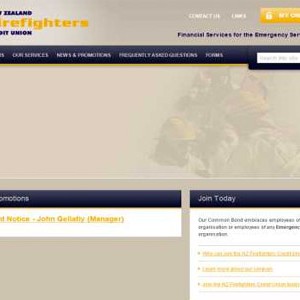 Author New Zealand Firefighters Credit Union. Screenshot of New Zealand Firefighters Credit Union website.


[Accessed July 3, 2019]
New Zealand Firefighters Credit Union - Dedicated to our members
In May 1976 the Central Fire station in Oriental Parade Wellington discovered the need to establish a credit union. The members of the Fire station held a meeting and decided to form a Credit Union.
Each member was asked to contribute $120.00 and this money was in turn used to loan money to other members in need.
In 1981 the New Zealand Firefighters Credit Union consisted of 2000 members from all over New Zealand.
Today the Credit Union has over $13 million in total assets and are the third largest Credit Union in New Zealand.
People helping each other succeed
The first credit union helped people with the same common interest pool their resources to help others in the community.
Nowadays Credit Unions provide all the same services as banks do and offer everyday savings accounts as well as a host personal loans and lots of other benefits.
The Credit Union is run and operated by its members, so all profits are channelled back into helping the members.
The supporting documents required are as follows:
A recent utility bills that displays your name
A council rates notice
A statement from your NZ bank
An insurance policy (if relevant0)
A letter from the Electoral Office
A Government Agency issued item that includes your name, your physical address and your unique reference number
Any other documents that may be requested
New Zealand Firefighters Credit Union Services
To join this Credit Union, you need to be part of the New Zealand Firefighters' group and you need to adhere to all their terms and rules.
You will need to apply for membership by completing the online loan application form and providing the indentation required. There are many ways to verify your identification these include: Electronic identity verification – This process allows us to use your driver's license and proof of address to verify your identification. If you prefer to not use the electronic verification system you may get the documents certified.
Documents to have certified include:
Your driver's licence
Your passport
Your NZ identity certificate
NZ firearms licence
Overseas passport
The benefits of joining our Credit Union
Joining a credit union in New Zealand is like joining a family that really cares about your needs. The Union is owned and operated by its members, so the members want to the union to do well.
The benefits include:
AccessDebit Mastercard
Great deals on insurance options
Access to online banking anytime anywhere
The ability to set up automatic payments
Low-interest rates and savings on other costs
Access to an everyday savings account
The ability to pay your bills easily
The access to quick cash loans
Access to affordable financial products
Mobile banking options
New Zealand Firefighters Credit Union – Credit union loan
Loan Type

Credit union loans
Benefits of New Zealand Firefighters Credit Union
Credit Union
UNSECURED Loans
Credit union loan calculator
New Zealand Firefighters Credit Union - many benefits for our members
Our good and poor credit loans are designed for our members and can be customized to suit your needs. The interest rate that we charge is very favourable and the membership fee offers great value for money.
If you are looking for an affordable home loan option, our home loans were specifically designed for the emergency service community and offer very attractive deals to those members. There are many options available to suit you and your family's needs.
Secured or unsecured loan options
We have both secured and unsecured loans available depending on your circumstances and what you need from the loan.
Our purpose is to provide services and financial products while letting our members have full say over whatever goes on and how the profits that the Credit Union makes will be used to further benefit themselves and the other members.
Our vision for the future
Our main vision for the future is to become the primary provider of financial services to all those that work in the emergency services industry and help them achieve a better financial future.
Our mission is to offer honourable professional service and low-interest rate instant loans and financial products. We hold the value of being trusted and we want you to feel like you belong in the community and benefit from the services you provide to the people.
Our compassion for our members is what makes our Credit Union so special we care about our members and want to help them succeed in life.
The New Zealand Firefighters Credit Union is not a bank although we provide every service that a traditional bank offers, banks are owned by people who make money off your money.
A Credit Union is not for profit so any money that is made is channelled back into the Union through better benefits and a lower interest rate.
Benefit from borrowing from our Credit Union
If you need a loan to purchase a property, buy a new home or just to help you pay the bills then you should apply our aim is for firefighters to help other firefighters.
We are a community that provides an essential service and we will help each other in our time of need. Your membership fee is used to secure better financial products and give our members even more benefits.
Customer Reviews & Testimonials
"
I applied for a New Zealand Firefighters Credit Union in the morning and within hours later, the money was deposited into my bank account.
Alexandra S
— Auckland —
I would like to commend the agents at New Zealand Firefighters Credit Union for always going above and beyond to ensure that their customers get affordable advance plans.
Amy W
— Nelson —
Thanks to New Zealand Firefighters Credit Union, I got the money I needed to attend to my financial emergency.
John F
— Hamilton —
New Zealand Firefighters Credit Union Contact
Contact Number
E-Mail
Website
Physical Address
5 Britannia St

Petone

Wellington

5012

New Zealand
---
Postal Address
PO Box 33097, Petone, Wellington, 5012, New Zealand
Opening Hours
Monday

09:00 – 16:00

Tuesday

09:00 – 16:00

Wednesday

09:00 – 16:00

Thursday

09:00 – 16:00

Friday

09:00 – 16:00

Saturday

– Closed

Sunday

– Closed