Balance free
Visa payWave
Interest free days
In-page navigation
---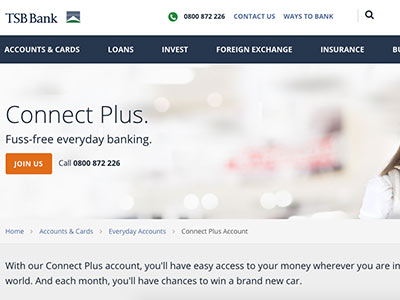 Author TSB Bank. Screenshot of TSB Bank website.


[Accessed April 17, 2018]
TSB Bank - Helping you reach your financial goals
TSB Bank has been a trusted name in New Zealand since 1850 and we use our many years of experience to help you achieve your financial goals and create a brighter future.
The thing that holds people back the most in life is not having enough money to do all the things they want to do or help them reach their dreams.
Money matters
Most people need some extra cash when they want to purchase their first property or they want to buy a new car. We are there to put your needs first when it comes to financing from everyday banking to business loans and home insurance.
We offer a number of different solutions and can cater to your every need. Our team is made up of successful intelligent individuals that are there to hold your hand through the lending process.
Benefits include:
We over everyday banking solutions as well as saving accounts
Our mobile app allows you to manage your money easily and keep track of your spending
Banking services are available 24 hours a day through online banking
You won't be charged for transactions
We offer a wide range of insurance and invest opportunity's
We offer great deals on home loans and home insurance
Our company is proudly owned by New Zealand citizens
When you deal with us you will deal with a real person that is only a phone call away. You will always have access to credit cards, loans and more when you need it.
TSB Bank Services
If you are looking for a home loan you can take advantage of our special offer of a fixed interest rate of 4.29% for 2 years.
When you need some extra cash and a personal loan is not an option for you then you could apply for a credit card to help you manage your debt. It is much easier to have an application for a credit card approved than it is to get approved for a personal loan.
Choosing an interest-free credit card
When you apply for a credit card you will be given an introductory offer for a certain number of interest-free days on the card.
This means that any purchases made during the first 44 days won't cost you any interest as long as you pay off the purchase before the interest-free period is over.
Credit cards allow you to choose a repayment date that can be aligned with your pay frequency as with short-term loans and most forms of credit. It is advisable to set up a direct debit on your account so that you never miss a payment.
The biggest advantage of a credit card is that you will have access to a revolving line of credit and once you pay your bills the funds will be available for you to use again.
Having more than one card
If you have more than one active credit card you should consider a balance transfer, this allows you to merge all outstanding payments onto one credit card on the lower rate credit card.
A balance transfer allows you to save money on interest and will give you some breathing space so you can concentrate on eliminating your debt.
Benefits of TSB Bank
Safe and secure credit cards
Low-interest rate
0% interest on balance transfers for six months
---
TSB Bank - Competitive rates on credit cards
The best way to avoid paying interest on your credit card is to make sure that you pay the closing balance on the card before the due date. You can find out the purchase date and the due date by looking at your credit card statement.
If you are able to, then set up a direct debit to run automatically. Always try to pay more than the balance that is due. This will help reduce the interest that you are charged monthly. Make payments through the month as this will reduce the daily balance on your card. The interest rate that you are charged is calculated by the daily balance rate.
Understand your credit card statement
Having a credit card can be dangerous if you are prone to overspending and because the credit is revolving you can quickly find yourself in debt if you are not careful.
This is a very common occurance and is well know among people who take out payday loans and other forms of short-term credit. When you make a purchase using your credit card it is important to check your credit card statement and have a good understanding of what it entails.
If you don't pay off the balance on your credit card you will quickly end up paying a lot more than you first bargained for. The longer you take to settle the balance the more interest you will be paying on your debt.
Know what you are being charged for
Check your credit card statement to find out the interest rate that you will be charged and keep an eye on the charges. Make sure you know what interest rate you will be charged after the introductory offer is over.
Some credit cards charge annual fees in order to receive benefits or earn rewards points while others only offer a few interest free days. If you want to get the most interest free days then you should make your purchases on the first day that you receive your credit card.
Customer Reviews & Testimonials
"
The best part about them is that if you have more than one credit card you can do a balance transfer and have all your debt on one card how amazing is that.
Keagan S
— Nelson —
They are an amazing company that thinks of everyone's needs they make sure that everyone has a card that is catered for them.
James J
— Auckland —
They offer so many products besides credit cards alone they are a great company if you are looking for a bank that cares.
Lana M
— Auckland —
TSB Bank Contact
Contact Number
E-Mail
Website
Physical Address
149 Lambton Quay

Wellington

Lambton

6011

New Zealand
Opening Hours
Monday

09:00 – 16:30

Tuesday

09:00 – 16:30

Wednesday

09:00 – 16:30

Thursday

09:00 – 16:30

Friday

09:00 – 16:30

Saturday

– Closed

Sunday

– Closed