Car loans up to $50,000
Low-interest starting from 10.95%
Repayment up to 5 years
In-page navigation
---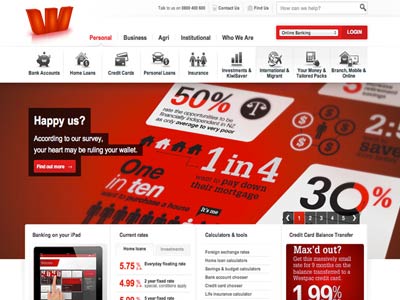 Author Westpac. Screenshot of Westpac website.


[Accessed April 17, 2018]
Westpac - Convenient online loans
Westpac has been in the financial field for many years in 2011 we celebrated being in business for 150 years, we continue to grow because of our continuous and loyal support to our clients. Our dedicated team is there to assist you and help you during your time of need.
Our staff can help you switch banks and take care of all the paperwork for you. Westpac is not like your average bank and our dedicated team will look after you like you are family whether you need a simple account or a vehicle loan.
What makes us unique
Westpac allows you the power of banking from your favorite device as long as you have an internet connection. There are a variety of apps to help you manage your money more easily while allowing you to bank better, easier and faster.
We use the latest technology Online Guardian Security that keeps your personal information safe from hackers. We offer special deals on home loans and specialized rates and terms with a helpful calculator to help you figure out how much you need. We have a list of resources that include articles and useful information that will assist you in the house hunt.
Rewarding you for spending your own cash
Of course, we offer everyday banking, but our rewards for spending your own money are Airpoints that can be exchanged for flight discounts and free flights. Other useful tools include the salary splitter that allows you to lock away a portion of your salary until an agreed-upon date to stop your overspending.
Westpac Services
By choosing Westpac as your car loan provider you are giving back to the community and benefiting many other good causes throughout New Zealand
Everyone wishes that they managed their money better, we assist you by helping you stay accountable for the money you are spending.
CashNav app and bank account alert will alert you when you make purchases and help you track your spending.
Track your spending so that you know where to cut down on spending and be able to save more.
Start saving the smart way
To help you start saving the easy way and repaying your car and personal loans even faster we have the online bonus saver this account will help you save more.
Earn bonus interest if you make at least one deposit and don't withdraw from that account during the month.
Benefits include:
Earn bonus interest on your regular savings
You can manage your account easily online
Make at least one deposit and your interest for that month will not count as a deposit
You won't need to draw any money out of this account
Use our app to check your deposit and manage your accounts online
Westpac – Car loan
Loan Type

Car loans

Interest Rate

from 10.95%

Loan Amount

up to $50,000

Repayment

6 months to 5 years
Benefits of Westpac
Additional payments are not charged
No penalty fee for early repayment
Get a loan top-up
Westpac - Reliable vehicle financing
If you really need to withdraw money from your savings account you will first need to transfer the money into your Westpac transaction account first and then withdraw the money from that account.
Other features include:
Transfer your money to your everyday account via online banking or at your nearest ATM
Set up a sweeping amount when the saver reaches this amount, you can nominate to have it automatically moved to your everyday account
Set up a salary splitter that can split your salary into 6 parts and gives you the ability to lock a portion away until you need it to stop you from overspending
Set up direct debits and automatic payments
Use the deposit boxes at any of our branches to deposit cash or checks
The interest that you earn does not count as the deposit
Apply for vehicle finance or a personal loan at any time
Credit card options
Finding the credit card you are looking for is simple with Westpac chose between low rates or rewards. If you love to travel, we offer Airpoints as rewards for spending our own cash these Airpoints can be exchanged for discounted rates and free flights.
While a low-rate Mastercard with a much lower interest rate gives you more shopping power. The type of credit card that you want will depend on your individual needs and requirements
Business card solutions
If your business is just starting out or a well-established business, we have the credit card that will suit your business needs. Credit cards help you track the money that spends very easily and gives you better control of your cash flow.
Manage your employees spending and reconcile your credit bill with ease. Your employee will even earn rewards on their purchases that you could use as an incentive to keep them motivated and working hard.
If your employees travel a lot for business they can earn Airpoints on business flights and purchases. While earning Hotpoint you can enjoy the benefit of travel insurance for up to 35 days when traveling overseas.
Earn business hotpoints
Hotpoints can be earned by using your BusinessPlus Mastercard credit card these Hotpoints can be exchanged for a range of different rewards.
Use your Hotpoints for the following:
Use them to pay for flights, accommodation, car rentals, and for personal and business travel expenses
Earn holiday credits and free travel vouchers the more that you use your card
Customer Reviews & Testimonials
"
They will guide you when you need to get your car loan like I did all I did was phone in and they told me how to apply and when I sent my application through I was able to get a response the same...
Tara B
— Auckland —
They have helped me get the best loan for my pocket when it came to me getting a car loan and now I am able to drive my car to work and back and home couldn't be happier.
Ryan B
— Christchurch —
They have made sure that I got my car loan and they have even helped me get the insurance that will suit me and my car.
Lara P
— Queenstown —
Westpac Contact
Contact Number
E-Mail
Website
Physical Address
298 Broadway

Newmarket

Auckland Region

1023

New Zealand
---
Postal Address
PO Box 934 Shortland Street, Auckland, 1140, New Zealand
Opening Hours
Monday

09:00 – 16:30

Tuesday

09:00 – 16:30

Wednesday

09:00 – 16:30

Thursday

09:00 – 16:30

Friday

09:00 – 16:30

Saturday

10:00 – 14:00

Sunday

Closed –