Car loans up to $100,000
Low-interest starting from 11.95%
Repayment up to 7 years
In-page navigation
---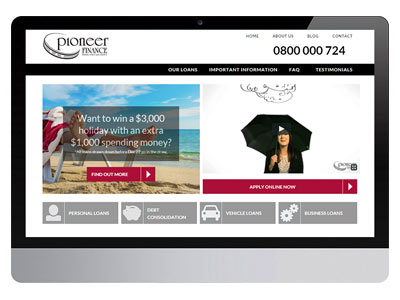 Author Pioneer Finance. Screenshot of Pioneer Finance website.


[Accessed April 17, 2018]
Pioneer Finance - Quick reliable loans
Pioneer Finance is the financial service provider that you can trust. We have offices all over New Zealand and offices in Auckland and Wellington we are a trusted service provider throughout New Zealand.
Applying for a loan can be very embarrassing but we are people too, and we understand so we will be there for you every step of the way.
Friendly, smiling faces
You are not just a number on an application form to us and we are old school when it comes to the personal touch. If you want to visit our branch you will be greeted by the friendly smiling faces of our knowledgeable consultants that will provide their full assistance to find what you are looking for.
We are very reliable and believe in cultivating personal relationships with our clients. In fact, we like seeing you in person so much that we will come to you at your home or office to advise you on your loan options.
Money in a flash
Applying online for one of our vehicle loans is simple and once you have applied we will verify your information and get you the money you need within 24 hours once your loan application has been approved.
To ensure that you understand your loan agreement your consultant will explain the contract and all the terms and jargon to you in detail and answer any questions you may have.
Pioneer Finance is a fully registered financial service provider that complies with all requirements and regulations that are set out by them.
Pioneer Finance Services
Applying for vehicle financing through Pioneer Finance means you will benefit from a very competitive interest rate and flexible repayment terms that allow you to choose the vehicle that you want to drive home.
We offer personal loans, car loans, business loans and loans for debt consolidation.
Consider the cost
We adhere to a very strict lending code that holds us to lending responsibly and making sure that you don't all into debt.
You will be charged a once off established fee of $270, a caveat registration fee of $160 and the PPSR registration fee of $8.05 and a monthly loan administration of $12.
Making sure you are covered
Bad things happen to people and in case of unforeseen circumstances, we offer a hardship validation clause for all our online loans.
If you experience hardship and you are struck by illness or disability or you lose your employment, then this clause will cover your payments.
You will need to apply and submit an application for this benefit in writing and stipulate what you need.
Postpone a certain number of payments until you are back on your feet or extend your loan principal to reduce your monthly payments on your loan.
Pioneer Finance – Car loan
Loan Type

Car loans

Interest Rate

11.95 – 27.95% p/a

Loan Amount

up to $100,000

Repayment

30 days to 7 years
Benefits of Pioneer Finance
Low interest rates
Fast customer service
Repayment terms that suit you
Pioneer Finance - you can become debt free
We will assist you where we can and change the terms of your loan contract until you can get back on your feet and are able to repay your car loan.
Make sure that you contact us as soon as possible so that we can find a speedy solution that suits both our needs.
Erase your debt
Wouldn't it be nice if you had a fairy godmother that could wave her magic wand and make all your debt disappear? No more dodging debt collector's phone calls or worrying about which bill you are going to pay and which bill is getting skipped this month.
A debt consolidation loan works in this way by paying your debt on your behalf so that you only have one bill to worry about and don't continue to drown in debt. We pay your debt and then lend you that amount as a personal loan. This will save you money and cause you less stress. It will also reflect positively on your credit report.
Paying us back
Now that you only have one bill to worry about, you can get your finances back on track. We will help you by providing easy repayment terms, we will teach you to manage your money better and how to follow a budget. No matter how much debt you own we cover debt between $1,000 and up to $100,000 to ensure that your debt never keeps you up at night ever again.
Financing for all your business requirements
We want to help your business succeed we do this by providing long or short-term loans. We offer business loans to those that have well-established businesses and to those businesses that are just starting out and need a helping hand. If you are ready to start a business but require financing then we have the perfect business financing to help you realize your dreams of owning your own business.
Solutions for everyone
Even if in the past if you have made bad financial decisions and you have a less than perfect credit score you may still apply. Your credit might not be as terrible as you think to apply and let us decide if you can afford a loan or not. In most cases, if you can provide security, you can prove that you can afford the loan or if you apply using a joint application with a guarantor we should be able to assist you.
Customer Reviews & Testimonials
"
They have made sure that I understand the terms and conditions so that I can pay my loan off faster if I want to and they are ok willing for me to do that if I would like.
John B
— Auckland —
When you are getting your first car loan it can be scary and I wasn't sure where to turn and when I found them I simply sent them an email and they replied by phoning and they were happy to help ...
Joe S
— Wellington —
They have helped me get my car loan the service is great and I will not be going anywhere else to get a car loan in the future I will be staying with them.
Sarah M
— Christchurch —
Pioneer Finance Contact
Contact Number
E-Mail
Website
Physical Address
119 Queens Drive, Hutt Central,

Lower Hutt

5010

New Zealand
---
Postal Address
PO Box 9607, Wellington, 6141, New Zealand
Opening Hours
Monday

09:00 – 17:00

Tuesday

09:00 – 17:00

Wednesday

09:00 – 17:00

Thursday

09:00 – 17:00

Friday

09:00 – 17:00

Saturday

Closed –

Sunday

Closed –