Car loans starting from $2,000
Low-interest starting from 12.90%
Repayment up to 7 years
In-page navigation
---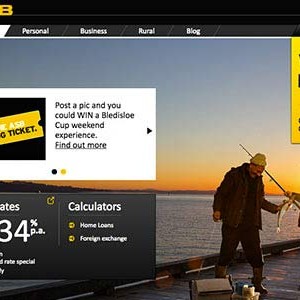 Author ASB Bank. Screenshot of ASB Bank website.


[Accessed July 3, 2019]
ASB Bank - outstanding service excellence
At ASB we strive to consistently provide our customers with outstanding service excellence. We are dedicated to finding you the personal loan product to meet your requirements. ASB first opened its doors way back in 1847 as New Zealand's first savings bank.
ASB pledged to serve the community and help New Zealand businesses grow and thrive, we re-imagine the way that you want to bank by examining how our clients interact with money and how to make their banking experience better.
Who we are as a company
ASB Bank is one of New Zealand's leading commercial banks, we aim to be ahead of all our competitors through market research and always staying one step ahead of the pack in both the vehicle loans and the services that we offer.
We believe in giving back to the community and making sure everything we do has a positive effect on the local community.
Diversity and empowerment
Everyone should have access to banking, but for many rural communities, this is a luxury that they don't have access to.
We have identified the need to expand banking into the rural communities because as they develop they will have a greater need for this service.
To date, we have over 1.3 million happy clients that chose to bank with us.
ASB Bank Services
We empower our clients to strive for the success we help grow the New Zealand economy by supporting local businesses. We offer a wide range of personal loans, business loans, home loans and vehicle financing.
Our ASB car loans put you in the driver's seat and allow you to borrow the money for up to 7 years.
You can make extra payments whenever you are able to without the risk of paying penalty fees.
Reasons to choose our car loans include:
Our car loans are fast and you can expect an answer in as little as 24 hours
There are no penalties charged to make extra payments or to pay back your loan early
We offer financing for both new and used vehicles
You can pay back the loan over a 7 year period
Follow these easy steps
Calculate how much you need: Look at the buyer's guide available on the website for some tips and what to look out for. Use the online calculator to figure out how much you need to borrow and how long it will take you in order to pay the money back.
Apply for a car loan: complete the online loan application form online and use your online banking details to validate your identity
Have your loan approved: We will verify your information and get back to you with an answer in as little as 24 hours.
Chose your car and drive it away: Find the car that you would like and sign the relevant documents. We will pay for your vehicle and you can drive it away.
ASB Bank – Car loan
Loan Type

Car loans

Interest Rate

12.90 – 17.95% p/a

Loan Amount

from $2,000

Repayment

6 months to 7 years
Benefits of ASB Bank
No penalties for early payment
Flexible loan terms
No surprise costs or fees
ASB Bank - Make the switch
It is easy to switch to ASB, simply log onto the website and complete the online application form, next choose the type of account or the car loan that you want.
The benefits of switching include:
When you decide to switch you will be given a dedicated personal switcher that will switch all your accounts and take care of everything on your behalf
You have the choice to pick the account that best suits your needs
You can easily manage your money anytime with FastNet classic internet banking or via the ASB mobile app
Take advantage of the innovative ways to save and spend by using our handy tools such as save the change, pay to mobile and track my spending
Different account options for different people
We have single and joint accounts available for everyday banking as well as specialised options.
Everyday banking accounts
This is our basic intro package. This account option you will enjoy the benefit of not needing to pay transaction fees, you will receive a debit card and you don't need to pay card fees for the first 6 months.
Put away money as you spend it
If you are saving toward a goal, then this is the easiest way to save money. This benefit works by rounding up your electronic purchases to the nearest dollar. You won't even notice the difference and you will be surprised to see how quickly those small amounts add up and help you reach your savings goals even faster.
Shop using your mobile phone
It's annoying to carry around cash and even more annoying to carry around your credit cards, but everyone always has their mobile phone at hand. We have taken this into consideration and developed ASB PayTag this technology is a Visa payWave sticker that attached to your mobile phone and effectively turns your phone into a contactless Visa credit or debit card.
Customer Reviews & Testimonials
"
What can I say but I applied and had my car loan amount in my account the next day wow what fast service. I couldn't have asked for better.
Jegan M
— Queenstown —
What I like about the company is I can choose how long I would like to pay my loan off for and I can even Extent it for 7 Years which is insane.
Jake J
— Nelson —
If you want a new or used car you can get a loan through them believe me I applied for a loan for an older car and they gave me the loan.
Jeff L
— Auckland —
ASB Bank Contact
Contact Number
E-Mail
Website
Physical Address
Westfield Centre, 219 Don McKinnon Drive

Auckland

0632

New Zealand
---
Postal Address
PO Box 35, Shortland Street, Auckland, 1140, New Zealand
Opening Hours
Monday

09:00 – 16:30

Tuesday

09:00 – 16:30

Wednesday

09:00 – 16:30

Thursday

09:00 – 19:00

Friday

09:00 – 16:30

Saturday

09:00 – 16:30

Sunday

10:00 – 16:00