Car loans up to $100,000
Low-interest starting from 9.5%
Repayment up to 48 months
In-page navigation
---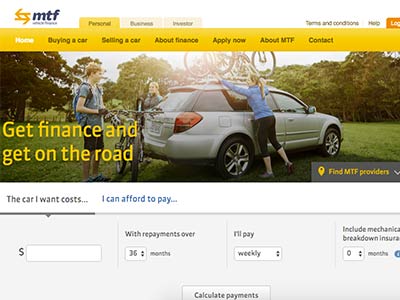 Author Motor Trade Finances. Screenshot of Motor Trade Finances website.


[Accessed April 17, 2018]
Motor Trade Finances - Drive your dream car today
MTF knows what you need, of a car loan because we originally started as a motor dealership and realized how many people need help to purchase their vehicles.
Our company was established in 1970 to bring car loans to our customers as quickly and easily as possible. Many things have changed over time, but one thing that will never change is our amazing personal customer service and great deals that you can trust.
Master your own destiny
Be in control of everything from which vehicle you want to buy and how long you need to pay for it. The only thing you can't decide is the price. Our business is so successful because our happy clients provide referrals via word of mouth.
Joining the family
There is more than one way to join our MTF family. If you have financial experience, we have wonderful franchise opportunities available that will soon make you a successful business owner and making money. As part of MTF, you will receive a host of benefits and other advantages, including marketing support, a great reputation, a good support system, and superior system technology.
Useful tools available on our website
All the tools you require are available on our website to use at your convenience. You the online personal loan calculator to determine how much you can afford to spend and how long it will take you to repay your loan. Use the handy tool to find your nearest MTF dealer or browse our options and review our coasting guide.
Motor Trade Finances Services
When you want to purchase a vehicle it is a good idea to shop around and look at different options to see what you like best.
MTF Finance will connect you to our network of over 400 dealers so you can have options and make sure you get the car of your dreams. Apply for a car loan and using the latest technology to assess your loan application MTF Finance will give you an outcome almost instantly.
Finding your wheels
Before you search for your car get a pre-approved loan so that you know how much you have to spend and negotiate a deal as if you are a cash buyer.
Once you have found the car that you have been searching for give us a call and we can arrange an instant loan. The process will be even quicker if you purchase from one of our dealers.
Buying a vehicle privately
If you have found your vehicle through a private owner and need to buy privately then get in touch with us so that we can read the contract and offer you advice and offer vehicle financing. If you have questions or reservations about anything you can get real-time answers by giving us a call.
Selling your vehicle
If you are an MTF client already then selling your vehicle is very easy. Contact your financial expert to guide you through the process and assist you with the sale. If you aren't an MTF client give us a call so that we can show you why we have so many happy returning customers.
Motor Trade Finances – Car loan
Loan Type

Car loans

Interest Rate

9.5 – 21.5% p/a

Loan Amount

up to $100,000

Repayment

12 months to 48 months
Benefits of Motor Trade Finances
Same day cash payout
Quick approval
No hidden costs
Motor Trade Finances - Our loans will suit your financial needs
If you are looking to purchase a car, motorbike, light truck or any other vehicle we have the loan to suit your requirements.
Our long and short-term loan terms are flexible and can be arranged to align with your payment frequency and your budget constraints. Make sure you know what your loan includes and if it covers breakdown insurance and covers your loan repayments in the event of your death, illness and other factors. If this isn't included in your insurance options it would be a good idea to add these products.
Car financing as opposed to mortgage financing
Sometimes people are tempted to take out a second mortgage on their homes to secure their car loan this can be very risky if you have any problems with payments down the line or if life decides to give you lemons and your circumstances change for the worst.
Make sure you calculate the total cost involved
A home loan to cover your car repayments might seem like a good idea as the interest rate is usually lower than a car loan. Most of the time the terms are longer and the saving is very small by the end of the loan terms. You may end up paying interest for a lot longer and that will increase the cost of the loan.
Business operating lease
If you need to upgrade your entire business, a fleet of vehicles then we have an operating lease that allows you to upgrade your fleet every 6 to 45 months. There are insurance options available to provide service and maintenance for the entire fleet. If you want to upgrade the vehicle at the end of the loan term, then that is an option.
Other advantages for business owners include the fact you can claim GST on each installment and your scheduled payments are tax-deductible. Assets that are financed under an operating lease and included or recorded as assets on your balance sheet.
Look at how much you will save and compare the different terms between car loans and leasing to find your best solution.
Customer Reviews & Testimonials
"
Once you are on the site the first page will allow you to use the calculator or apply for a loan all you have to do is click on apply, they have made applying for a loan very easy.
Paul A
— Auckland —
If you are looking for an office that is close to you all you have to do is look down the web page and you will see that you can find an office that has helped me decide they are the company for ...
Joe J
— Queenstown —
The service is great and the staffs at the office are very friendly and they don't mind taking the time to help you out.
Jackie L
— Wellington —
Motor Trade Finances Contact
Contact Number
E-Mail
Website
Physical Address
1 Barrys Point Road, Takapuna,

Auckland

0622

New Zealand
Opening Hours
Monday

08:30 – 17:30

Tuesday

08:30 – 17:30

Wednesday

08:30 – 17:30

Thursday

08:30 – 17:30

Friday

08:30 – 17:30

Saturday

09:00 – 15:00

Sunday

– Closed