Car loans up to $1,000,000
Low-interest starting from 7%
Repayment up to 60 months
In-page navigation
---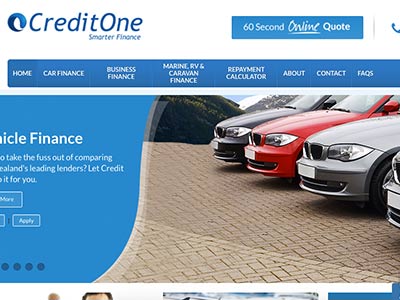 Author Credit One. Screenshot of Credit One website.


[Accessed April 17, 2018]
Credit One - Reliable credit solutions
Credit one can be traced back to the 1990s and has grown to be one of New Zealand's most recognized names when it comes to car loans.
Credit One offers you a one-stop financial solution and convenience at your fingertips.
Our website is always available online 24 hours a day so you can apply for a loan at any time of the day or night.
Our consultants are trained to find you the solution that you have been searching for.
Our company gives you access to a wide range of choices, our packages cater for all your need and requirements, chose your fees, how much you need to borrow and how long you need to pay back the loan.
Why you should choose Credit One as your credit solution
Convenience: our service is always available online
Choice: chose between our leading lender and design your own contract with terms that suit your budget
Freedom: chose between low upfront fees, premium finance packages, or upfront fees and repaying your loan early with no penalty fees
No waiting: there is no need to wait around to find out if your loan has been approved or not
Excellent customer service: Our excellent quality service is offered by knowledgeable, unbiased staff that will assist you in arranging every aspect of your finances.
Confidence: We are confident that we will find you the best deal available and get you behind the wheel of the car of your dreams even quicker than any other lender
Credit One Services
There are many different car loan financing options available that offer easy to manage cost-effective vehicle loans that are completely hassle-free. We will help you find the right car to meet your needs, we search for you so that you don't have to.
You want to drive your new vehicle as soon as possible so we aim to get you the keys to your new car as quickly as we can. Our financing options offer you a choice between a low interest rate or a balloon payment.
Business car finance solutions
If you require a car for business use or you need a fleet of vehicles to help your business run smoothly, then we have different packages to suit your needs. Your consultant will advise you on which solution will help grow your business. Our long and short-term loans will help you increase your cash flow and maximize your tax benefits.
Hire purchase or credit sale agreement solutions
Buying a car through a registered dealer gives you access to a range of different benefits including:
Your vehicle can be listed as an asset and used as security and GST can be claimed on an asset invoice.
You can claim for depreciation on your vehicle and your interest can be deducted via your tax return
If your business operates via seasonal cash flow we can customize your repayment terms to meet these requirements
Your repayment terms vary between 6 and 60 months depending on how long you need to repay the loan.
Your interest rate will be fixed for the duration of the loan so you always know exactly how much you need to pay
There are quick approval loans available that offer up to 100% funding
Credit One – Car loan
Loan Type

Car loans

Interest Rate

7 – 20% p/a

Loan Amount

up to $1,000,000

Repayment

12 months to 60 months
Benefits of Credit One
Quick vehicle loan comparison
Affordable finance options
Get the best interest rate
Credit One - A variety of loan options
Once you have come to the end of your loan agreement you will be able to decide between 3 different options.
You can either pay the residual value (final installment) and then retain ownership of the vehicle
You can sell or trade the vehicle and use that money to settle the residual payment and then replace it
You can refinance the residual value and continue the lease until you have paid off the vehicle in full
Financing through an operating lease
An operational ease will enable you to lease the vehicle without putting your business at any risk that would normally come from owning the vehicle.
If you have a large fleet of vehicles this can drastically reduce the cost of running them. If you keep the vehicle in good condition you can simply return it at the end of the lease term.
The main benefits of this type of agreement include:
The ownership of the vehicle is retained by the lease provider
The lease installments are tax-deductible
Your monthly rental payment gives you full use of the vehicle
You can decide how much your business will cover when it comes to distance allowance traveled
There is no need to supply collateral to secure your vehicle loan
You have the option to include maintenance into your monthly payments
You do not need to report the vehicle as an asset on your balance sheet
The installment can be fixed for the duration of the loan agreement
A Novated Lease
This is a type of agreement between you (the employee) and your business and the person in charge of financing this agreement puts the obligation on the business to make payments on the business loan. In this arrangement, the company will pay the loan on behalf of the employee.
Customer Reviews & Testimonials
"
We got stuck after we had thought we were done paying for our new car and we found out there was a balloon payment and now we have been helped by this lovely company and we will be keeping our ca...
Chloe S
— Auckland —
Unsure about how much your loan will cost you all you have to do is use the repayment calculator and you will be able to find out.
Loren L
— Hamilton —
They have great service what a help they were when I had queries and I got a super-fast response from them.
Joshua M
— Nelson —
Credit One Contact
Contact Number
E-Mail
Website
Physical Address
692 Great South Road, Penrose

Auckland

1061

New Zealand
Opening Hours
Monday

08:30 – 17:00

Tuesday

08:30 – 17:00

Wednesday

08:30 – 17:00

Thursday

08:30 – 17:00

Friday

08:30 – 17:00

Saturday

Closed –

Sunday

Closed –