Car loans up to $20,000
Low-interest starting from 7.95%
Repayment up to 5 years
In-page navigation
---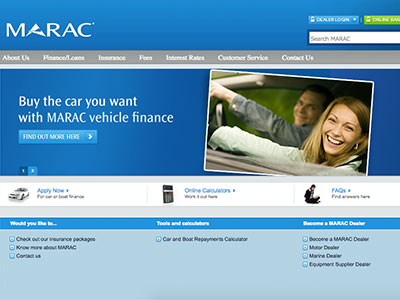 Author MARAC. Screenshot of MARAC website.


[Accessed April 17, 2018]
MARAC - Flexible, easy to manage loans
Buy the car you want and drive it away today with a MARAC car loan. Our terms are very flexible and easy to manage with very competitive interest rates and Avery's fast approval rating.
We have a national network of approved MARAC approved car dealerships that offer great deals or if you prefer to buy through private sake we will be able to assist you.
Benefits of a MARAC car loan
There are many different companies offering car loans and special offers so why should you pick our company above the rest. We offer
Very competitive interest rates
Flexible repayment terms to suit your needs and budget
We have the fastest approval times
Apply online in only a few minutes
We have won awards for our excellent customer service and problem-solving skills
Loan tops ups available
Once you have established a good payment record, you may qualify for short-term loan top-ups, payment breaks and extended loan terms.
The longer you remain a client the more benefits you will unlock.
MARAC Services
To ensure that you get the best service we employ the best people that work in finance and we always put our customers first and we pride ourselves on offering genuine unique loan products.
Apply for a preapproved car loan so that you know how much you can spend when you are searching for your dream car. We also offer great LANs deals on boats and caravans and other marine products.
Financing your vehicle directly with MARAC
If you buy a car through one of our MARAC authorized dealerships we can arrange on the spot financing for you and you could drive away your new car in as little as 1 hour after your online loan application has been approved.
We can also assist you if you:
Organize your own financing
Purchase your vehicle through a private sale
Or if you need help negotiating a deal with a cash buyer
We have a helpful online calculator available
Your vehicle needs to be insured, so why not have a look at our insurance deals that cover everything from theft to breakdowns and love as of income. If you need any help, or have any questions on our vehicle loans then speak to one of our friendly consultants either in person or online.
MARAC – Car loan
Loan Type

Car loans

Interest Rate

7.95 – 14.95% p/a

Loan Amount

up to $20,000

Repayment

12 months to 5 years
Benefits of MARAC
Same day payout
Repayment terms are flexible
Easy online application
MARAC - Convenient vehicle finance
Make sure that you are covered by GAP insurance (Guaranteed Asset Protection) this will protect your vehicle in the event that it is stolen or written off.
If your car is written off, but you still have outstanding payments on your loan, GAP insurance will cover your outstanding balance.
Things you need to consider
Our loan terms are flexible, chose between 1 year and up to 5 years to repay your loan, your vehicle will be used as security against your loan so if you default on your repayments then you will lose your car.
Interest is calculated and charged monthly the repayments are customized to suit your wallet and put you in the driver' seat to determine how much you need to pay.
You need to make sure that you have valid insurance on your vehicle for the duration of the loan agreement.
To apply for a car loan you need to be over the age of 18 years. You must also hold a valid driver's license.
Consider applying with a guarantor
If you don't have a deposit or security as collateral for your car loan, you should consider applying for a joint loan with a guarantor.
There are many benefits of applying for a car loan with a guarantor the main problem-solving is that people with bad credit that would usually find it difficult to apply for a loan are able to obtain vehicle financing.
Other benefits include:
The interest rate that is charged for guarantor loans is much less than the charges for bad credit loans.
Guarantor loans offer flexible repayment terms with up to 60 months to repay the loan.
Guarantor loans allow you to borrow up to $10,000 which is much more than you would be able to borrow on a bad credit or a payday loan.
Applying with a guarantor gives your application more chance of being approved and your application will be approved much faster.
Other things to consider
Your fees will be much less and there is no charge to apply. When choosing someone to act as your guarantor you will need to consider the relationship you have with them, can you trust them to repay the loan if you are unable to. Will your missing payments put a strain on your relationship? You both need to trust each other for this relationship to work.
We are responsible and on your side
You need to make sure the person who acts as your guarantor is able to afford the repayments on the loan if you aren't able to. The guarantor will be prevented from applying for any personal loan until your loan term is over.
Trade-ins welcome
If you have a vehicle to trade in you can use it as a deposit on your new vehicle by doing this you will benefit from a lower interest rate and lower fees.
Customer Reviews & Testimonials
"
If you are needing advice and staying in Auckland then I suggest you contact them and they will help you get the car loan you need.
David A
— Auckland —
The application takes a matter of minutes are you are able to submit it if you don't like standing in queues of people then this is the company for you.
Jackie P
— Queenstown —
Wow I can't believe that I was accepted and I will be going to choose my car soon. This makes me so excited.
Emily R
— Napier —
MARAC Contact
Contact Number
E-Mail
Website
Physical Address
Level 3/277 Broadway, Newmarket

Auckland

1023

New Zealand
---
Postal Address
PO Box 9919, Newmarket, Auckland, 1149, New Zealand
Opening Hours
Monday

08:00 – 17:00

Tuesday

08:00 – 17:00

Wednesday

08:00 – 17:00

Thursday

08:00 – 17:00

Friday

08:00 – 17:00

Saturday

– Closed

Sunday

– Closed