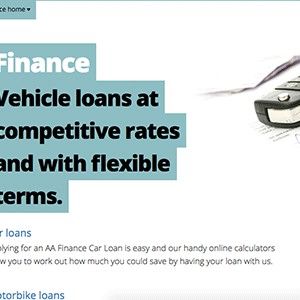 Author AA Finance. Screenshot of AA Finance website.


[Accessed July 3, 2019]
AA Finance - We strive for excellence
AA has a very long and admirable history that ranges over 100 years.
AA was first founded in 1903 as an automotive club, but it now offers its members motoring advice, insurance products, vehicle financing solutions and free maps and travel guides.
Where it all began
In 1903 Dr George Thomas Humphery de Clive-Lowe sent a letter to 20 different motoring enthusiasts and asked if they would like to join an exclusive motoring club. This created interest and soon the Auckland Automobile Association was formed.
In September 1903 the first meeting took place and the AA grew from strength to strength. To celebrate forming the AA the members went on their first "run" as more members joined the "runs" became longer and more adventurous.
Part of history
The AA was the first organisation to offer drivers licenses to members in 1903 in order to obtain a license you have to complete a competency test, if you were deemed as successful you were issued with a certificate of competency.
In 1925 the local government started to make it mandatory to pass this test to be able to purchase and drive a motor vehicle. They then took over the role of issuing drivers licences as they are known today. In 1904 the AA launched its first campaign that was to bring attention to the importance of the roads and road use this campaign was entitled "Better Roads"
AA Finance Services
The AA is responsible for the first ever road markings and signposts in 1922 the association voluntarily started making routes to make it easier to determine where each road went.
By 1923 the AA had erected over 70 signs and board that signified danger.
The AA is your best solution when it comes to financing your car loan. We offer different options to suit your needs.
Car loan options include:
Switch your car loan
Compare car loans to find the best option
Get real-time answers about cars and the loan process
Design your loan by choosing your interest rate and repayment terms
Switch your existing car loan
If you are an AA member it is very easy to switch your existing car loan to an AA car loan.
By switching you will save on the interest rate.
Our rates range from 9.95% with very flexible, easy to manage repayment terms.
We will make sure that you save on your car loan and help you ease the pressure on your day to day cash flow.
AA Finance - Loans, insurance and added benefits
We are currently running a promotion that allows you a break in payments for 3 months, that means you can apply for a loan today, have your loan approved in a few minutes and drive your vehicle home the very same day but you will only need to make your first instalment after 3 months.
If you are switching vehicle loans you can also take advantage of this amazing deal.
Other benefits include:
You will be charged a fixed annual interest rate from as little as 9.95%
Our quick loans can be approved in under an hour
Give your wallet a break with a 3 month no payment breather
Receive an AA Smartfuel discount. This gives the member a once off discount of 50c per litre of fuel the maximum fuel amount is up to 50 litres.
To apply you must be over the age of 18 and be in possession of a driver's licence.
Bcome an AA member
There as so many benefits to becoming an AA member benefits include free eye tests, three free driving lessons, you can claim discounts on movie tickets, you will receive free Red Cross first aid training so that you are prepared in the case of an emergency.
AA covers both personal and business options.
Breakdown assistance with just one call
When your vehicle breaks down on the side of the road wouldn't it be nice if you could call for assistance? Our members benefit from free road service and breakdown assistance. No matter what can you drive if you need help we are only a call away.
Benefits of our roadside assistance include:
6 free road service callouts per year
If you are a member for 10 consecutive years you will qualify for unlimited callouts for roadside assistance.
Once you become a member your benefits will be accessible after 24 hours.
Holding your hand through a breakdown
Give us a call and we will come directly to you and assist you where possible right where you are. Our road service crew are trained to calm you down and sort out the problem as quickly as possible to get you back on the road.
Our roadside assistance can help with:
Testing your battery. If the battery is flat we will organise a replacement battery for you
Jump-starting your car when necessary
Helping you access your vehicle in the event you are locked out or have locked your keys in the car
Free fuel delivery if you run out of petrol
Glass replacement to fix side windows in the case of a break-in's
Organising a windscreen or help repair cracks
Customer Reviews & Testimonials
"
How lovely would it be to be able to apply for a car loan in three minutes well that is what I did through the company they truly have great service.
Jack D
— Wellington —
Getting a loan from this company is easy all you have to do is when filling in your app remember to answer all the questions correctly.
Cherry S
— Christchurch —
I got my loan approved I didn't think it would be that quick at all and yes I do mean quick I sent my application in this morning.
Lee W
— Masterton —
AA Finance Contact
Contact Number
E-Mail
Website
Physical Address
Level 16, 99 Albert Street

Auckland

1010

New Zealand
---
Postal Address
PO Box 5, Shortland Street, Auckland, 1140, New Zealand, Auckland, 1140, New Zealand
Opening Hours
Monday

08:30 – 17:00

Tuesday

08:30 – 17:00

Wednesday

08:30 – 17:00

Thursday

08:30 – 17:00

Friday

08:30 – 17:00

Saturday

– Closed

Sunday

– Closed