Business loans up to $20,000
Low-interest starting from 12.5%
Repayment up to 60 months
In-page navigation
---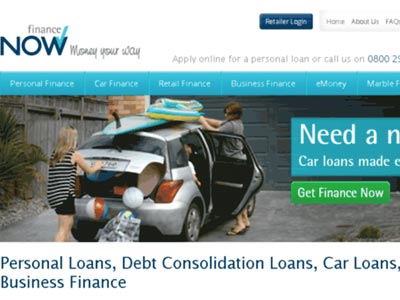 Author Finance Now. Screenshot of Finance Now website.


[Accessed April 17, 2018]
Finance Now - A responsible credit provider
We applaud anybody who is able to start a business because we know it is not the easiest to run. There are many challenges that one faces and often this is when people give up. It is for this reason why we credit the survivors that still press on because it is hard to survive in any industry lately.
Finance Now provides business loans to any client that is seeking credit. Although we open our doors to everyone, if you don't meet our lending criteria, we will not be able to provide you with business finance.
There are certain requirements that we look for. These include the applicant being a New Zealand resident, having a stable business that renders a reasonable amount of profit and the client should be above the age of 18 years.
Finance Now is a responsible lender
We take our business very seriously and as a result of that, we need to ensure that every information that is furnished to us is accurate and true. We have had a few instances where clients would exaggerate their financial statements so that it could increase their chances of being granted a quick cash loan.
As such, we now assess the documents thoroughly to ensure that everything is authentic. Furthermore, we must mention that should you be found guilty of fraud, we will terminate your loan application and ban you as a customer from ever applying for a loan at Finance Now. It will not only be your application that got rejected but your reputation will have also survived a big blow.
Finance Now Services
Clients have an option of applying for a business loan online where they are required to fill in an online application form. The form contains a series of personal, financial, and employment questions.
The second option is applying through the telephone by giving us a call and speaking to one of our agents or coming directly to our offices. There is no better method, all are equally important and we will attend to your application as soon as we receive it.
The amount of money offered to the client
The amount of money a client qualifies for depends on how much his business makes in a financial year. Therefore, we can't really put a figure to it because operations are different and don't make the same amount of money.
However, at Finance Now the minimum amount a client can get is $1000 and the maximum is $ 20 000. Furthermore, the amount is dependent on the affordability checks that we perform.
When you can receive your money
We work tirelessly to ensure that a customer gets his money in a short period of time. However, it also depends on how fast you submit the required documents.
If we receive everything on time, the money will be deposited into your bank account within one business day.
It may take slightly longer if you are using different banks or credit unions. Once the money has left Finance Now and is making its way to your bank account, we are no longer responsible for the time factor.
Finance Now – Business loan
Loan Type

Business loans

Interest Rate

12.5 – 22.5% p/a

Loan Amount

up to $20,000

Repayment

6 months to 60 months
Benefits of Finance Now
Easy online loan application
Rates are affordable
Get a loan quote emailed to you
Finance Now - Flexible repayment terms
If you are looking for a small quick loan to fix a few things in your organization, we will not require any security from you.
However, if you want a bigger amount of money, we will request that you give us some form of collateral as part of the lending process. Should you default on your payments, we will take the asset that you have given to us as a warranty to pay for your credit.
How to know when your loan application has been approved
We will contact you as soon as we approve your long or short-term loan application by either email or telephone. Alternatively, we will also notify you if we don't approve your loan application and we will give you the reasons too.
Options of applying for more than one credit plan
We will follow the same procedure that we usually follow when you are applying for a loan regardless of the fact that you already have an existing credit plan with us. Although some clients may qualify for an additional loan, we always encourage our customers to take one loan at a time.
Australian citizens are welcome to apply
We have heard our customers cry and we have listened to their pleas. If you are permanently living in Australia, you can apply for business finance. The only condition we have is that you have a working New Zealand bank account.
Making extra payments
If you have extra money in your pocket from month to month, you can put it on your loan. This way, you will finish your loan sooner than the original date.
Repayments methods one can use
Clients can choose a convenient method of payment. A lot of customers prefer the direct debit method because it is suitable for all parties involved. On the other hand, you can also pay us by coming to our offices or you can pay via cheque. We welcome any method of payment for your business finance as long as we will receive the money on time.
Customer Reviews & Testimonials
"
We have used the calculators to get the best deal for our loan for the new equipment that we have needed to ensure that we get better business.
Chase M
— Queenstown —
They have made sure that every time that we have needed a loan there is always someone to assist me and now I have been able to get loans for our company where ever we need.
David G
— Auckland —
The service is excellent and that is why we used them and we will gladly recommend them to anyone looking for a loan.
Melissa M
— Wellington —
Finance Now Contact
Contact Number
E-Mail
Website
Physical Address
114 Dominion Rd, Mt Eden

Auckland

Auckland Region

1024

New Zealand
---
Postal Address
PO Box 1204, Invercargill, 9840, New Zealand
Opening Hours
Monday

08:30 – 19:00

Tuesday

08:30 – 19:00

Wednesday

08:30 – 19:00

Thursday

08:30 – 19:00

Friday

08:30 – 19:00

Saturday

09:00 – 17:00

Sunday

09:00 – 17:00