Short and Long term working capital
Invoice Finance
Development Funding
In-page navigation
---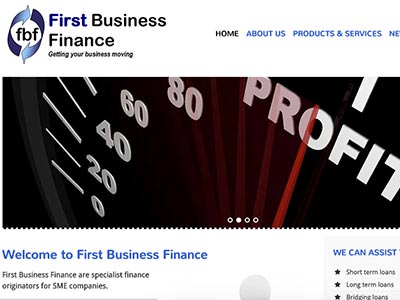 Author First Business Finance. Screenshot of First Business Finance website.


[Accessed April 17, 2018]
First Business Finance - Affordable loans
Any business, no matter how big or small will face financial difficulty from time to time and may need a short-term loan to aid with cash flow problems. Although this may be due to poor planning, sometimes it is mainly because things have become so expensive to maintain.
First Business Finance understands all of this too well and we have no problem helping enterprises with credit when they need it. Our credit services are not only affordable, but they are also available for any entrepreneur who meets our lending criteria. At the end of the day, we want to see self-owned businesses rising above all adversities because the industry needs more bosses.
Working within your financial means
Every organization has a budget that needs to be met. Therefore, when you apply for business finance, we will look into your books to try and find out how much you can afford to pay. We will never give you a loan without checking the status of your finances.
We have had cases where a client would ask for a high amount of money knowing very well they were not able to pay for it. As such, we have made things easier for all parties involved by asking you to furnish us with your financial statements.
This way, there will no way you can try to manipulate the numbers and even if you try to do it, we will see it. Ultimately, it is better to be as honest as you can with us so that we will also try to be fair on our side too.
First Business Finance Services
Our job is to ensure that you get a lender that understands that you need a quick loan to fix or enhance your business prospects. The broker should also be well aware that they should play within your financial means.
Otherwise, they will give you a loan you can't afford to pay back. All of this information is usually discussed between a client and a broker before they reach an agreement to prevent any confusion in the near future. There are a number of brokers we work with, so if you don't find one right away, you will find one eventually.
Quick and effective services
Seeing that customers usually want to use the money right away, we work tirelessly to ensure that you get the money or at least a response before the end of business day. If we were not able to send you the loan the same day, it will be transferred to your bank account the following business day.
Business finance for any kind of enterprise
At First Business Finance, we are happy to work with any kind of operation. We are not at liberty to pick and choose the kind of operations that we work with. As far as we are concerned, an organization that meets our lending criteria is welcome to apply for business loans. Unlike other credit providers that are quick to outline the businesses that they work with, we are not kind of team. Therefore, clients can relax because we will not shut our doors on them.
First Business Finance – Business loan
Benefits of First Business Finance
Bridging Finance
Plant and Machinery Finance
Vehicle Fleet and Truck Finance
First Business Finance - Convenient online applications
Clients who are interested in applying for business credit can do so by applying online.
The online application can be completed anywhere where there is an internet connection. The electronic method has been very convenient for customers who want to apply for a loan but don't have enough time to come to our offices.
The faster you complete your online loan application and submit it to us, the quicker we will be able to give you a response. If your application is unsuccessful, we will give you valid reasons that amounted to us having to turn your credit request down. We will also help you to improve the deviations that we raised so that next time you are not so unlucky.
You can make early repayments
If you are able to pay your loan earlier than your scheduled date of payment, you are more than welcome to do so. That way, you will have one less debt to worry about. We encourage this behavior because it shows us how committed you are as a client. We will have no problem lending you money in the near future because you have shown us that you are dedicated to fulfilling your financial obligations.
When you miss your payment
If you miss a payment, you will be liable for charges. Should you continue to miss your payments, your credit profile will be dented. If you are not certain about how you going to pay your business loan, it is best to not apply for credit in the first place. The last thing you need is ruining your credit profile for a loan you aren't certain how you going to pay.
Adhering to the terms and conditions
Prior to depositing your money, you will be required to sign a credit agreement that explains everything in detail. If you don't understand a certain clause, you can contact us and we will clarify it for you.
Don't sign the contract if you are still a bit confused about certain parts of the agreement. It is important that a client reads the fine print thoroughly to get a better idea of what he is responsible for as the customer.
Customer Reviews & Testimonials
"
Have you ever been in a state over your financials? Well, I was when it came to my business I needed advice and I was able to get it from this amazing company.
Gregg T
— Auckland —
Yes, I will recommend them to friends and family and other businesses when we needed the help they were there for us and made us feel secure knowing that they had our backs.
Terry W
— Wellington —
They helped us to get the equipment that we needed to secure our business and we have never looked back since thank you to them our company is stronger and better.
Valery H
— Queenstown —
First Business Finance Contact
Contact Number
E-Mail
Website