Business loans up to $60,000
Low-interest starting from 12%
Repayment up to 3 years
In-page navigation
---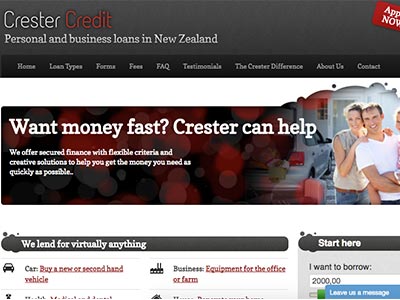 Author Crester Credit. Screenshot of Crester Credit website.


[Accessed April 17, 2018]
Crester Credit - Affordable loan options
At Crester Credit, we know how it feels like when you are at the brink of desperation and need money right away. Having a business isn't the easiest task, it comes with a lot of challenges and setbacks. However, while many people would dwell on the problem, some clients prefer thinking about solutions.
For starters, the best resolution would be seeking credit and dealing with the issue your business is currently facing. One of the reasons why many enterprises fail is because their owners weren't willing to fight for their businesses. This is where we come in, we will help you bring your operation into top form by offering you a business loan that is not only affordable but can be paid over a longer period of time.
We have an excellent team
Our agents are not only experienced, but they are also skilled and professional at all times. The consultant that deals with your online loan application will explain everything that is going to happen going forward. We have been made aware that there are times when our customers feel lost because they weren't given much clarity from our agents.
We took that error to heart and have made it a point to ensure that everybody is on the same page. At the end of the day, the client shouldn't be in a position of doubt when they are applying for credit. All of their questions should be answered. This way, they too will be confident about the outcome of their business loan application.
Crester Credit Services
This is the first step in applying for a loan. We always encourage our clients to make use of the loan calculator before applying for a loan. This way, they will know how much they qualify for and how much they would have to pay back.
Although these are just estimates, there isn't much of a difference when you do the real analysis. Our rates are affordable because we want to afford everyone the opportunity of borrowing the money to improve their businesses.
The money becomes available as soon as possible
Depending on how fast we received your documents, the money will be available in your bank account within one business day. It may take longer if we haven't received the documents we requested from you. Therefore, it is for this reason why we always urge our clients to submit their paperwork as soon as they have completed the online application form. After all, we know that you usually need to use the business loans right away so we will never delay the process.
Repayment terms and conditions
We usually work out a payment plan that won't be too difficult for the client. If you are comfortable with paying us on a monthly basis, that is fine. However, we will ask you which payment period suits you best. At the end of the day, we don't want our customers to feel pressured into paying us too soon. We allow our clients to take a reasonable time to make their repayments.
Crester Credit – Business loan
Loan Type

Business loans

Interest Rate

from 12%

Loan Amount

up to $60,000

Repayment

6 months to 3 years
Benefits of Crester Credit
Quick business loans
Low interest rates
Flexible repayment terms
Crester Credit - we support responsible lending
The primary reason why we perform credit checks is so that we don't overwhelm clients with business loans they can't afford.
At the end of the day, we want to give our customers a loan they will be able to pay. Seeing that our customers have businesses to run, it is common that they may have other debts they need to settle on a regular basis. We don't want to give you a lot of money whereas you can only afford a smaller portion. On the other hand, even if you qualify for a bigger amount, we only want to borrow you the amount that you are asking for.
Security requirements when applying for a loan
The collateral that we ask for will depend on the amount of money you are requesting on a loan. If you are asking for a slighter higher amount, the security will have to be equivalent to the amount of money you are requesting. Should you not be able to make due on your financial obligations and you show no efforts in trying to pay your loan, we will have to take the security you have given us.
It is for this reason why we always urge our clients to be certain that they really need the loan. If they are sure then they can apply. However, if they are not certain how they going to pay us, it is better to not apply for credit in the first place. The last thing you need is to have your credit profile ruined for a loan you weren't able to pay.
When you are unable to pay for your loan
If you can't pay your loan due to unforeseen circumstances, you need to notify us as soon as possible. Don't wait for the date of your payment collection and inform us then, it is usually too late for us to try and come up with a solution for you.
Constant failure to meet your financial obligations will have a negative impact on your credit profile. The last thing you need is having a dented credit profile if you going to apply for business or personal loans in the future.
Customer Reviews & Testimonials
"
Using the calculator we were able to determine the amount that suited our business and we have decided to take the loan.
Marshal S
— Auckland —
They do not play games here at the company they have made sure that after I had sent through my business loan application someone contacted me within a few minutes and I couldn't be happier with ...
Dave D
— Wellington —
General lovely staff, we went there to get our accounts done there and we have never had a problem contacting them for quotes of information from them.
Sarah P
— Auckland —
Crester Credit Contact
Contact Number
E-Mail
Website
Physical Address
3 Shirley Rd

Mairehau

Christchurch

8013

New Zealand
Opening Hours
Monday

08:30 – 17:00

Tuesday

08:30 – 17:00

Wednesday

08:30 – 17:00

Thursday

08:30 – 17:00

Friday

08:30 – 17:00

Saturday

Closed –

Sunday

Closed –