Loans bad credit up to $25,000
Bad credit loans
Repayment up to 5 years
In-page navigation
---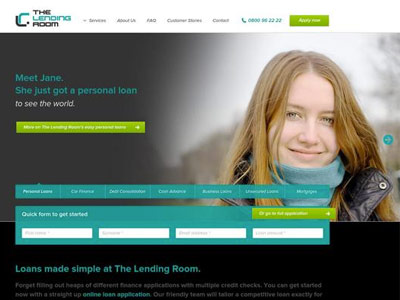 Author The Lending Room. Screenshot of The Lending Room website.


[Accessed April 17, 2018]
The Lending Room - Affordable bad credit loans
The Lending Room believes in the personal touch when you call us the first thing we ask you are, what is your name. Building a personal relationship with our clients is very important to us.
We are a loan finding service and it is our job to get you the best deal on bad credit loans that we are able to. By souring the lowest rates and connecting to our network of lenders we will be able to find you exactly what you are after.
One form gives you access to multiple lenders
One application form is all you need; we will apply to the various lenders on your behalf and send you the best options. You can then compare options and choose the one that attracts your interest.
Applying to multiple lenders gives your blacklisted loan application a better chance of being approved. If you had to apply to each lender individually it would be recorded on your credit report and that could affect your credit score. By using our service, your credit report will only show one loan inquiry instead on multiple inquiries.
Giving your application the best chance
After being in the financial industry for many years we have picked up a few tricks. We know exactly what lenders look for in an application form. To give your loan application the best chance of being approved, we will help you present an application that will be approved.
If we see any red flag or reasons why your application could be declined, we will assist you in rectify the problem before you apply. If your online loan application is declined, we will be able to assist you with other financial solution, perhaps in the form of a secured loan.
The Lending Room is there for you whenever you need some financial assistance and we welcome repeat clients with open arms and a faster approval time.
The Lending Room Services
We offer a number of personal loan options including secured and unsecured personal loans and bad credit personal loans.
The Lending Room is there for you whenever you need some financial assistance and we welcome repeat clients with open arms and a faster approval time.
Loan options
A secured personal loan has better rates and longer terms. You will need to use your fully paid vehicle or property as security against the loan. If you don't pay the loan you will lose your collateral.
Unsecured loans are offered to clients that show the ability to make loan repayments based on their current financial situation.
Bad credit loans were specifically designed to help those clients with bad credit to obtain a loan.
Needed requirements when applying
Each person is different. We have all been through different circumstances and have faced different challenges.
It would be very unfair to subject each person to the same criteria. At the Lending Room, we review each application based on its own merits.
There are no fixed criteria that you are judged against. Instead, we look at the bigger picture. We take into account your current employment, your expenses and your repayment history.
The loan we offer you is then customized to suit your requirements and make repaying the loan simple and stress-free.
Supporting documents to provide
To apply for a payday loan you will need to supply a copy of your photo ID, driver's license or passport. If you don't have a form of ID we can verify your identity through your bank statements.
The Lending Room – Bad credit loan
Loan Type

Loans bad credit

Loan Amount

up to $25,000

Repayment

6 months to 5 years
Benefits of The Lending Room
Loans are affordable
Flexible repayment options
Fast and simple online application
Bad credit loan calculator
The Lending Room - Flexible bad credit loans
If you have a bad credit score you can still apply for a bad credit loan. Bad credit loans usually require you to provide some sort of security as insurance in case you don't pay back the loan. Depending on how bad your credit history is you may need to provide collateral or sign with a co- borrower.
Signing with a co-borrower/guarantor
If your loan application is declined, there is still one more option available which is to get someone to act as a guarantor against the loan. A family member, friend or person that you trust can apply for the loan with you. The loan has more chance of being approved if the person has a good credit score.
When you apply for the instant cash loan together, you must remember this will mean that the guarantor will be accountable if you do not make payments on the loan. This could negatively affect their credit score so be sure to make the payments on time and be responsible.
Debt consolidation
The reason most people end up with a bad credit history is from missing payments on accounts or not settling bills on time.
Juggling tons of bills and not having enough money to pay them all is very stressful and can cause your credit score to suffer and this we make it more difficult to obtain credit in the future.
Debt consolidation loan options
Save money by letting us pay off your debt with one of our debt consolidation loans. We will get a settlement on each account and pay off your debt on your behalf.
The Lending Room will pay off your debt and then arrange a very easy to manage repayment schedule that will allow you to pay them back according to your individual requirements and pay frequency.
Customer Reviews & Testimonials
"
One single application gives you access to a whole array of lenders. The Lending Room will sift through all the available lenders and choose the most likely lenders to accept your application. Yo...
Eric D
— Christchurch —
Thanks to the bad credit loan that I got from The Lending Room, I was able to fix my vehicle. I do not know what I would have done without their help. I recommend them to anyone who finds themsel...
Hailey M
— Auckland —
Bad credit does not have to be a hurdle forever. I was able to get a loan through The Lending Room with the assistance of a guarantor. This gave me access to better rates and higher borrowing amo...
Garth P
— Dunedin —
The Lending Room Contact
Contact Number
E-Mail
Website
Physical Address
6 Findlay Street, Ellerslie

Auckland

1051

New Zealand
---
Postal Address
PO Box 90339, Victoria Street West, Auckland, 1142, New Zealand
Opening Hours
Monday

08:30 – 17:30

Tuesday

08:30 – 17:30

Wednesday

08:30 – 17:30

Thursday

08:30 – 17:30

Friday

08:30 – 17:30

Saturday

– Closed

Sunday

– Closed