Loans bad credit up to $25,000
Low-interest starting from 14.9%
Repayment up to 48 months
In-page navigation
---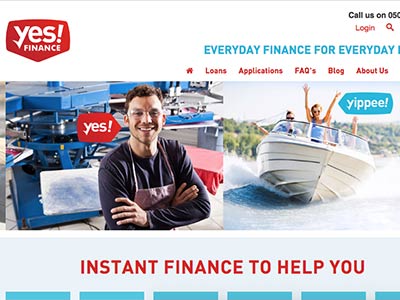 Author Yes Finance. Screenshot of Yes Finance website.


[Accessed April 17, 2018]
Yes Finance - Affordable loan solutions
Yes finance was developed for everyday people. Our company was established in 1997 and is proudly 100% New Zealand owned and operated. We specialize in the retail sector and provide financial solutions to retail stores and their clients to purchase goods.
We provide customer-focused solutions and unlike banks, we listen to your needs and customize our offers to suit your circumstances.
We pride ourselves in being a solution provider our wide range of products ranges from personal finance, motor vehicle financing, business loans and bad credit loans.
Our team puts your needs first
Each of the members of our team was recruited because of their expertise and knowledge. Our team is committed to listening to your problem and coming up with a quick loan solution to meet your requirements.
No matter your credit record or financial problems, we will find you the solution that you have been searching for.
Fast, simple loan solutions
There is no need to come into the branch and speak to a consultant's face to face. Instead, you can apply for a loan via our website by completing the online loan application form. This process will only take a few minutes.
After a few minutes you will be given an outcome, if we are able to assist you with a loan we will contact you to provide more details. If you prefer to talk to a consultant, you are welcome to give us a call and we will help you complete the loan application form.
Yes Finance Services
Yes Finance says yes more often, we offer personal loans from $750 to $25,000. The amount depends on the value of the collateral used to secure your loan and the terms of the loan agreement.
Most of our loan products require a form of security against the loan, this could be a fully paid for house, caravan, car or boat. We offer short-term loans to the value of $2,000 as an alternative financial solution.
The requirements to apply
You must be at least 18 years old
You must be a New Zealand citizen
You will need to supply a form of identification such as your driver's license or passport
How we evaluate your loan application
To determine if a loan would be in your best interest, we look at the following factors when deciding if we should approve your loan application.
Security: The type of security that you are using as collateral. If you don't have sufficient security, we will allow you to apply with a co-borrower or guarantor.
Stability: You will need to prove that you have a stable income and prove your ability to afford the bad credit loan repayments.
Affordability: We will assess your other financial obligations and see if a loan will be in your best interest or if it will push you further into debt.
Credit history: Your credit report will be analyzed; if you have a bad credit record or a poor credit score then you will be required to re-apply with guarantor that has a good credit score and no defaults listed on their credit report.
Yes Finance – Bad credit loan
Loan Type

Loans bad credit

Interest Rate

14.9 – 29.9% p/a

Loan Amount

up to $25,000

Repayment

12 months to 48 months
Benefits of Yes Finance
Interest rates are low
Simple and fast online application
Affordable loans
Bad credit loan calculator
Yes Finance - A wide range of food products to choose from
There are many different instant cash loan options available depending on what type of security you have, your previous credit history and how much you would like to borrow.
Secured personal loan
A secured personal loan needs to be secured by an item of collateral. The more value your security is worth, the more you money you will be able to borrow. Collateral can include any item that is fully paid for and is of the greater value of the loan.
Examples include property, bikes, boats, caravans or expensive jewels. The interest rate will vary depending on the value of the security and the type of collateral used. If you are taking a loan to purchase an asset in some cases we can use your purchase as part of the security on your loan. If you don't make payments on the loan, then you may lose the item of collateral.
Borrowing with a guarantor or co-signer
If you don't have an item of value to secure your bad credit loan and you have a bad credit report you should consider applying for the loan with a guarantor or a co-signer.
When you make a joint application your loan has a greater chance of being approved. The guarantor will need to meet all the loan requirements and agree that if you don't make payments on the loan then they will be responsible for the entire loan amount.
The better the guarantor's credit score the more money you will be able to borrow. The guarantor will act as your collateral and will be held responsible should you not honour your agreement.
Unsecured personal loans
If you are unable to find someone to act as a guarantor for you, then you could apply for an unsecured blacklisted loan. As you are a risky client and you don't have any form of collateral to secure your loan we will only be able to loan you up to $2,000. You will need to prove that you can afford the loan and you currently have stable employment.
Customer Reviews & Testimonials
"
Say 'yes' to finance with the assistance of Yes Finance. They make borrowing money a breeze – from reasonable rates to reasonable terms. There is no longer such thing as long queues and stacks of...
Luke B
— Picton —
Thank you to Yes Finance for helping me see the light. I found myself at the bottom of a deep pit of debt and had no idea how I would make my way out. But, thanks to one of their debt consolidati...
Gillian F
— Gisborne —
Today I received an unexpected bill and did not know how I would manage to make it through the month. But Yes Finance has worked efficiently to come up with an amazing solution. I feel way better...
Andy K
— Masterton —
Yes Finance Contact
Contact Number
E-Mail
Website
Physical Address
6 Sharkey St

Manukau

Auckland Region

2014

New Zealand
---
Postal Address
PO Box 23008, Hunters Corner, Auckland, 2155, New Zealand
Opening Hours
Monday

08:30 – 17:00

Tuesday

08:30 – 17:00

Wednesday

08:30 – 17:00

Thursday

08:30 – 17:00

Friday

08:30 – 17:00

Saturday

10:00 – 13:00

Sunday

Closed –