Loans bad credit up to $15,000
Low-interest starting from 13.95%
Repayment up to 3 years
In-page navigation
---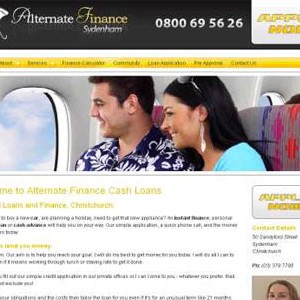 Author Alternate Finance. Screenshot of Alternate Finance website.


[Accessed July 3, 2019]
Alternate Finance - reliable loan solutions
Finding a financial solution in your time of need is tricky, there are so many different loan providers offering amazing deals and special offers that you might not know who you should choose and who will give you the best deal.
Alternate Finance has a different approach to lending and offers you an alternate option to traditional lenders. Our online loans are very easy to apply for and very convenient when you need your cash in a hurry. If your loan application is successful you will be rewarded with a free gift.
Apply online 24/7
When emergencies happen, they can happen at any time of the day or night and you need quick cash in a hurry. For this reason, you can apply for one of our bad credit loans any time of the day or night from any device that can log onto our website.
The application process is quick and easy, you will need to complete an online application form. You will be asked for your loan details, your personal details, your address and proof of employment.
Once we have verified your loan application you will be given a decision and the money can be paid into your account the very next day. Emergency loans can be paid out on the same day case dependent.
You are more than your credit report
Your credit report records all the financial decisions that you have made both good and bad. If you have paid your bills on time and never missed a payment on short-term loans or bills, then you will have a good credit score.
If you have missed payments and defaulted payments on your credit score will be much lower and this could make it more difficult for you to obtain financing.
Alternate Finance Services
We are there for New Zealand citizens and we want to help you in your time of need.
When we assess your online loan application, we look at more than just your credit report. We look at your current income and your ability to repay the loan. If your credit report isn't glowing we can offer you a secured personal loan.
Secured personal loans
A secured loan is a loan that is secured by an item of collateral. The loan amount is secured by an item of equal or greater value. This protects the lender should you have trouble making repayments on your loan as if you don't stick to the loan agreement then your collateral will be taken as payment.
Collateral is usually in the form of a fully paid for vehicle, house, boat, caravan or bike. This type of bad credit loan can be very risky as if you have any financial trouble and can't repay your loan then your item will be seized and you could end up losing it.
A secured loan does have some perks though, you will qualify for a more favorable interest rate, be able to borrow more money and have longer to repay the loan. If you are able to make payments and there is no risk of you losing your collateral then this could be the solution that you are looking for.
Easy repayment terms
Our quick loans offer very easy repayment terms that can be customized to suit your needs. The interest rate that you are charged will depend on many factors including your credit history if you are providing security against the loan and your financial circumstances.
We are a responsible lender and will only approve your loan application if you can prove your affordability.
Alternate Finance – Bad credit loan
Loan Type

Loans bad credit

Interest Rate

13.95 – 26.98% p/a

Loan Amount

up to $15,000

Repayment

3 years
Benefits of Alternate Finance
Cheaper interest rates
Quick approval
Funds available within 24 hours
Bad credit loan calculator
Alternate Finance - You can become debt free
Owing people money is never a nice feeling and when the creditors start calling and demanding payment this can be very stressful and embarrassing. If you have the money to settle all your bills then I'm sure that you would, but life is expensive and sometimes you are unable to honour your obligations despite your best intentions.
If the bills are piling up and you don't know how you are going to pay them all, then you should consider a debt consolidation loan.
One easy payment
Juggling multiple accounts and bills can be time-consuming and confusing. When you pay some bills and not others or can't even make the minimum payment required, you will be charged penalty fees and quickly get trapped in a cycle of debt. A debt consolidation loan merges all of your debt into one loan. We will pay off your debt for you and you will only need to repay us.
This will save you money and prevent your credit score from falling even further. We will help you arrange an easy to manage payment schedule that gives you breathing room so that you can get out from under your debt.
Improving your credit score
A debt consolidation or bad credit loan will appear on your credit report as a personal loan and will not negatively affect your credit score. The bills you have settled will be marked as clear but will remain on your credit report for up to 2 years. We want to help you become debt free so that you can get the most out of your future so apply today to see how we can assist you.
Customer Reviews & Testimonials
"
If you are looking for a lender that is different from all the rest then Alternate Finance is the lender for you. They stand out above the rest by a mile. Their products are flexible, versatile a...
Tiffany J
— Stratford —
Alternate Finance understands something that other lenders and financial institutions are still struggling to grasp; your financial past should not determine your financial future. If you have no...
Lissa C
— Christchurch —
With a secured loan from Alternate Finance, I was able to reduce my interest payable and borrow more money than expected. More money in the pocket is always a good thing! They are definitely wort...
Greyson D
— Auckland —
Alternate Finance Contact
Contact Number
E-Mail
Website
Physical Address
50 Sandyford Street

Christchurch

Canterbury

8023

New Zealand
---
Postal Address
PO Box 7130, Sydenham, Christchurch, 8240, New Zealand
Opening Hours
Monday

08:30 – 17:00

Tuesday

08:30 – 17:00

Wednesday

08:30 – 17:00

Thursday

08:30 – 17:00

Friday

08:30 – 17:00

Saturday

– Closed

Sunday

– Closed