Loans bad credit up to $50,000
Low-interest starting from 9.95%
Repayment up to 36 months
In-page navigation
---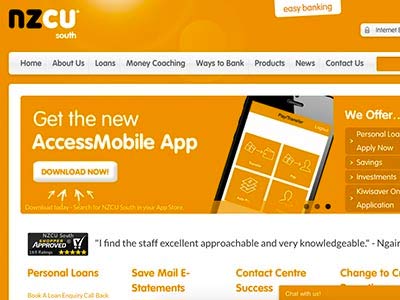 Author NZCU South. Screenshot of NZCU South website.


[Accessed April 17, 2018]
NZCU South - Affordable bad credit loans
NZCU South has been providing financial solutions for the past 45 years. We provide all the same functions as a regular bank, but with a big difference.
The community is very important to us and our main aim is to help you achieve financial success. Our bad credit cash loans are tailor-made to suit your unique circumstances and we work with you to come up with a solution that will benefit you in the future.
Helping you out of the debt cycle
It is very easy to get trapped in a vicious debt cycle and have to rely on credit cards to make it through each month. NZCU South specializes in helping you break out of the vicious cycle by helping you consolidate your debts and get back on top of your finances.
If you are struggling to manage your debt, we have specialized support services that will help you, we care about you as a person and our main aim is to assist you and help you become a financial success.
Giving back to the community
Our vision is to help make a big difference in the community. We do this by providing sponsorships, running volunteer-based projects. We show support to local events and host events at local schools and raise awareness of social, economic and cultural vitality. We are a non-profit organization and are governed by its board which is selected by its customer-owners.
Better than banking
Technology allows us to everything online these days so why should banking be any different? Being able to bank via the internet gives you access to financial assistance 24 hours a day. You can apply for a loan, pay your bills, transfer funds, print statements and so much more.
NZCU South Services
NZCU South is the financial solution that you are looking for when it comes to everyday accounts, savings accounts, bad credit loans, insurance products, investment options and other financial services.
When you don't have money and you really need cash in a hurry, you should think about applying for one of our low-interest rate personal loans.
Our aim is to help you in your time of need. We do this by making it very simple to pay back the loan.
Top up at any time
If your blacklisted loan application is approved and your personal loan is running low, up you top up your personal loan at any time very easily, simply give us a call and we will top up your account for you.
You will be assigned a consultant that will know everything about your case and will personally guide you through the entire process from start to finish.
Your consultant is there to make things as easy as possible for you and will answer any questions that may arise.
Things you should know about personal loans
Applying for a personal loan is very easy. Apply via our website or give us a call. To apply for a personal loan we charge a fee of R245.00.
Calculate how much you would like to borrow and how long you would need to pay back the loan by using our personal loan calculator that is available on the website.
The calculator will let you know more or less what your repayments will be and how long it will take you to pay back the loan.
NZCU South – Bad credit loan
Loan Type

Loans bad credit

Interest Rate

from 9.95%

Loan Amount

up to $50,000

Repayment

30 days to 36 months
Benefits of NZCU South
Flexible borrowing terms
No penalties for early repayment
Easy loan application
Bad credit loan calculator
NZCU South - Bad credit loans
We always recommend that our clients include bad credit loan insurance in their contract so that they are protected should something happen and they are unable to honour their loan agreement.
Loan insurance protects clients against the following for only R50.00:
Life, disability, redundancy and bankruptcy cover
Life insurance
The cover is calculated on a daily balance and paid monthly to prevent you from overpaying
Debt solutions
The most common problem that people have is not having enough money. Life is expensive and things happen that are out of your control that can cost a lot. Everyone needs a bit of extra cash once in a while and sometimes we all rely on our credit cards a little bit too much.
So we make purchases on accounts, overspend on our credit cards and take out revolving loans, the problem is that when it's time to settle the bills your salary doesn't quite cover it as you have overspent. When your debt becomes too much to handle and you need some help then you should consider a consolidation loan.
Consolidate your debt into one payment
A consolidation loan is a form of personal loan. NZCU South will pay off your debt and then give you a personal loan for that amount. This will save you a lot of money.
Not only will you not have to worry about late fees or penalties', but you will also customer-owners need to make one volunteer-based payment per month, so this will help you recover very quickly financially and be back on your feet in no time.
Customer Reviews & Testimonials
"
With over 45 years of experience under the belt, the staff at NZCU are well-versed in the in's and outs of finance. They know just where to look to ensure that you get the best possible deal. I a...
Nate S
— Picton —
A debt consolidation loan may be the opportunity that you have been waiting for. Cleaning up your finances and your debt can drastically improve your credit score and allow you to save quite a su...
Kyle L
— Gisborne —
Get back onto your feet with the help of NZCU. Deciding to borrow from them is one of the best decisions that I have ever made. If you are in need of cash I highly recommend that you give them a ...
Lucy M
— Masterton —
NZCU South Contact
Contact Number
E-Mail
Website
Physical Address
409 Colombo St

Sydenham

Christchurch

8023

New Zealand
---
Postal Address
PO Box 1437, Invercargill, 9840, New Zealand
Opening Hours
Monday

09:00 – 17:00

Tuesday

09:00 – 17:00

Wednesday

09:30 – 17:00

Thursday

09:00 – 17:00

Friday

09:00 – 17:00

Saturday

Closed –

Sunday

Closed –