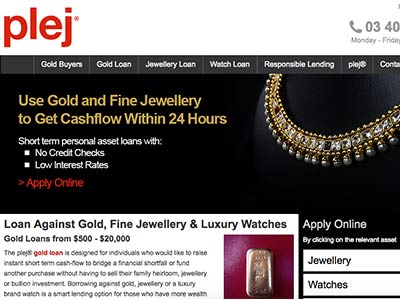 Author Plej. Screenshot of Plej website.


[Accessed April 17, 2018]
Plej an alternative lender you can trust
We specialise in different lending methods. Plej provides short-term loans that are mainly secured against the assets you provide as a guarantee. We work closely with individuals as well as businesses. We are willing to accept personal and business assets as a guarantee for the loan.
Plej offers services nationwide in New Zealand. We would love to be of assistance to you when you have a financial crisis since we are in the business of providing solutions to all Kiwis no matter where you live in New Zealand.
Confidential loan applications
Plej covers all parts New Zealand and North Island with South Island included. We base our service on flexibility and discretion we strive to offer a high level of personalisation.
We also take the time to listen to you what it is you require and then tailor a bad credit loan according to your needs. Note that all items will be evaluated before your loan is granted.
Plej Services
Should you have more wealth in the form of assets and you don't want to go through the hassle associated with borrowing from the bank, then Plej is the right place to apply for a loan.
If by any chance you have a bad credit record and you are in need of cash, you may very well qualify for a quick loan.
We offer personal loans that are secured against any valuable assets you have, we do not do credit checks for short-term, payday or quick cash loans because they are secured against assets that you offered as a guarantee.
Loans up to $20,000
We offer a premium loan which allows you to borrow between $1,000 and $20,000. With a repayment term of up to 6 months, if you can and would prefer to settle your loan beforehand, you may do so without paying any penalty charges. A premium loan for bad credit will permit you to secure your loan against lower value assets such as laptops, sporting equipment and smartphones, plus we offer the same day payout.
Plej – Bad credit loan
Loan Type

Loans bad credit
Benefits of Plej
Bad Credit Loans
SHORT-TERM Loans
Bad credit loan calculator
Plej - Bad Credit clients can apply for a loan
We allow you to apply for a blacklisted loan due to the bad debt by following the following steps.
Plej will assist anyone who wants to apply for a short-term loan; this loan is not restricted to what you can spend it on. This loan also requires you to offer an asset such as gold or any other asset of value, to secure your loan. With a bad credit loan, there is no complicated financial admin and no credit checks.
Receive your funds within 24 hours
Plej will deposit the funds into your account within a period of 24 hours from the time of you bad credit application being approved. The policy for assets conveyance is dependent on the loan sum and client requirements.
Apply online
We offer an online application, the application takes only a few minutes to complete which means no time wasted, you also don't need to leave the comfort of your home or take time away from the office to apply for the loan that you require.
Get expert advice
It's always a good thing to get expert advice and that's why we offer a team of advisors that are qualified and experienced in the industry, to assist you in the best possible way if you have any questions they are able to assist in the best possible way with regards to one of our short-term or payday loans.
Once you've completed your online application and it has been approved, you'll be required to review and accept your short-term loan offer and if you choose to continue with the loan, we'll send you the terms and conditions loan contract, sign after you've read the contract.
Repaying your loan
Repayment of your loan is generally between 3 and 6 months from the date of application, settling your loan earlier won't be a problem and the good thing about it is that you won't be charged any extra fees for this, you may contact one of our advisors and they'll gladly make the necessary arrangements.
Your assets will be returned once your loan is fully paid in the agreed time period, note that it is not permitted to skip a repayment at any time.
Why you should make use of Plej
We will assist you when you need an instant loan at any time; we have professional advisors who will be of assistance in the most professional way. We do go the extra mile and will be of assistance when you are in need of help. We strive to make your journey with Plej a memorable one and trust that we will meet your expectations at all times.
Give us a call today and we'll assist you with one of our bad credit loans that will suit you since we also invite all individuals who have a bad credit record to apply.
Customer Reviews & Testimonials
"
When you apply for a loan with Plej, you can rest assured that the loan that you are receiving is personalised and well-considered for your own personal circumstances. They are highly flexible an...
Amanda W
— Ashburton —
If you are looking for versatility then look no further than Plej. They offer a wide variety of loan options giving you a broad selection. Simply complete the application and they will assist you...
Lauren C
— Cromwell —
Even though I am blacklisted I was able to apply for a loan with Plej. They are not like the other lenders; they consider your circumstances and view you as more than a credit score. Give them a ...
Denise B
— Wanaka —
Plej Contact
Contact Number
E-Mail
Website
Physical Address
First Floor, 35 Shotover Street

Queenstown

Queenstown Region

9300

New Zealand
Opening Hours
Monday

10:00 – 17:00

Tuesday

10:00 – 17:00

Wednesday

10:00 – 17:00

Thursday

10:00 – 17:00

Friday

10:00 – 17:00

Saturday

Closed –

Sunday

Closed –